Battery life: 6 weeks
Storage: 16GB
Display type: Pearl e-paper
Weighing just 158g, with a 6-inch display, this really is a reader to take everywhere. For long trips, for lounging by the beach, for reading tucked up in bed by the light of a lamp, it's ideal. Upgrades from previous models include 16GB of storage – which really is much more than you could ever conceivably need. Given that e-books take up barely a few megabytes, the Kindle 2022 will hold thousands of them without issue. An arguably more useful upgrade is the battery life – Amazon is a little cagey with providing hard numbers for its batteries, but says if you read half an hour or so per day, this Kindle will last you up to six weeks. User reviews seem to bear this out. If you want an affordable and reliable Kindle, the Kindle 2022 is going to give you what you're searching for.
For
Very portable
Superb battery life
Loads of storage
Against
Screen is on the small side
Battery life: 11 hours continuous use
Storage: 16GB or 32GB
Display type: IPS 1024x600
The best Amazon Fire tablet for most users is going to be the Amazon Fire 7 (2022). As we said in our full review, this is a "solid, dependable piece of hardware with a very attractive price point". It's absurdly cheap, especially next to the roughly equivalent-sized iPad Mini. If you just need a basic tablet for a bit of online browsing, casual TV streaming, reading and that sort of thing, the Fire 7 is a much more cost-effective choice. At a resolution of 1024x600 pixels, the 7-inch screen is good enough without being great. Also, we have to give extra plus points to the battery, which lasts really well for a tablet of this type. We managed 11 hours of continuous use before needing to plug in. That's excellent.
For
Amazing value for money
Battery lasts really well
Against
Fire OS is clunky
Low-res screen
This guide is all about making it easier to decide between an Amazon Kindle vs Fire tablet. If you're new to the Amazon e-reader and tablet ecosystems, it can be tricky to figure out which is the right one for you. So, we've put the two device types side by side and given them a thorough examination, helping you make your purchasing decision.
Amazon Kindle and Amazon Fire devices look pretty similar at first glance – both are handheld rectangular tablets with a touchscreen. The key difference is that a Kindle is an e-reader, meaning it has a simple e-ink screen that's great for displaying text and simple illustrations (in monochrome), and not a whole lot else. If you're looking for a reading experience closely akin to an actual physical book, it delivers just that.
Fire tablets, however, are more general-purpose devices that are similar to the best tablets. They're akin to an iPad in the sense that you can use them to browse the internet, play games, download apps, make video calls, watch TV and more. Oh, and they'll let you read books too, if you like.
Amazon refreshes both ranges pretty regularly. Currently in the Kindle sector, you can choose between the basic Kindle, the upgraded Kindle Paperwhite and the top-end Kindle Oasis. In the Fire tablet realm, you're picking between 7-inch, 8-inch and 10-inch models – and there are also Fire Kids tablets expressly designed for children, with parental controls and kid-proof cases.
Not sure which is right for you? We've put together this guide to compare the Kindle vs Fire ranges in detail, from display tech to functionality and even the built-in lighting. Read on to find out which is right for you.
The sales period has also begun with some huge Black Friday Kindle and Fire deals, so take a look at our roundup of the top deals below to bag a bargain.
Amazon Prime Day Kindle deals
It's hard to justify splurge purchases, even when they're educational. That's why it's best to wait until the Amazon Prime Day to score yourself a bargain on a Kindle. Each model is discounted, putting some at under $100. It's also a great chance to upgrade to a more premium model at a lower cost. We've searched the web for the best prices so you don't have to, so take a look at our roundup to find a Kindle that works for you.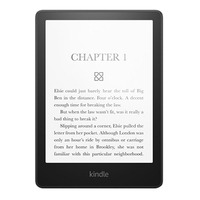 Kindle Paperwhite 8GB | was $139.99, now $94.99 at Best Buy
If you're looking for a solid middle ground both price and feature wise, the Paperwhite is a reliable choice. It's brighter than the basic Kindle but not as premium as the Oasis, offering up to 10 weeks of battery life, a 6.8" display and thinner borders that make for easy reading.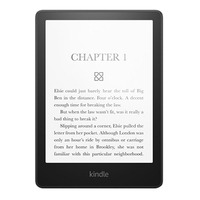 Kindle Paperwhite Signature Edition 32GB | was $189.99, now $139.99 at Best Buy
Opting for a 32GB Kindle is a smart choice if you're an avid reader who is looking to entirely replace physical copies with an e-library. The Paperwhite Signature includes wireless charging and an auto-adjusting front light that puts it a cut above the standard Paperwhite. If you're looking for an upgrade or splashing out on a gift, it's worth grabbing it at this low price.
Black Friday Amazon Fire deals
Tablets often come at a higher price point, so they're not everyday purchases to make on a whim. Black Friday has arrived in full force with some great deals up to 50% on Amazon Fire tablets, so if you've been considering buying one, now might be the time.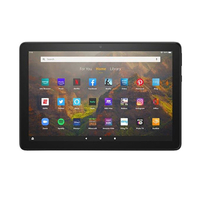 Amazon Fire HD 10 – 10.1" Tablet 32GB | was $149.99, now $74.99
With a bright display and powerful performance thanks to 3GB of RAM and an octa-core processor. You can browse the web, enjoy up to 12 hours of reading in a single charge, listen to music and watch videos - essentially everything you need from a portable device. The screen is also made from with strengthened glass which is great for the clumsy amongst us.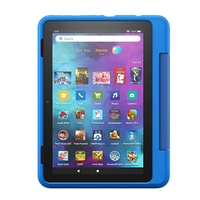 Amazon Fire Kids Pro 8" 32GB | was $139.99, now $69.99
The Amazon Fire Kids comes with a 2-year worry guarantee and a slim kid-friendly case - ideal for adding peace of mind to your purchase. School-age kids can enjoy a 1-year subscription to Amazon Kids that has plenty of games, books, videos, songs, and audiobooks that are fun as well as educational.
Kindle vs. Fire: Display
Display-wise, Kindle and Fire devices are quite different. Let's look at Fire tablets first – all Amazon's Fire tablets use the kind of standard glass displays you'd expect to see on any standard tablet. This means that they can be used to watch video and view images, just like a regular tablet, but also means they're susceptible to glare from external light sources.
Fire tablets incorporate polarising filters into their screens which help mitigate the issue, but there's a limit to how effective this is. However, it's much less of a concern on Kindle tablets, which use e-ink paperlike displays. E-paper screens are matte, not glossy, and this means they won't unpleasantly reflect external light. For pure reading, they're a lot more comfortable and pleasant to look at for long periods.
The other thing we want to look at when it comes to screens is resolution, which we measure in pixels-per-inch (ppi). The more pixels a screen can display per physical inch of real estate, the sharper the text and images it can display. In Amazon's 2022 refresh of its basic Kindle model, the resolution was upped to 300ppi. This means that all of the Kindle models in the range – Kindle, Paperwhite and Oasis – offer the same high level of text clarity.
On Fire tablets, the ppi count is generally a bit lower. Fire 7 tablets have 7-inch screens and 1024 x 600 display resolution, resulting in 171ppi. The latest Fire HD 8 Plus tablets have 8-inch screens and 1280 x 800 pixels, meaning a ppi count of 189, and the flagship Amazon Fire HD 10 Plus tablets use 10.1-inch displays with resolutions of 1920 x 1200 pixels, meaning the ppi count is 224.
It may all sound at this point as though Kindle tablets are simply better across the board. But remember that Kindles are only capable of displaying text and static images in monochrome. Fire tablet displays can play video in full colour.
So, to sum it up simply – Kindle screens are much better for reading, with less glare and sharper text, and Fire displays are much better for absolutely everything else.
Kindle vs. Fire: Lighting
Like all tablets, the Kindle Fires are backlit, which means that the display is created by shining lights from behind the screen towards your eyes. The colors are far crisper, and you can use the device at night without any problem. These types of screens are better for watching videos but when reading books, the direct lights can strain and dry out your eyes.
All three of the current Amazon Kindles offer what is known as front-lighting. In this case, the LEDs are mounted around the edge of the screen, in-front of the display itself. Since the lights aren't being shone directly into your eyes, this type of lighting is much gentler and allows for extended reading without eye-strain. These lights are also adjustable so you can tailor the brightness to your preferences.
Kindle vs. Fire: Media
While they don't provide as good a reading experience as the Kindle range, the Fire tablets pull things back when it comes to their versatility. All three versions of the Amazon Fire can play videos and music as well as access internet browsers and social media. This means you can stream YouTube videos directly to your Fire tablet when you don't feel like reading.
By contrast, the Kindle is designed for one thing and one thing only - reading books. It's really good at it though. You'll have access to thousands of books, magazines, and newspapers but you won't be able to access photos, videos or other kinds of digital media.
Comic book fans can use either the Kindle or Fire tablet to read their favorite comics, but the Kindle's screen technology only supports grey scale images. If color is important to you, then a Fire tablet is the way to go.
If you're looking for audiobooks, both the Kindle and Fire ranges have you covered with native support. You can even sign up for a subscription to Amazon's own audiobook service, Audible, if you want a constant stream of new content. Audible gives you access to one audiobook and two audible original shows per month.
Kindle vs. Fire: Apps
Another area that the Fire tablet range wins out over the Kindle e-readers is in apps. Amazon Fire tablets have access to thousands of Android-based apps. Whether you want to use Facebook and Twitter, watch videos on Netflix or Amazon Prime, or play Minecraft, every Fire tablet has the power to run any Android app.
By contrast, the Kindle e-readers do not have any additional apps. While they do have a built-in dictionary, you won't be able to run any social or media apps from the device. Some people prefer the fact that e-readers do not have any distracting apps that might draw them away from their reading.
Kindle vs. Fire: Verdict
In the end, it all comes down to what you're looking for. If you just want the best reading experience possible and don't care about any extra bells and whistles, then an Amazon Kindle e-reader is your best bet. Likewise if audiobooks are your main driving force then a Kindle will cover your needs handily.
However, if you want a versatile multimedia device that can also serve as an e-reader when required then you should look into the Amazon Fire tablet range. These devices do everything the Kindle does and more, offering access to TV, Film and music streaming as well as letting you read you favorite e-books.