The comprehensive Rosetta Stone courses can help beginners master new languages. With the latest discount, learners only have to pay $95.88 to access the famous classes, which works out at roughly $7.99 per month – that's less than a Netflix subscription. You don't have to limit yourself to one language with this deal either, as the package allows you to access 24 different languages available on Rosetta Stone for a full year.
As well as offering popular courses in French, Spanish and Italian, the platform also gives you the chance to learn languages like Russian, Chinese, Irish, Japanese and Korean. You can access lessons either via the online portal, or by using the handy smartphone app.
When we reviewed the platform, it came out top in our lists of the best learn French online and best learn Spanish online methods. In particular, we were big fans of the progress tracking tools, which lets you see the areas where you most need to improve, such as grammar, vocabulary and pronunciation.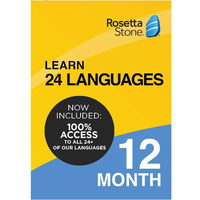 Rosetta Stone Unlimited Languages 12 Months: Was $179 Now $95.88
The 12-month Rosetta Stone package allows you to learn 24 different languages across a year. Available as an app or via an online portal, the courses offer a mix of interactive lessons, tests and progress tracking tools.
Classes are delivered via a mix of flashcard style tutorials and longer lessons that are based around real-life scenarios. In addition to this, you'll also be given tests throughout the course and pronunciation feedback, courtesy of the TruAccent speech recognition technology.
Rosetta Stone operates on a learning-by-immersion philosophy. That means that all English is stripped away from the interface as you're learning, so that you're thoroughly immersed in the new language. While some of the more difficult languages with non-Western alphabets might have a few buttons in English to help you navigate, you should find that most of the time you have to operate in a different tongue.
You can also get virtual face-to-face lessons with a tutor, but be warned this isn't part of the standard package. You'll have to pay a little extra if you want this, but it could be well worth the cost if you're serious about mastering your accent.
Typically, a 12-month Unlimited Languages package would set you back at $179, so the drop down to $95.88 offers a huge 45% discount. Unfortunately, there's no option to pay in monthly installments, but paying in one big chunk works out cheaper than the alternative offering of three month's worth of lessons for $35.97.
For more offers on language software (and everything else) do take a look at our guide to the best Amazon Prime Day deals USA for 2021.
More great language learning deals