Unlike many of the best vacuum food sealers, the FoodSaver V3240 has a vertical, upright design that doesn't take up a lot of counter space, but it can still handle gallon-sized bags. And this sealer is compact enough to fit on the counter underneath most kitchen cupboards.
FoodSaver V3240: How it performed
When we first turned on this sealer during our testing, we were startled by how loud it was. You definitely can't have a good conversation while this machine is running. But it is fast, so you don't have to endure the loudness for very long.
This vacuum sealer has a latch-and-lock mechanism that keeps the lid in place during the sealing process, and it isn't difficult to use. It takes minimum effort to push the lid down far enough to catch the latches that hold it in place. There are also suction cup feet on the bottom, to help keep the sealer from moving or being accidentally pulled off the counter, and a removable drip tray, for easy cleaning.
The FoodSaver V3240 Vacuum Sealer did a nice job of extracting air from the bags, pulling the bag close to the foods we wanted to preserve, and sealing the end closed. The suction of the vacuum was strong enough that when we sealed slices of bread they were stretched out and thinned as the air was pulled out.
This vacuum food sealer did a good job of sealing chicken and meat patties, but it had difficulties sealing pineapple slices. During the vacuuming process the FoodSaver extracted nearly half an ounce of juice, but where the liquid got the bag wet, it didn't seal. We wiped the bag dry, tried again and were able to get more of it to seal, but there were still holes where the seal should have been. Bottom line, this isn't a good sealer for saving liquids or really wet or juicy foods. If you do need a good sealer for preserving these types of foods, check out our review of the Seal-a-Meal.
The FoodSaver V3240 Vacuum Sealer comes with five pre-made bags and a large roll of plastic to make your own. It also comes with a vacuum pipe to use for canning, but you will need to purchase the compatible container separately. It does come with an impressive five-year warranty though, making this a good deal for a vacuum sealer.
Should you buy the FoodSaver V3240 Vacuum Sealer?
Overall the FoodSaver V3240 Vacuum Sealer is our top pick because of how quickly and securely it packs food, though it does struggle with extra moist or wet foods. It has suction cup feet to keep the machine still while in use and the lid locks easily. This sealer is really loud, though, so you can't really talk with someone while using it.
Need a better alternative?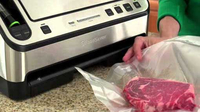 Best Vacuum Food Sealers of 2019
Top Ten Reviews has reviewed the Best Vacuum Food Sealers of 2019 so that we're able to offer you the authoritative buying advice you expect.