Curious as to which HDMI cable is best for 4K and 8k? Your TV is stunning, your games console outputs in 4K as standard, and even your set-top box has the kind of specs that would make a PC blush. But in the middle of all of that, you're using HDMI cables you've had for a decade – it's time for an upgrade.
It's OK, we don't blame you. There's nothing glamorous or exciting about new cables, and HDMI has been the standard for a few years so it's lacking in that "new tech" appeal.
And yet, the right cables can make all the difference. Not all are created equal, and while a budget option may have got you to 1080p a few years back, there's never a bad time to take stock of your cable options.
So, whether you're looking for higher frame rates or just consistent audio and visual quality, here are the best HDMI cables you can pick up right now.
What's the difference between 4K and 8K?
The only difference between 4K and 8K is resolution, just like the push from standard definition (SD) to high definition (or HD), and then to 4K.
Tech companies will keep pushing the envelope, so expect more K's after 8K, but at the moment it's still expensive tech that's not supported by the majority of devices you hook up to your TV.
Instead, the world is very much in between the transition from HD to 4K, and it'll take some time for many to hit the latter. 4K offers double the resolution of a HD image, moving from a resolution of 1920x1080 pixels (or 1080p) to 3840x2160.
As you'd expect, 8K doubles things again, hitting a pretty incredible 7680x4320 – 16 times the resolution of an HD TV.
Before we start
It's worth mentioning right off the bat that there are an incredible number of HDMI cable options out there, all with different manufacturers, price points, and marketing jargon.
HDMI cables carry digital data, so things like gold-plated contacts or shielding don't apply as much as a website's store page may have you believe. Gold connectors are somewhat of a holdover from the move from analog TVs, but now that the majority of people are using digital TVs, there's less importance placed on interference from other devices and the like.
That's not to say you won't want to buy a solid cable, but for the most part, it'll be behind your TV setup and is unlikely to be unplugged often.
What's the difference between HDMI 2.0 and HDMI 2.1?
HDMI began with Category 1, which carried up to 1080i or 720p video before HDMI 2.0 (Category 2) arrived, able to carry more than double bandwidth and allow for 1080p video all the way up to 4K.
Category 3, also known as HDMI 2.1, allows for higher frame rates when playing on compatible TVs. Higher spec Category 3 cables can also hit 120Hz refresh rate at 4K resolution, or 60Hz at 8K resolution.
Why does refresh rate matter? Refresh rate refers to how often your screen refreshes an image per second, and it's measured in Hertz (Hz). A 120Hz image refreshes 120 times per second, essentially offering 120 frames per second (FPS).
Because the image is refreshed more often, you'll actually see any animation on the screen play out more smoothly. That's ideal for gaming because it allows for more responsive controls, but for movies, you won't notice the difference because almost all of them are shot for 24 frames per second.
As noted above, though, HDMI 2.1 can only refresh at 60Hz when outputting at an 8K resolution – so we'll likely need another HDMI category to offer 120Hz at the same resolution.
Which HDMI cable is best for 4K?
Believe it or not, one of the best cables we've found for 4K output (HDMI 2.0 standard) is an Amazon Basics option.
Offering up to 4K resolution at 60Hz, it's also braided which, while it doesn't affect the output to your display, makes it a little more robust.
Since it's not HDMI 2.1, though, you'll find yourself upgrading if you end up with a higher refresh rate monitor or TV in the future.
It comes in sizes all the way up to 7.6m, and as short as 0.9m.
Amazon Basics High-Speed HDMI Cable | $6.44 at Amazon
This braided HDMI cable from Amazon is a great affordable option. It offers 4K resolution at 60Hz and has a durable construction that you don't need to worry about splitting. It also meets HDMI standards 4K video at 60 Hz, 2160p, has 48-bit/px color depth and supports 3D, ARC, and bandwidth up to 18 Gbps.
Which HDMI cable is best for 8K?
While the majority of TV panels aren't 8K (and the ones that are will cost you a small fortune), it never hurts to be future-proofed.
8K cables offer HDMI 2.1 support for those higher refresh rates, too. While there are plenty out there, KabelDirekt's offering is the best we've found.
Supporting up to 48Gbit/s and resolutions all the way up to 10K (yes, really), it'll also support HDR and Dolby Atmos.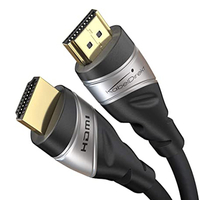 8K HDMI 2.1 cable | was $15.44, now $14.51 at Amazon
This 8K HDMI cable has a super sleek look and is affordable. The HDMI 2.1 standard supports 48Gbit/s UHD-2 resolutions, 3D video, 48-bit color and functions including Dynamic HDR/HDR10+, VRR, ALLM, HFR & eARC (Dolby Atmos/DTS:X). It also has a 36-month manufacturer's warranty.
Discover more guides for tech at home…
Best laptops
Best TVs
Best DVD players
Best cordless phones
Best home computers