While Blu-Ray offers increased visual fidelity and streaming services are perhaps more convenient ways to watch movies and TV shows, the best DVD players still have a place in many living rooms around the world.
DVD players remain popular among those with standard definition TVs, or who simply don't want to splash out on a Blu-Ray player, and they're more affordable than ever.
With options for any budget, you'll want to find one from a reputable brand, with tech giants like Sony, LG, and more offering fantastic value for money without compromising on quality. Many models go above and beyond simply playing your existing collection DVDs, too, offering built-in app functionality so that you can hop over to Netflix, Prime Video, or Disney Plus with a simple click or two. Sure, many TVs offer the same functionality, but it's nice to have the option if you're also keen to watch DVDs.
Then there are DVD players with USB connectivity, which let users save videos and photos to a thumb drive or portable hard drive to be able to play them back on the big screen to share with friends and family.
Some can even make your movies look better than you remember, using impressive upscaling techniques to push your old favorites closer to 1080p for Full HD. You'll need one of the best HDMI cables (opens in new tab) to do that, though, and there's an argument that a Blu-Ray player (opens in new tab) would be more future-proof since you'd gain access to additional media types that way.
Whether you've got a huge back catalog of movies (many of which never made it to Blu-Ray or can't be found on streaming services) or just want to watch home movies saved on a portable hard drive, here are the best DVD players you can find today.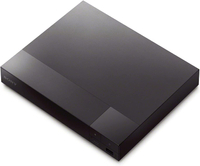 (opens in new tab)
Sony BDP-BX370 | was $89.99, now $73 at Amazon (opens in new tab)
This Sony player will upgrade your watching experience as it will upscale your DVDs to near-HD quality. It can also play Blu-Ray discs and view smartphone content using a screen mirroring function.
The best DVD players
If you're on the hunt for a do-it-all DVD player, the Panasonic DVD0-S700 is a sure choice. The all-black design looks super sleek thanks to the reflective front and matte upper and will look right at home on your TV setup. It's pretty minimal too, weighing 2.4 lbs player and spanning 1.5 x 12.2 inches - ideal for fitting into smaller cabinet spaces. With play, pause, stop, and eject buttons all on the slimline device itself, the controls are easily accessible and intuitive to use.
The DVD-S700 plays DVD discs from all over the world as it's totally region-free, and it'll even upscale those discs to 1080p quality for use via HDMI. It's got a whole host of great features including support for Dolby Digital Audio as well as a USB port for video, music and image file playback.
When testing this DVD player, it was by far the fastest we tried, from inserting a disc to having it loaded up ready to watch. If you turn it off for the night and decide to continue a movie the next day, it will pick back up where you left off, which makes life that little bit easier. It remembers up to 6 discs too, which is great if you're a household that can't agree on what to watch. It's not the cheapest on the market, but if you're looking for a player that has all of the features you need, it's worth the extra cost.
---
The Sony DVP-SR510H is a super easy to use device that doesn't forego any useful features. The big appeal is the 1080p upscaling since Sony is well known for its image processing. It's able to take old, 480p discs and add in pixels to fill out to a 1080p display. The result is a high-quality image that avoids any obvious, jagged edges.
One unique feature we love is the ability to play a slideshow of JPEG images with your MP3 music playing in the background too – all from a USB drive and disc. This features a display and a selection of buttons on the unit as well as a comprehensive remote control. The fact this offers Sony quality upscaling for a really great picture is also of huge appeal here.
Boasting HDMI support, Dolby Digital audio and DVD R+ playback, this player does a lot. What it doesn't do is region free playback, which knocks it down the list. It's also a bit slower to load, so that could be something to bear in mind. The power, play, stop and eject buttons sit on the top of the machine, keeping the layout super minimal. Everything else is on the remote control, so aside from loading the disc, you can sit back and enjoy from the comfort of your couch.
---
The GPX DH300B DVD player is a great affordable option for those looking to buy a device that includes some handy features, at a lower cost. Despite the cheaper price, it still loads nice and quickly, which applies to both PAL and NTSC DVD discs. It's also got the smarts to upscale the video to 1080p for output to a TV via HDMI.
Although there's no Dolby support or USB access, this device will play rewritable discs like DVD+/R/RW as well as CDs. However, for the price, this is expected. It does allow you to play JPEG discs though, so you can use it for your next slideshow - a great addition to hosting at home.
Similar to other models out there, it has a slim black design that means it will blend seamlessly into a TV cabinet, whether tucked behind a door or left on show. There's no display, but the green LED power light and a handy remote control are all you need to get it up and running. And in terms of the viewing experience, there's support for multiple audio tracks as well as subtitles, ideal for anyone that enjoys foreign language films, for example.
---
If you've wanted to rip your favorite CDs and don't have a computer or streaming service, then the LGDP132H is well worth a look. It replaces the older DP132, a previous feature on this list, it now includes the option to plug a USB device into the front of the player, and rip your CDs straight into it. It couldn't be easier.
There are swings and roundabouts with this player. The USB 2.0 is a great bonus feature, however, there's no upscaling or HDMI support here so it may be a better option for older TVs. The LG DP132 is small with a compact size of just 9.8-inches long and 1.5-inches in height, making it ideal if you have a small tv cabinet or want to create a minimal setup. Similar to other designs, the slick black finish looks modern and will match most TVs. It's also easy to move around thanks to a 2 lbs weight.
Touch controls for play, pause, eject, and power on and off make it super intuitive to use, while the remote control has an abundance of options for ultimate lazy usage. If you want to avoid fingerprints on the shiny surface, you'll want to stick to the remote control too.
---
The Impecca DVHP-9117 DVD player does a lot for the price and it does it fast. When testing it ourselves, we found it was one of the fastest loading DVD players on our list and it plays nice with both NTSC and PAL. It'll also upscale image quality to 1080p for output via HDMI.
On the front of the device is a USB port for easy loading of files like photos, audio, and video. This is a nice touch for viewing on the connected big screen and is great for showcasing photo slideshows when hosting friends and family. The display is simple, with a reflective black surface and buttons on the front of the machine. However, the remote has plenty more control options that allow easy use.
The performance is great too - this player offers smooth playback with decent color reproduction for a more immersive experience. Unfortunately, it doesn't support Doly Audio so the image is ahead of the sound.
---
The Craig CVD401A makes our list of the best DVD players mainly thanks to its really compact size. It's a winner for anyone looking to hide their DVD player away in a small space, measuring just 6.5 x 7.8 x 1.7 inches - that's about the size of a DVD case. The black design helps it to blend in, whether it's placed in a cabinet or on a TV stand, and while there is no display, the green LED light and remote control are all you need to get it up and running.
Despite the small package, it packs in plenty of features such as HDMI and 1080p image upscaling, so even your older DVDs will look good on a larger screen. It's compatible with lots of different disc formats and also supports CDs for audio. Dolby Audio support is also a nice added extra that means you could get a more immersive experience.
One downside of this player is the 90-day warranty, which is shorter than other options out there. However, it does perform consistently and for the price, it's hard to grumble at.
---
Despite the PlayStation 5 being most commonly used for gaming, this device doubles up nicely as a great DVD player too. It has a super sleek design that will upgrade any gaming setup and can be laid either vertically or horizontally depending on which format best works for your space. It's kept pretty minimal with the buttons, however, the handheld console can be used as a remote so you can easily control the player from your couch.
With Tempest 3D AudioTech, you can enjoy an immersive viewing experience as it will feel like the sound is coming from every angle. It also has up to 120 fps and will support 120Hz output on 4K displays. This device certainly delivers when it comes to viewing quality, but this comes with a higher price which is something to consider.
If you're looking for a simple DVD player, then it's probably best to opt for a simpler, and cheaper, model like the others above. However, if you're already in the market for a games console, picking one with DVD compatibility is a great idea as it will reduce the need to purchase multiple bits of gear. It's also worth noting that the Digital Edition doesn't come with a disc drive at all, so if you're looking to use it as a DVD player, make sure you opt for the Standard Edition.
---
The Xbox Series X is the fastest and most powerful Xbox console yet. It has lightening fast load times, up to 120 fps and a 4K UHD Blu-ray Player that will enable you to play DVDs and Blu-rays.
Visually, it doesn't compete with the sleek look of the PlayStation 5, or slimline DVD players out there. It has a rectangular box design that will look right at home in larger tech setups but might be out of place in smaller spaces. It does, however, come in black so it will blend nicely into the background.
Its surround sound is supported with Dolby Digital, Dolby TrueHD, and DTS, so you can recreate the cinema experience in your own home. The 4K video resolution also means you can achieve a high-quality picture, even with older discs. Like the PlayStation, this device does come with a higher price, however, it has so many other features that it's understandable. This player has also been upgraded with smart features and can connect to Amazon Alexa and Google Home Assistant, making it easy to control from anywhere within your home.
What to look for in a DVD player
Features
Movies are at the core of your DVD player, but the best DVD players can do even more. Whether that's streaming music or movies as an added bonus, or doubling as a music player using your TV speakers, there's plenty to look out for.
HD functionality
While DVDs are ideal for standard definition televisions, if you have a TV with a high definition resolution of 720p and upward, you'll want to make use of it. While the more forward-thinking option is to opt for a Blu-Ray player, those can be considerably more expensive, making a DVD player's ability to upscale to 1080p a great middle ground.
Connectivity
Between USB ports, HDMI and aerial connections, and optical connections to hook into your sound system of choice, there's a lot that can be connected to a DVD player. That means it's worth confirming what ports are available before purchasing.
Form factor
While you may not look at your DVD player often, particularly if it's buried in a TV cabinet or shelving unit, there's something to be said for keeping some space between it and your other tech just to keep it from getting too warm. With that in mind, more compact DVD players might be ideal for you.
Why get a DVD player over a Blu-ray player?
Why you can trust Top Ten Reviews Our expert reviewers spend hours testing and comparing products and services so you can choose the best for you. Find out more about how we test.
We can't pretend that a Blu-ray player is anything less than a superior device compared to DVD players, with significantly better playback quality and more advanced features. And most Blu-ray players can usually play older DVD discs as well as Blu-rays. So, aside from nostalgia, what do DVD-players offer that Blu-ray players don't?
Well, it's worth bearing mind that Blu-ray players aren't really built with DVDs in mind, so they won't play your copied DVD-R discs which are writable and therefore may store precious movies, music and other files you've saved over the years. Blu-ray players also offer a host of features that many users might just find unnecessary and over-complicated, preferring the relative simplicity offered by DVD players.
Above all, the main advantage of DVD players is cost, with many models being significantly more affordable that the flashier Blu-rays and other media streamers and services around. No, the quality won't be as good, but they can still provide an enjoyable viewing experience at the fraction of the price.
And lastly, having a physical media collection and the means to play them is still something that appeals to many people, and the DVD player continues to be a reliable means to watch those old movies and home videos, and listen to the music you've saved over the years.