Having a website has never been easier thanks to a wide array of website builders and best web hosting services on the market. However, starting out is never easy, especially when you have a limited budget at your disposal.
Often you have to look at the cheapest options available, ideally the ones that come at no cost at all. Such platforms usually have some strings attached, like ads or storage/bandwidth limitations but it's a small price to pay for a free service.
Read on for the list of best free website builders we managed to find:
1. Jimdo
Why you can trust Top Ten Reviews Our expert reviewers spend hours testing and comparing products and services so you can choose the best for you. Find out more about how we test.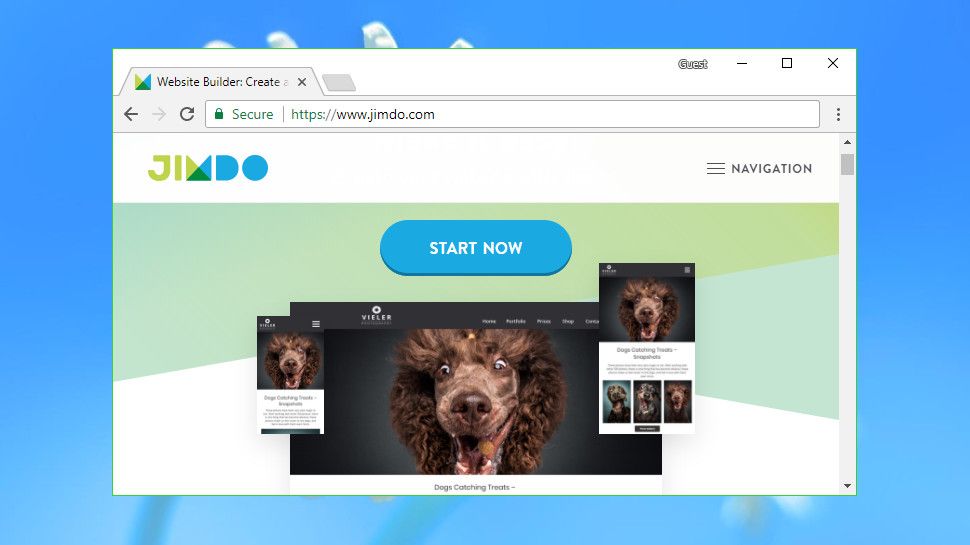 Jimdo has quite a few premium packages but it also allows you to create a basic mobile-friendly website for free. You can either have the platform create the desired website for you automatically (ideal for beginners) or customize it according to your own requirements (if you have some experience).
The free website you create with Jimdo will have ads, and the included storage is limited to 500MB, while the monthly bandwidth is limited to 2GB. Unlike a lot of its competitors' free plans, Jimdo supports an online store with up to five products (no transaction costs included) and provides access to one password-protected area.
On top of that, you will be provided with a blog, contact forms, HTTPS security, support for HTML5, Google Maps, embedded videos, external widgets and apps, as well as custom coding. If you're selling items, the free account will also get you support for PayPal and setting up shipping costs.
Free users will also have access to the friendly customer support, although they might have to wait since priority is given to paying users.
2. WordPress.com
WordPress.com is not to be confused with WordPress.org, where you alone are responsible for hosting your own blog or website. WordPress.com takes care of it for you and there's no need to download any software or pay for hosting.
Under WordPress.com's free plan, you can create a beautiful and simple website in a matter of minutes. This option gives you all the essential features, as well as dozens of free themes.
The platform offers a bit more storage space than Jimdo - up to 3GB, allowing you to upload a decent amount of images, audio, and documents to your website (no videos though).
WordPress.com will place ads and its branding on your free website, so if you can't work with this you should consider switching to one of the paid subscription plans. More advanced design customization, SEO tools, site monetization, Google Analytics integration, as well as any eCommerce capabilities are reserved for premium plans as well.
3. Incomedia WebSite X5
Incomedia WebSite X5 is an offline desktop website builder, and it will also take care of your hosting.
There are only three subscription options: Go, Evo, and Pro. With the Go (free) plan, you can create a website with up to 10 pages, and your website will be automatically adjusted for mobile devices. It requires no previous coding knowledge.
The free plan also enables access to 15 customizable templates, integrated FTP engine upload capabilities, as well as free customer support and privacy management. The editor works under the classic and simple drag-and-drop mode and supports editing images and rich text.
You won't get half of the features offered in premium plans, but you will be able to add audio and video content to your website, as well as HTML5 animation.
The main difference between WebSite X5 and other web building platforms is that it allows you to draw the site map, listing your pages and showing how they're connected to each other.
4. Wix
Wix's ad-supported free plan implements the usual storage and bandwidth limitations. There's up to 500MB of space available for all of your free website's content, as well as 500MB of data transfer per month.
This might not seem like a lot, but the free plan also provides access to hundreds of templates, pictures, clip art, and more. It also offers access to a free Wix domain and an extremely user-friendly drag-and-drop editing platform.
It doesn't end there either. You'll also get access to email marketing and basic SEO assistance, as well as a blog section. On top of everything, Wix supports a free eCommerce website.
If you manage to find it, there's an email support ticket available where you can get help from a Wix team member. We got our answer quickly, in just a little over 10 minutes.
5. Joomla!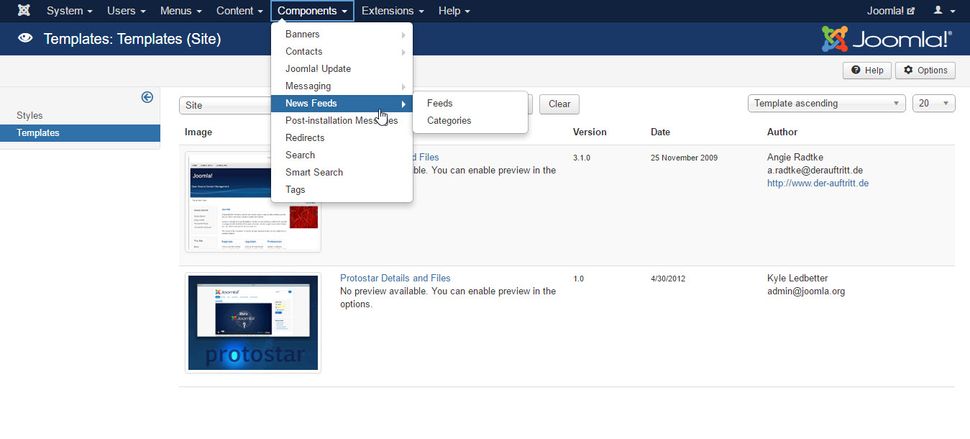 Joomla! is a free and open-source website building service with free hosting provided by CloudAccess.net, along with FTP, PHPMyAdmin, and support for extensions.
The only catch is the limitation in the form of 500MB storage space and subdomain usage. The free service is yours as long as you click the "renew" button once every 30 days.
To get started with Joomla! you can either download and install the software or use the online platform to create and launch your website. The latter option is ideal for beginners. Whichever version you choose, you'll be able to take advantage of Joomla!'s huge library of themes and extensions.
6. Weebly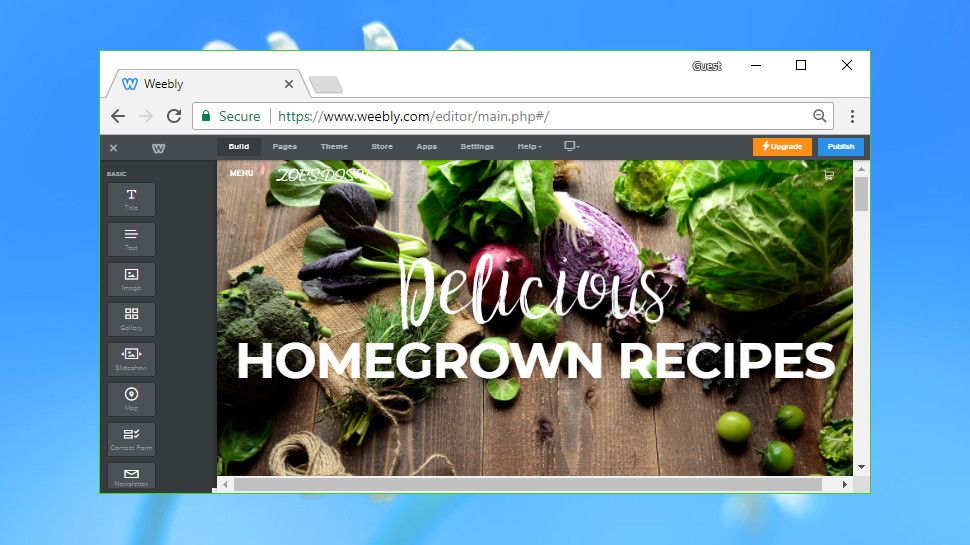 In addition to premium plans, Weebly comes with a free-of-charge version that is, like most others, supported by ads shown on your website. Another typical feature is the 500MB limitation imposed on the web storage for all your content.
You'll get some basic statistics and SEO settings for your free website, in addition to the powerful drag-and-drop editor that contains all the basic tools, like adding text, images, slideshows, buttons, and social media icons. However, if you want to add a search box, audio, video, or PDF documents, you'll have to switch to a paid plan.
Customizing your website is possible with the help of around 50 themes. Alternatively, you can import your own, as well as quickly switch between the dark and light theme. The website can also be enriched with apps in the App Center, many of which are available for free.
7. CoffeeCup Free HTML Editor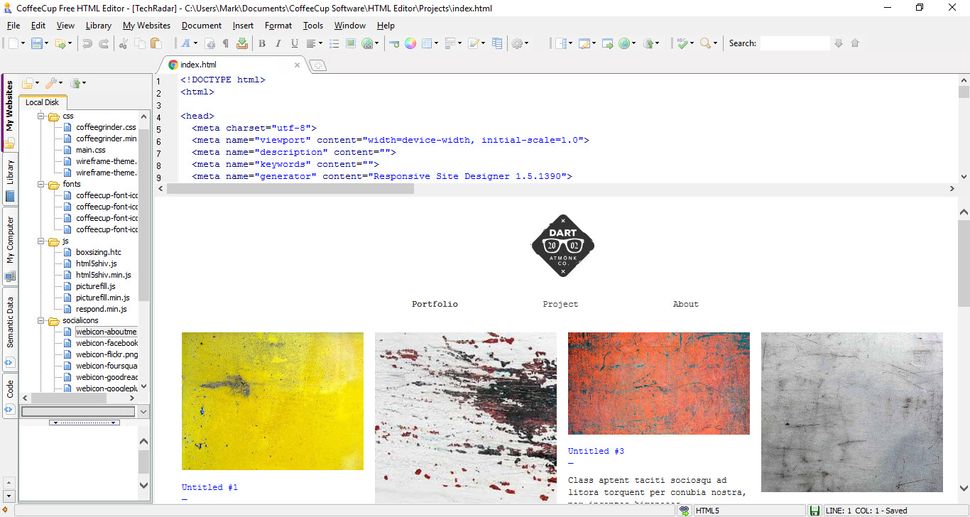 CoffeeCup offers a free and premium HTML editing platform that is a bit unorthodox. Specifically, it doesn't use a CMS system like most, so it may be a bit difficult for beginners to get around.
The list of features and options available for free is a long one, and includes fully customizable toolbars, as well as comprehensive code completion. There's also over 30 customizable themes and layouts, support for plain text-to-HTML Markdown, website projects, components library, meta data generator, thesaurus, and a Stylesheet Wizard.
Any changes you make can be previewed in split-screen and you can use the FTP/sFTP upload system. Customer support revolves around an FAQ section, and it is possible to contact the team directly via Support Room (for which you need an account) or email (which might take days to respond).
8. SimpleSite
SimpleSite's WYSIWYG editor is outstandingly straightforward and lightweight, and therefore suitable for beginners. There are some statistics available on the dashboard and the process of adding elements is fairly simple.
There aren't many standard layouts but tools are available for customizing the content and colors. As is the practice, SimpleSite ads are shown on your free website, and there are certain limitations in terms of design options, page count (15), and the number of store items (only five).
The eCommerce support is limited, but is still more than what is usually offered in this industry. As such, it's a great option if you want to make money from a hobby. The free plan includes mobile optimization and you get a free domain with "simplesite" in its URL.
Furthermore, you can upload images, videos, slideshows, posters, maps and contact forms, all for free. Customer support is available in the form of a somewhat limited FAQ section, and you can send an email to the company employees to which they will respond within two business days.
9. Ucraft
Ucraft's free plan is rather limited in comparison with its competition - you can create only one landing page and that's it. The page also comes with Ucraft branding and the editor doesn't come with the classic drag-and-drop support.
However, a decent amount of features are available for that one page, including a custom subdomain, basic elements, a solid choice of templates, SSL security, visibility settings, SEO tools, password-protected pages, 24/7 customer support, and unlimited bandwidth.
10. Tumblr
You might think of Tumblr as a simple blogging platform, but it's much more than that. If you're not creating a web store or a huge enterprise website, Tumblr is an excellent and completely free solution that covers all the basics.
It supports adding pages alongside your blog, as in image galleries and contact forms, in addition to allowing posting from mobile apps. You can add all sorts of content, like text, images, videos, MP3 files, and more.
The platform also offers a wide range of eye-catching templates and themes, although not all of them can be used for free. You can play around with them, either choosing among the integrated features or adding your own CSS. Switching between templates is a piece of cake as well.
For more quality products, check out: