The best antivirus software will protect your computer and mobile devices from malware, keeping you safe from hackers, cyber criminals, and the latest online threats. As cyber crime continues to grow, it's never been more important to invest in rock solid, reliable, and up-to-date antivirus software - and not just for your PC, but all internet-enabled devices (yes, that includes your Mac). So which is the best antivirus software in 2019?
Editor's Choice: Bitdefender Antivirus Plus 2019
Bitdefender Antivirus Plus blocks malware on Windows computers without causing any lag. It also includes extra security tools like a file shredder and password manager.VIEW DEAL ON Bitdefender
We've been reviewing antivirus software for more than 15 years. To update this guide, we spent over five months testing the best antivirus software with live malware samples, including viruses, ransomware, rootkits, Trojans, spyware and phishing schemes.
Our experts found that Bitdefender Antivirus Plus is the best overall antivirus software program for Windows computers and laptops. In our tests it was the most effective at recognizing and stopping threats, but it's also easy to use - and it comes with extra security tools that other, more basic antivirus programs don't include. Alternatively, if you need antivirus software for Mac computers, we recommend using Bitdefender Antivirus for Mac.
Whatever your internet security needs, you'll find the best antivirus software for you below.
If you think you might need something more comprehensive more than just antivirus protection, take a look at our best internet security suites buying guide. Where we talk you through everything to look out for.
Best Antivirus Software Overall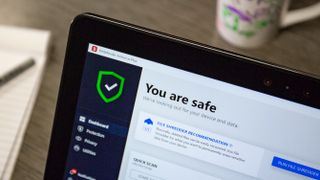 Bitdefender Antivirus Plus 2019
Bitdefender Antivirus Plus blocks malware on Windows computers without causing any lag. It also includes extra security tools like a file shredder and password manager.
Best Free Antivirus Software
Avira Free Security Suite
Avira offers a free antivirus solution that effectively blocks internet threats. It includes more security tools than other free security services, including a password manager, parental controls and a VPN.
Best Antivirus Software for Microsoft Edge
Trend Micro Antivirus+ Security
Trend Micro stops you from accessing malicious websites through Microsoft Edge by displaying an in-browser warning and without the need for a browser extension. Trend Micro also blocks automatic virus downloads from even starting.
| Product | Price | Overall Rating | Test Results | Malware Protections | Privacy Tools | In-House Malware Protection Score | Overall Malware Protection Score | Effect on System | Ease of Use | Ransomware Protection | Antiphishing | Spam Filters | Personal Firewall | Secure Browsing | Vulnerability Scans | USB Scanning | Gamer Mode Enabled | Social Network Protection | Password Manager | Parental Controls | Secure Delete | Safe Banking Tools | VPN | Weekday Phone Support Hours | Weekend Phone Support Available | Live Chat |
| --- | --- | --- | --- | --- | --- | --- | --- | --- | --- | --- | --- | --- | --- | --- | --- | --- | --- | --- | --- | --- | --- | --- | --- | --- | --- | --- |
| Bitdefender Antivirus Plus 2019 | View Deal | 5/5 | 4.9 | 5 | 5 | 99 | 100 | 100 | 80 | ✓ | ✓ | $ | $ | ✓ | X | ✓ | Manual | X | X | $ | X | X | X | 24/7 | X | ✓ |
| Norton AntiVirus Basic | View Deal | 4.5/5 | 5 | 4.7 | 4.7 | 97 | 98 | 100 | 90 | ✓ | ✓ | | $ | ✓ | X | ✓ | Manual | $ | X | $ | X | X | $ | 24/7* | X | ✓ |
| VIPRE Advanced Security | | 4.5/5 | 5 | 5 | 3.7 | 99 | 99 | 90 | 90 | ✓ | ✓ | X | X | ✓ | | ✓ | Manual | X | | | X | | | 24/7 | X | ✖ |
| Avira Free Security Suite | | 4.5/5 | 4.7 | 5 | 3.9 | 96 | 98 | 85 | 70 | ✓ | ✓ | | X | ✓ | X | ✓ | Automatic | | | | | X | X | 24/7 | X | ✖ |
| Kaspersky Anti-Virus 2018 | View Deal | 4.5/5 | 4.9 | 4.2 | 3.4 | 98 | 99 | 85 | 90 | ✓ | ✓ | $ | $ | ✓ | | ✓ | Manual | | $ | $ | | | | 24/7* | X | ✓ |
| Trend Micro | View Deal | 4.5/5 | 4.9 | 4.7 | 3.4 | 100 | 100 | 80 | 85 | ✓ | ✓ | X | | ✓ | $ | ✓ | Manual | $ | $ | $ | | | | 5am - 8pm* | X | ✓ |
| McAfee Total Protection | | 4.5/5 | 9.5 | 5 | 3.7 | 100 | 100 | 75 | 80 | ✓ | ✓ | X | X | ✓ | | ✓ | Manual | | X | X | | | | 24/7 | X | ✓ |
| Avast Free Antivirus | | 4.5/5 | 4.5 | 4.7 | 3.8 | 97 | 97 | 85 | 75 | ✓ | ✖ | $ | $ | ✓ | X | ✓ | Automatic | | $ | | $ | $ | $ | 24/7 | X | ✖ |
| Webroot SecureAnywhere AntiVirus | View Deal | 4.5/5 | 4.9 | 3.8 | 3.5 | 99 | 98 | 100 | 80 | ✓ | ✓ | | X | ✓ | $ | ✖ | | | X | | | $ | X | 24/7* | X* | ✖ |
| ESET | View Deal | 4.5/5 | 4.7 | 4.2 | 3.5 | 99 | 98 | 100 | 90 | ✓ | ✓ | $ | $ | ✓ | | ✓ | Automatic | | $ | $ | | $ | | 6am - 5pm | | ✓ |
Best overall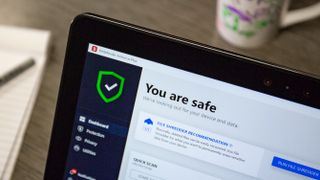 Bitdefender Antivirus Plus 2019 for Windows is the best antivirus software you can buy. (If you're looking to protect your Mac, we recommend Bitdefender Antivirus Plus 2019 further down the guide.) It offers excellent protection for your home computer from a variety of malware types, including destructive ransomware, Trojans, rootkits and phishing schemes. In our tests of antivirus software, Bitdefender consistently blocked us from visiting malicious websites and stopped viruses from downloading. All threats are securely and completely deleted so no trace of them are left on your computer.
A gaming, or silent, mode is included in case you need more of your system's resources for online gaming or watching videos, though we didn't find Bitdefender to cause enough lag to be a problem while working and playing online. This antivirus software also includes a password manager and safe banking tools. Both functions help to protect your personal information, account numbers, user names and passwords as you enter them and work online. It is also one of only three antivirus software programs we reviewed that include a VPN, so you can work online and not have your browser history traced, captured or logged.

Bitdefender Antivirus Plus scans links and files shared on social media pages and lets you know if they are safe before you click or share them. It also scans your whole computer for any outdated software then gives you a legitimate link where you can safely download the latest patch or version. When it comes to watertight security, this is the best antivirus software for Windows out there.
Best free antivirus software
Avira Free Security Suite displays a large warning in your Chrome or Firefox web browser if you try to visit a site known to have malware on it. If a virus tries to automatically download to your computer, Avira stops it then moves the threat to the quarantine file. This antivirus software comes with several security tools, like a system vulnerability scanner, a personal firewall and a VPN. Each tool is a separate module that you must set up individually, and you can't access other tools without first returning to the beginning of the dashboard.

Overall Avira does a decent job blocking malware, both malicious sites and virus downloads. Threats that make it to your computer are caught and quarantined by Avira Free Antivirus. The secure browsing feature marks search results so you can easily see which sites are safe to visit. Because Avira is a free antivirus software program, it frequently displays pop-up ads. These caused some slowdown to our test computers. However, if you're a gamer, Avira automatically enables its gaming mode that keeps the pop-ups at bay so you have more of your system's resources and less interruption while you play.
Best antivirus software for Microsoft Edge
Despite not allowing third-party browser extensions, Trend Micro still blocks malicious websites and warns you about them in the Microsoft Edge browser, because even with Edge's great security settings, some threats still sneak by. And Trend Micro stops infected files from downloading so there is no chance for the threat to sneak onto your computer.
Trend Micro scored a perfect 100 percent in our lab tests, one of the few antivirus software programs that correctly recognized and blocked over 300 live malware samples. It also earned perfect detection scores in other independent laboratory tests.
Trend Micro Antivirus + Security includes spam filters and USB scanning to keep threats from entering through email messages or removable drives. Other security tools, like safe banking or social media scanning, aren't available with this version of Trend Micro, but are included, along with parental controls and a personal firewall, with Trend Micro's Maximum Security software. Installing the program requires the same basic steps as most antivirus programs. You do need to enable the browser extensions in Mozilla Firefox and Google Chrome if you plan to access the internet with either of these browsers.
Best antivirus software for gamers
For online gamers who access sites and programs that tend to harbor malware, Avast is a good choice. It is effective at blocking viruses and other threats, plus its gaming mode places the game sites you access on its white list the first time you visit the site.
Each time you start a game, Avast suspends non-critical functions and doesn't show pop-up messages so you're not interrupted. This also lets you have more of your computer resources so you don't experience any slowdown during your gameplay. Avast Free Antivirus has a handful of extra tools, like a vulnerability scan. But its paid version, Avast Pro Antivirus, includes a lot more and doesn't have pop-up ads asking you to upgrade your malware program.
Least invasive antivirus software
VIPRE Advanced Security is the easiest antivirus software program to install and use among the antivirus programs we tested. It's easy to find the tools, functions and folders you need because they are clearly marked with large icons and big text. Subfolders and tools, like the quarantine folder and custom scan settings, are in the main folders where you would expect them to be, so it's not hard to navigate this program. Also, setting up VIPRE doesn't take a lot of guesswork, and it doesn't cause much slowdown of your computer while its running, even during deep virus scans.
While third-party test laboratories don't test VIPRE very often, we checked out how well it protects against malware and were happy to see it blocked 99 percent of the over-300 live malware samples we used for testing.
Best antivirus software for Mac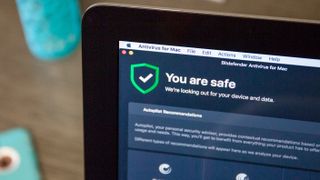 Bitdefender is the best antivirus software for Mac. During our in-house tests, this program stopped 99 percent of threats from infecting our computers. And each time it stopped a threat, Bitdefender automatically deleted the malicious file without first placing it into quarantine. Bitdefender Antivirus for Mac also does a great job of stopping Windows threats. While Windows threats don't affect Mac computers, blocking them prevents you from accidentally passing one on and infecting Windows computers.
Bitdefender didn't create noticeable slowdown while running, and it marks websites that harbor phishing schemes and malicious websites as unsafe to keep you from clicking through to them. There are some more advanced security features not included with this Mac antivirus program, namely a firewall, password manager and spam filters. However, it has both a vulnerability scanner and a VPN.
Best antivirus software for Android
Kaspersky Internet Security is one of the best antivirus programs you can buy for your Android smartphone. It's super easy to install and navigate, plus it earned high scores in malware detection and blocking tests. On top of protecting against internet threats, Kaspersky includes powerful parental controls that allow you to block inappropriate content and manage how much time your child spends online. It also has a personal firewall that keeps an eye on your internet connection to ensure threats don't enter through your Wi-Fi connection. This is especially important when you connect to public internet networks, which may not be as secure as your home network. Kaspersky Internet Security also sends antitheft alerts and includes a password manager.
One drawback is Kaspersky Internet Security doesn't come with online backup storage to further secure your documents and files. However, this feature comes with the company's more expensive Total Security program.
Other computer security articles:-
Why trust us on anti-virus software?
We've been evaluating antivirus software for over 15 years. We test each program several times each year, both in our onsite testing facility, using a controlled network and live malware samples, and on our home computers, so we get a good idea of how antivirus programs work in a real-world scenario. We do quick evaluations when new security breaches are reported to ensure the programs we recommend will protect you from these new threats.
As part of our research, we talk to security experts that oversee the network protections at their place of employment, and we speak with professional hackers to understand both the hardware and software side of internet security. The Anti-Malware Testing Standard Organization (AMTSO) is a non-profit organization that sets standards for antimalware testing, and while we don't subscribe as members, we do incorporate some of its standards in our testing methodology. For example, we either purchase or download the trial versions of each program for testing, and we never speak to antivirus companies during the testing period. This ensures we have a neutral testing environment.
We subscribe to IT and security news outlets and blogs, plus attend trade shows and conventions specific to internet security to stay aware of security breaches and changes in the industry. We follow local and congressional hearings on cybersecurity, so we have a good understanding of the international stage, its workings and issues that affect both government and personal computer security.
How we tested antivirus software
We spent over five months testing each antivirus program with 352 live malware samples gathered from several malware databases and included ransomware, Trojans, rootkits, viruses, worms and phishing schemes. After talking with several computer security experts, we decided to try to access each threat through our internet browsers to simulate how your computer would most likely become infected.
We tried to download infected files, visit websites we knew harbored threats and attempted to access phishing schemes while watching each antivirus program attempt to warn, block, scrub and protect our test computers. We learned that the popular web browsers, Mozilla Firefox, Google Chrome and Microsoft Edge, interact with these programs differently, which affects how effective they are. And for the record, we did test the security settings of these browsers, too, and can tell you having an antivirus program gives you greater protection, especially if it uses a browser extension.
If the antivirus program prevented the malware from infecting our computer, meaning it interrupted the download process or captured the threat once the file was done downloading but before it could save itself on our system, it was tagged as a successful protection from that threat. And if the antivirus program displayed a warning message when we attempted to access phishing schemes or other dangerous websites, that, too, was marked as a successful outcome.
We repeated these tests 12 times on several different test computers and multiple times with each web browser to make sure samples weren't missed or outcomes wrongfully categorized.
We didn't opt into any data sharing programs and ensured learning features were disabled during these tests so that the programs didn't learn the threats and start recognizing and blocking them the more we tested with them.
We did allow some threats through to infect our computers then ran each antivirus software's virus scan to see if it could detect the threat. Then we noted what the software did with the threats it found. Some programs quarantined these threats, some completely scrubbed them from our computer and others notified us about the threat but required us to take several extra steps to neutralize and remove the threat on our own.
While these outcomes didn't affect the malware protection scores we assigned to each program, they did, in some cases, factor into the overall ease of use, especially if we had to do a lot of technical steps to ensure threats were properly deleted.
Because our testing methodology is different from other security testing labs, we factored findings from AV-Test, AV-Comparatives and other laboratories into our overall antivirus ratings. These facilities test for zero-day threats, false positives and other security protections that we're not fully equipped to test, so their findings are important to consider.
On top of testing how well each program protects your computer, we also evaluated how easy each program is to download, install, set up and use. The Congressional Internet Caucus, a 100-member group of bipartisan U.S. senators and representatives, teamed up with the Senate Cybersecurity Caucus to hold a Congressional Cybersecurity Hearing in May 2018. Cybersecurity experts from L0pht addressed the group about the current internet safety precautions and how to improve them. One L0pht member, Joe Grand, told the Caucus that people don't use internet security solutions that are too complicated. We agree! This is why our ease of use score is so important.
Most antivirus programs require some setup to work properly, and the majority of them need you to turn on the safety tools inside your browsers before they can detect and block malware coming in through the internet. We gave an average score of 85 percent to these programs then added or took away points depending on consolidated processes, added steps, ease of navigation, etc. For example, VIPRE has you enable its browser extensions function from the user dashboard. With one click VIPRE monitors every browser, cutting down on the steps you need to take (and the complex navigation of browser settings) to stay protected. We felt this was a great tool that makes VIPRE easier to use than other programs, so we bumped up its usability score.
While we only ranked the top 10 antivirus programs, we still reviewed the other four programs we tested. You can read the results of our testing and our overall thoughts for Panda Dome Essential, eScan Anti-Virus, F-Secure Anti-Virus and AVG Antivirus FREE.
Can antivirus software remove existing viruses?
Antivirus programs are able to find some viruses that already exist on your computer, but most malware is hard to detect once it's in your system. This is because many of these threats are designed to block antivirus software, and others are disguised to look like real programs so they're difficult to spot. In addition, while antivirus software can remove some existing malware, it can't repair the damage the threat may have caused.
If your computer is infected with malware, we recommend seeking out a professional to help remove the viruses. Most local computer stores have professionals on hand who can remove malware for you or can recommend someone close by.
Once your computer is clean, you should install a good antivirus program like Bitdefender Antivirus Plus.This will keep the system clean by blocking malware from downloading and infecting your computer, to begin with. Both Norton and McAfee have computer protection programs that comes with a virus-free guarantee – if your computer becomes infected with malware while either program is installed, one of the developer's experts will clean it.
What is the best antivirus for computers?
The biggest factor we considered while testing antivirus programs is how well it stops your computer from becoming infected. And using over 300 live malware samples, we found that most antivirus programs do a really good job of stopping all kinds of threats. Bitdefender Antivirus Plus 2019 is the best antivirus for computers because it stops and removes threats before they download – and it's a good value.
Basic antivirus software tends to be pretty sparse on features. Beyond malware protection, most programs also include phishing scheme detection and safe browsing tools. But more advanced security features, like firewalls, password managers and safe banking tools, are left for the pricier internet security suites. Bitdefender includes many of these with its basic antivirus program so you get optimum security at a decent price.
How much does good antivirus software cost?
Basic antivirus software generally costs between $30 and $50 each year to protect a single computer. These programs don't have a lot of extra security features but will offer discounts if you need to purchase multiple user licenses.
More inclusive security suites are available for around $80. These typically come with three or more user licenses and include additional protection features like password managers, safe banking features, VPNs and mobile security
What is the cheapest antivirus software?
This depends on the current sales promotion. However, both Bitdefender Antivirus Plus 2019 and Kaspersky Anti-Virus 2019 retail their lowest package for $59.99, which comes out to just under $20 for each of the three user licenses included with these packages. If you only need a single license, Webroot is the cheapest at $29.99 compared to most other programs that start at $50 to protect one computer. There are some companies, such as AVG and Avira, that offer free antivirus programs with fewer features.
What is the best free antivirus?
Avira is the best free antivirus program we tested because it comes with so many tools that other programs, even paid antivirus programs, don't typically come with. These include parental controls, vulnerability detection, automatic gaming mode and a VPN. And don't discount Avast and AVG, which also come with password managers and vulnerability scanners. Other companies that offer a free antivirus solution include Norton, Bitdefender and Panda, but they are pretty bare-boned compared to Avira, Avast and AVG.
The biggest drawback of free antivirus programs, besides the lack of security tools, is the number of pop-up ads asking you to upgrade to the paid version. The protection is the same for free antivirus as it is for the pricier internet security programs offered by the same company, but the paid programs do come with more tools, like a personal firewall, vulnerability detection and password managers.
Bitdefender Antivirus Plus 2019 also has a data sharing program that allows the software to send information about viruses, Trojans, rootkits and other malware found on your computer back to its databases. This is a way to keep tabs on new threats and pass along protection to other Bitdefender users before the malware becomes a cyber outbreak. There hasn't been any evidence of Bitdefender gathering inappropriate or unauthorized information, so we're confident Bitdefender is safe to use. However, you can turn off this feature altogether from the Bitdefender dashboard if it worries you.
What is the best mobile security antivirus software?
Your smartphone should come with a standard antivirus program preinstalled, such as Lookout on Android devices. These programs, if you keep them updated, are usually sufficient to keep viruses off your phone. Basic antivirus programs typically aren't compatible with mobile devices, but you can get more comprehensive mobile protection for your Android or iOS cellphone when you purchase a premium internet security program or computer protection software.
Programs such as Kaspersky Internet Security, Norton Security Premium and Trend Micro Maximum Security include Android and iPhone compatible protections and additional security tools that make mobile devices a little more secure. These include password managers, antiphishing functions and spam filters.
Which is better: Norton or McAfee?
Norton and McAfee are two of the top antivirus programs based in the United States, and both are very secure programs with great security tools. We can confidently recommend both McAfee and Norton as good antivirus solutions.
There are some differences between them, however. McAfee scores higher in overall protection with a perfect 100 percent, and Norton comes close with 98 percent. Both programs come with extra security tools like spam filters, secure delete, secure browsing and vulnerability scanners. McAfee does include a few additional tools, most importantly a personal firewall and parental controls. Norton includes these with its premium security program.
The other big difference is how easy each program is to install and the amount of resources each takes from your computer to run. Overall, we felt that Norton was a little easier to figure out than McAfee. And while both don't create too much drag on your system, McAfee does take a lot longer to complete its virus scans than Norton.
Do I need to uninstall an old antivirus program before installing a new one?
Most antivirus software competes with other protection programs, so you need to uninstall your old program before installing a new one. Also, antivirus programs take up substantial memory, and having two installed will cause your computer to run much slower. During the installation process, most programs perform a scan to see if any other antivirus software or components are already installed, and they will either uninstall the old program for you or prompt you to uninstall it manually.
However, there are a couple programs that work in tandem with other antivirus software. Both AVG and Avast work alongside other protection software to add a second layer of security, catching threats your main program may miss. In both programs, you can turn off the virus detection and scan features – your main program can provide those specific service, and you can still take advantage of AVG's and Avast's more advanced tools like safe banking and password managers. If you install Avast or AVG as a secondary antivirus program, make sure to install it after your main antivirus. Otherwise, your primary program will require you to uninstall it before completing the installation process.
What is the best antivirus for business?
We found that Kaspersky is the best antivirus solution for small businesses, with excellent malware protection and a program that is easy to install and use, even if you're not tech savvy. And if you don't have dedicated IT personnel, Kaspersky has cloud-based programs so it can help you keep the program updated. Kaspersky's Small Business program, which covers up to 25 endpoints, is compatible with both Windows PCs and Mac computers, as well as Android phones and tablets, so all your business devices can be protected. It includes password managers, data backup, both antispam and antiphishing tools, and web controls to keep tabs on what your employees are doing online. However, keep in mind that there has been some suspicion about Kaspersky using its security programs to gather sensitive information and spy on government employees, even in their own homes.
Another good business protection program is Avast Business Antivirus Pro Plus. It isn't much different from the personal computer antivirus program, except it can easily protect more than 350 computers at a time. This program uses a personal firewall and VPN to keep your employees' identity secure while connected to public Wi-Fi. It also includes a vulnerability scanner to help keep all software on your computers updated and plug up any hole where hackers and ransomware could sneak in. Avast also monitors your webcams to ensure no one is accessing them without permission.
What is a personal firewall?
Firewalls inspect the packets of information coming through your internet connection and block those that are harmful. Hardware firewalls are included as part of your internet router. If information comes from a computer or a country known to be dangerous, these firewalls won't let it through to your computer. But even if a packet of information comes from a trusted source, there still can be a threat inside that the hardware firewall is unable to detect.
Software firewalls, also known as personal firewalls, inspect what's inside the packets to make sure there's no malware. Some of the most common threats caught by firewalls are ransomware (viruses that hold files hostage until you pay the developers a fee), and Trojans (files that look legitimate on the outside but inside have another threat like a rootkit inside). Both of these threats are used by hackers as a way to get personal information and use it for financial gain, or sometimes just to wreak havoc. Running firewall software is especially important when you're connected to a public hotspot because these often don't use hardware firewalls, leaving your computer vulnerable to anyone looking to snatch information.
Firewall software also looks for devices connected to your internet that doesn't belong to you or your family – a tactic commonly known as piggy-backing. Personal firewalls boot neighbors off your internet and block them from stealing your service in the future.
While you can purchase standalone personal firewall software, we've found using an antivirus program with an included firewall much easier, cost-effective and efficient. We've tested a number of antivirus packages that include a personal firewall; some of the best are VIPRE Advanced Security, Avira Free Security Suite, and McAfee Total Protection. You can learn more by checking out our reviews of the personal firewall software we tested.
It's gift card scam season, and your boss may be part of it
As the April 15 tax filing deadline gets closer, you may start getting panic-inducing phone calls from people claiming to work for the IRS and demanding payment in iTunes gift cards. However, this is a trick, and it isn't limited to phone calls – scammers also use email messages that look convincing to demand payment of taxes, utility bills and other debts with gift cards. The scammer has just enough information and sounds professional and pushy enough to scare many people into giving into their demands.
Another phishing scam is targeting businesses, with scammers posing as your boss. An urgent email message asks you to purchase several gift cards in specific amounts to give out to clients or employees. The "boss" also mentions you shouldn't respond back to them via telephone because they are in important meetings all day – instead, you should email them the gift card numbers for their records.
In both these cases, although the messages may look real and sound convincing, there are signs that they are fake. Here are a few things to know and look for if you get an email request to purchase a gift card:
Check the address
While it certainly isn't the first thing we look at when we open a message, it's important to see exactly where the email was sent from. Some email accounts, like Gmail, show the sender's name instead of their email address, but you can click on the name to open a window with this info. If it didn't come from a work address, message your boss through his or her work email and double check the request is legitimate.
How many? How much?
Most retailers now limit the number of gift cards one person can purchase per transaction and per day – usually five. This is in direct response to gift card scams. Many scammers know about this daily limit, so they instruct you to go to multiple stores to fill the quota.
Also, while it is possible your boss may legitimately want you to purchase more gift cards than the daily limit, typically they aren't in exorbitant amounts. A $100 gift card might make sense for your business, but if you're asked to get the maximum amount added to the card, typically $500, it may be wise to question if the request is legitimate. If you feel the number of or amount on the gift cards feels a bit much, ask you boss. However, make sure you send your question via your boss's work email – don't just reply to the original request.
Know what you can and can't use gift cards for
You cannot use a gift card to pay your taxes, utilities bills or other debts. Period. Gift cards are not considered legal tender, and the person or organization you are being asked to pay cannot convert gift cards into the cash needed to credit your account. Bottom line, if you're asked to pay a bill with a gift card, it's a scam.
Call or email using a legitimate contact
If you want reassurance about what you are being asked to purchase and the amount you should pay, or if you're wondering if the request is real, call, email or text the source using a legitimate address or phone number. If the request came from your boss, create a new message and email them at the address you are familiar with. If you're being asked to pay taxes, you can find legitimate phone numbers and contact information on the IRS's website. This is also true of any other company or debt collector.
You can cut down on the number of phishing schemes you receive by using spam filters. You can purchase a stand-alone spam filter program, but we recommend buying software that also includes antivirus protection. We found that eScan has some of the most impressive spam filters, and they are included with its antimalware software.
Protect yourself from the Astaroth Trojan
Computer security experts at Cybereason have issued a warning to be on the lookout for a new variation of the Astaroth Trojan. Though it's found mostly in Brazil, the Astaroth threat has also been discovered in Europe and is possibly making its way to networks in the United States. It attaches itself to your antivirus program and accesses personal information and online credentials, such as usernames and passwords, then sends them back to the malware creators to be used for identity theft.
According to Active Hunting, Cybereason's malware research team, the Astaroth Trojan primarily uses Avast antivirus programs to carry out its attack. It is believed this is because Avast is the most used internet security program in the world.
By nature, Trojan files are disguised to look like legitimate files, so they are difficult to recognize as threats. In the case of the Astaroth Trojan, the files are disguised as JPEGs or GIFs and sent primarily through email as spam or phishing messages.
One of the best ways to protect yourself is to not click on links or attachments in emails. Phishing messages look like they are from legitimate sources – for example, your power or cable company. Even the email address will look right at a glance, but most often there is something off, like a missing letter or an extra punctuation mark. Clicking on a link inside a phishing message or downloading the attached file releases the Trojan.
To be safe, type the company's URL as it appears on your statement into your web browser. From there, you can access discounts, billing information and contact information that's safe.
In addition, you shouldn't save financial information or passwords online. While storing passwords is convenient, it also increases the risk your information will fall into the wrong hands, whether through a Trojan like the Astaroth or a security breach.
If you have an antivirus program installed on your computer, make sure its malware definitions are up to date. Most antivirus software asks you often to download the latest definitions so you don't have to remember. This is important because malware databases update daily to include the most recently discovered threats and variations of old threats. These definitions are what help your antivirus program recognize and stop known malware.