After 60 hours of research and evaluation, State Farm earned my pick for the best homeowners insurance overall. The online quoting tool is the easiest to use, most comprehensive and among the most efficient.
Sponsored: get a quote
In partnership with Assurance
Get a custom quote. Find the perfect homeowners insurance for your needs.VIEW DEAL ON Assurance
The agent finder tool provides the information you need to choose a great local agent to help you get the best coverage possible.
In addition, among the providers I've reviewed here, State Farm has the third-highest customer satisfaction score from the annual J.D. Power study of homeowners insurance providers.
(Note: State Farm was ranked sixth overall among 30 insurance providers in the J.D. Power 2017 study. The study interviewed almost 16,000 people online. Some of the higher-ranking companies weren't included in my review because they are regional rather than national providers.)
Why trust us?
Top Ten Reviews started reviewing homeowners insurance in 2010, but this is the first time I've reviewed insurance providers. In fact, for the sake of full transparency, I don't even own a home. Not yet, at least. As such, I feel it's important to admit I've never purchased homeowners insurance. That said, I believe this gives me a unique and valuable perspective, as my evaluations and research were not affected, for better or worse, by past experiences with any of the insurance providers. I have never even purchased car insurance or renter's insurance through any of these companies. This allows me to approach the reviews from an unbiased perspective of a new homeowner.
I've been an expert reviewer for Top Ten Reviews since 2013 and am currently the senior domain editor for senior care and automotive tech categories. Over the years, however, I've developed expert skills at helping our readers make the best purchasing decision on a variety of products through dedicated research, evaluation and testing.
Best Overall
State Farm
State Farm is the best provider for homeowners insurance because of its very comprehensive and easy-to-use quote tool, in addition to its excellent agent pages and a high J.D. Power customer satisfaction score.
Best Value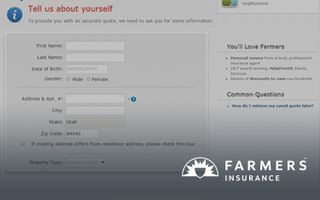 Farmers
Farmers earned my pick for best value because of the abundance of available discounts in each state. In addition, the agent finder tool has everything you need to find local help.
Best Customer Satisfaction Rating
Amica Mutual
For 16 years in a row, Amica Mutual was awarded the J.D. Power customer satisfaction award for homeowners insurance. Clearly, this company knows how to make sure you feel valued.
| Product | Price | Overall Rating | Quoting Process | J.D. Power Customer Satisfaction Study | Agents | Ease of Use | Reconstruction Value Accuracy | Comprehensiveness | Question Efficiency | Discounts | Instant Quote | Overall Customer Satisfaction Score | Price (Circle Ratings) | Claims (Circle Ratings) | Policy Offering (Circle Ratings) | Interaction (Circle Ratings) | Billing (Circle Ratings) | Local Agent Finder | Personalized Agent Bio Pages | Reviews | Availability Info | Languages Spoken | Community Engagement List | Founded | Total Assets (Billion) |
| --- | --- | --- | --- | --- | --- | --- | --- | --- | --- | --- | --- | --- | --- | --- | --- | --- | --- | --- | --- | --- | --- | --- | --- | --- | --- |
| State Farm Homeowners Insurance | View Deal | 4/5 | 10 | 5.8 | 7 | A+ | A+ | A+ | A | C | Yes | 823 | 3 | 3 | 4 | 4 | 4 | ✓ | ✓ | - | ✓ | ✓ | - | 1922 | $160.72 |
| Farmers Homeowners Insurance | View Deal | 3.5/5 | 7 | 3.8 | 10 | A | B- | C | A+ | A+ | Yes | 796 | 3 | 3 | 3 | 3 | 3 | ✓ | ✓ | ✓ | ✓ | ✓ | ✓ | 1922 | $16.06 |
| USAA | View Deal | 3.5/5 | 7.5 | 10 | | B+ | A- | B- | A+ | C- | Yes | 892 | 5 | 5 | 5 | 5 | 5 | - | - | - | - | - | - | 1922 | $155.39 |
| Amica Mutual | View Deal | 3/5 | 7.3 | 9.8 | | A | B | B- | B- | A | Yes | 866 | 5 | 5 | 5 | 5 | 5 | Regional | - | - | - | - | - | 1907 | $5.4 |
| Allstate Homeowners Insurance | View Deal | 3/5 | 4.5 | 5.5 | 10 | B+ | F | A- | B- | A | No | 817 | 3 | 3 | 4 | 3 | 4 | ✓ | ✓ | ✓ | ✓ | ✓ | ✓ | 1931 | $112.42 |
| Travelers Insurance | View Deal | 3/5 | 8.8 | 4 | 3 | B | A+ | A | A- | B | Yes | 802 | 3 | 3 | 3 | 3 | 3 | ✓ | - | - | - | - | - | 1853 | $103.48 |
| Liberty Mutual Homeowners Insurance | View Deal | 3/5 | 5.8 | 3.8 | 8 | B | C- | B+ | B | A | Yes | 799 | 3 | 3 | 3 | 2 | 3 | ✓ | ✓ | - | ✓ | ✓ | ✓ | 1912 | $121.7 |
| American Family | View Deal | 2/5 | 3.3 | 4.3 | 6 | A- | F | D+ | B | B | No | 812 | 3 | 3 | 3 | 3 | 3 | ✓ | ✓ | - | ✓ | - | - | 1927 | $20 |
| MetLife Homeowners Insurance | View Deal | 2/5 | 3.3 | 3.5 | 5 | B- | C- | C | C | C+ | No | 792 | 3 | 3 | 3 | 2 | 3 | ✓ | ✓ | - | - | - | - | 1868 | $719.89 |
| Nationwide | View Deal | 1.5/5 | 2.3 | 4.3 | 3 | C | F | C | C | A | No | 806 | 3 | 3 | 3 | 3 | 3 | ✓ | - | - | - | - | - | 1926 | $230.6 |
Best Overall
Very comprehensive quote
Instant quote
Very high J.D. Power customer satisfaction score
Not as many discounts as other providers
Agent pages don't include reviews
Average pricing
State Farm earned my pick as the best homeowners insurance provider overall because it has the best and most comprehensive quoting process, a very high customer satisfaction score and great agent finder tools.
State Farm earned my pick as the best homeowners insurance provider overall because it has the best and most comprehensive quoting process, a very high customer satisfaction score and great agent finder tools. In addition, State Farm is one of the most financially stable insurance providers with over $160 billion in total assets. You can trust this insurance provider has the funds to pay out on big claims.

Receiving an accurate quote for your homeowners insurance is complicated because there are so many considerations. But State Farm's quote tool is the most comprehensive I've seen, asking about 123 questions. By comparison, most quoting tools asked only about 50 questions. It takes significantly longer to complete than others, but I felt more confident about the quote I received as a result. Furthermore, the process is the easiest to use. The questions are defined well, so you know exactly how to answer and how each one applies to the quote. The tool even uses pictures with some questions to help you identify your home's style and construction material.

Another great aspect of State Farm is the agent finder tool. While you can't read reviews of local agents or see how engaged they are in your local community, the agent finder tool provides personalized bios, availability and languages spoken. You don't need an agent to purchase your policy, as with many insurance providers, but it's definitely worth considering. Homeowners insurance is complicated, so having an expert help you understand the ins and outs of coverage is very important.

Best Value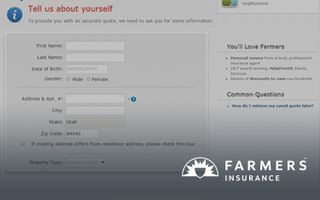 Great discounts
Comprehensive agent finder tool
Instant quote
Average customer satisfaction score
Quote tool isn't comprehensive
Questionable financial stability
Farmers earned my pick for our best value award because it has the most available discounts.
There are too many considerations to determine which insurance provider truly is the best value, but Farmers earned my pick for our best value award because it has the most available discounts. In my quote process evaluation, Farmers earned the only A+ grade for discounts. It's one of the few insurance providers to transparently list all the available discounts in your state. (Be aware, however, that discounts on homeowner insurance are often determined by local laws.)

While the Farmers quote tool isn't very comprehensive, it doesn't take long to get a quote and it's very easy to use. Once you get the quote, you can adjust the policy coverage to fit your needs and the quote is automatically recalculated to reflect the changes. In my test, the estimated reconstruction valuation of the home was lower than most providers, a result of the few questions it asked The quote also provides three price options so you can pick the best one for your budget. The reconstruction value is the same, but the deductibles are higher on the cheaper premiums.

The agent finder tool on the Farmers website is impressive. Not only does it include personalized bio pages for every agent in your area, but it includes the languages they speak, their availability, their community engagement activities and reviews from other policy holders. This makes it easy to find an agent near you who you can feel comfortable working with to get the best coverage possible.
Best Customer Satisfaction Rating
J.D. Power customer satisfaction award winner
Instant quote
Easy quote process
No local agents
Very small
Quote tool is not comprehensive
Despite being one of the smallest insurance providers in the U.S., Amica Mutual earned the J.D. Power award for best customer satisfaction for the 16th year in a row with a score of 866 out of 1,000.
Despite being one of the smallest insurance providers in the U.S., Amica Mutual earned the J.D. Power award for best customer satisfaction for the 16th year in a row with a score of 866 out of 1,000. It's the only provider, aside from USAA, to receive five circles in each of the five areas the study asked about – price, claims, policy offerings, interaction and billing. Clearly, Amica Mutual is doing something right. If you're unsatisfied with the customer services of your current insurance provider, Amica Mutual is clearly a better option, unless you have connections to the military. (The only insurance provider to receive a higher customer satisfaction score is USAA, but J.D. Power didn't award USAA because membership is not available to everyone.)

Amica Mutual's quote process is very easy, but it doesn't ask very many questions. In fact, it's one of the shortest quote processes I reviewed. While it provided an instant quote for two premiums, a high deductible plan and a standard plan, both were the most expensive policy quotes I received. The cost was so much more than other insurance providers, I didn't feel confident with it. In addition, since the quote process asked so few questions about my home, I wasn't confident in the reconstruction value it quoted me. While the quote tool was easy and quick, I'd recommend discussing your needs and options with an agent before purchasing a policy so you can get the most accurate quote possible.

And that's a problem with Amica Mutual. It has no agent finder tool. You can consult with experts on the service's website, but you can't meet with a local agent who can walk through your home and give you an accurate reconstruction value and provide direct coverage advice. This is one of the downsides to being one of the smallest nationwide insurance providers.
Best Agent Finder Tools
Easy to find a local agent
Quote tool doesn't provide an instant quote
Homeowners insurance could possibly be one of the most complicated purchasing decisions you have to make, so the importance of having a local insurance agent at your disposal, not only before you purchase a policy but after, cannot be overstated. With this in mind, Allstate earned my pick for the best agent finder tool because it has everything you need to find an agent in your area that you feel comfortable with.

The agent finder tool doesn't just list the local agents and their contact and availability info, but each agent has a personal page where they've written their own bios. They include their interests, languages spoken and how they are engaged in your community. If you're a sports fan, for example, you can find an agent who is also a sports fan – and common interests can help build trust. In addition, you can read real reviews of the agents from policy holders. The tool also includes a map to their local office.
Best for Military Families
Highest J.D. Power customer satisfaction score
Requires you to meet the membership eligibility requirements
If you are in the military or have any family members who have served in the military at any point, you should definitely look into USAA. With a score of 892 in the J.D. Power customer satisfaction study, including five circles in each surveyed category, USAA is the highest-rated homeowners insurance provider in the country. The only reason it didn't receive J.D. Power's award was because membership is limited by its military eligibility requirements. That said, like with most credit unions, meeting the membership requirements is a lot easier than you might think.

USAA's quote process is easy and fast. Within five minutes it spits out a quote you can adjust to fit your desired coverage and purchase on the spot. However, it's not the most comprehensive quoting tool, asking a total of about 41 questions compared to the 120 questions some other quote tools ask. It also requires you have a USAA membership to even access the quote tool. However, it provided one of the most affordable quotes I received, and the reconstruction value I got was comparable to insurance providers with more comprehensive quoting processes.
How Much Does Homeowners Insurance Cost?
The cost of homeowners insurance is difficult to nail down without considering the following variables:
Your personal consumer report, including your insurance-credit score and claims history
Age and size of home
Construction material and quality of build
Roof material and age of roof
Proximity to risk (earthquakes, tornadoes, hurricanes and forest fires)
Geographical considerations
Eligibility for discounts
According to the Insurance Information Institute, the average countrywide premium for homeowners insurance is $1,173 per year. This comes out to about $97.75 per month. However, premiums vary widely based on the above variables – and more. Insurance providers can consider relatively mundane details, such as how close your home is to the nearest fire hydrant, in determining costs.
The same report notes how homeowners insurance costs can differ based on location and risk factors. For example, the report cites Florida as having the highest premiums, with an average of $1,993 per year, due to its common risk of hurricane damage. Conversely, Oregon has the lowest average premium, at $643 per year, in part because of its relatively low proximity to risk and generally lower property values, which affects the reconstruction costs.
How We Tested
To determine our rankings, we followed a process much like we'd suggest you do as you shop for insurance. Your home is a major investment, and how you protect it deserves careful consideration. The most important juncture in your purchasing decision is the quote process. Set aside half a day to get as many quotes as possible. Then compare the premiums, deductibles, coverage and additional options, such as earthquake or flood protection. Once you've compared quotes, narrow the list down to the best quotes and use the 2017 J.D. Power customer satisfaction study to break any quotes that are too close. If you're still not convinced, find an insurance agent in your area to consult with - I can't understate the value of talking with an agent if you're not sure. They are experts in both insurance and how to best apply it to your area.
Quote Process
Throughout each provider's quote tool, I noted every detail – the number of questions, the types of questions, the tools to help you answer the questions and the efficiency of the process. The best quoting tools ask a lot of questions. This means they take longer, but you are more likely to get a more accurate quote you can have confidence in. With quote tools that asked only a few questions, I had very little confidence the quoted coverage was the best option for the home, particularly with concern to the reconstruction value, which was always nearly half the value quoted by the insurance providers with more comprehensive quoting tools.
The 2017 J.D. Power Customer Satisfaction Study
J.D. Power performs comprehensive customer satisfaction studies every year. This well-known market research organization, famous for its customer satisfaction awards, interviews almost 16,000 people with homeowners insurance. The study asks them to rate their satisfaction with the insurance provider's pricing, claims process, policy offerings, interaction and billing. I closely considered the results of the 2017 J.D. Power study in my comparison. If you're having trouble choosing between two providers with similar quotes, this study is the best tiebreaker because it's a good indication of the customer experience you can expect.
Agent Finder Tool
In most states and with most companies, you don't need to go through an agent to purchase homeowners insurance. Some states, however, require it by law. That said, consulting with an agent is a great idea. Throughout my research, I consulted with several agents to help me better understand homeowners insurance and I found it wasn't the up-selling trap I assumed it would be. Every single agent I contacted was extremely helpful. I never had to worry about aggressive up-selling or pressure to make a purchase.
I even asked an agent from State Farm, whose office in Orem, Utah, has been around for decades, why agents were still relevant to the insurance industry considering how easy it's become to purchase policies online. First, he explained how agents in today's market succeed through policy renewals, not one-off sales. It's a simple business philosophy – long-term clients are more profitable than striking for bigger, but short-lived, profit. And when the aim is for long-term clients through policy renewals, agents are interested in building a relationship with you to make sure "your insurance experience is enjoyable" while continually building trust. One reason to use an agent, he points out, is that insurance agents are experts on both the ins and outs of insurance, the local area and how to best apply insurance coverage to these local issues. In other words, they know better than anyone how to best insure property in your area, what risks you should plan for or ignore, how much the reconstruction values are, etc.
Financial Stability
For insurance companies to succeed, they need to have a great deal of equity to prop them up. If your home is destroyed in a tornado, you need to know the company is financially stable enough to pay out the reconstruction value on your claim. Fortunately, every major insurance provider releases an annual financial report. Most companies have equity in the hundreds of billions, but this not always the case. While this isn't the most critical consideration, it's worth checking before you commit to a policy.
What Does Homeowners Insurance Cover?
Every insurance providers' policies vary a little in how they cover various hazards, risks and more. But according to the National Association of Insurance Commissioners, most homeowners insurance policies cover the following:
Dwelling
Protects your home and structures attached to your home, such as the garage, decks and patios, from damage from a wide variety of hazards like fire and smoke, wind, hail, explosions, theft, vandalism, falling objects, water damage and more.
Other Structures
Similar to the dwelling protection, other structures on your property are protected as well. This includes fences, separate garages, car ports, pools and more.
Reconstruction Value
Every policy has a valuation of the reconstruction costs of your home. If your house burns down, this is the cost of the payout to build another home. Most quoting tools spend the most time calculating this value. The quoted value isn't equal to what you paid when you purchased the house; instead it's based on the current local construction and property costs – the cost of replacement. Some providers may even require a specialist to come to your home for an appraisal.
Personal Property
The policy reimburses you for the loss of personal property, up to the value set in your policy. You can usually raise or lower this coverage to fit your estimated cost to replace items, but this affects the premium. Also, you should read what isn't protected in this policy. Don't assume everything you own is covered. Some providers, for example, don't include art or musical instruments in this policy but require you to add such coverage separately.
Loss of Use
If your home becomes unlivable, the policy pays for you to live elsewhere while the home is being repaired.
Other Final Expense Insurance best-picks
Personal Liability
If someone gets hurt on your property, this pays for the legal fees if you are sued for damages and found responsible.
Medical Payments
If someone is hurt on your property or hurt by a pet, this coverage pays for their medical bills.
What Does Homeowners Insurance Not Cover?
Standard policies protect your home from damage caused by natural hazards, like fire, wind, lightning and falling options like trees and hail, but you can't assume it covers damage from everything.
Flood Insurance
If you live in an area with a flood risk greater than 1 percent, your mortgage lender is federally required to have the property insured. In other words, your bank requires you to buy flood insurance, either from the National Flood Insurance Program or through your insurance provider. If the risk is less than 1 percent, but there is still a probability of flooding, coverage isn't required, but it is strongly recommended, and some lenders still require it.
Earthquake Insurance
Earthquake coverage is usually purchased as an endorsement to your homeowners insurance. This means you don't purchase it separately as you do with flood insurance, but it's added to your existing policy. Adding this coverage is completely optional, though your mortgage lender may require it if you live in a high-risk area. That said, the NAIC estimates 90 percent of the population lives in an area where earthquakes pose some risk, though some areas like California are at a much higher risk.
Business Usage
If you use your home for business purposes, even if you just use one room for an office, a standard policy doesn't protect any items related to your business usage – laptops, computers, monitors and other business-related items. You'll need to purchase additional coverage for business usage. In addition, if you run a daycare in your home, you're required to purchase more liability coverage in addition to business insurance coverage.
Are You Required to Have Homeowners Insurance?
Generally speaking, if you take out a mortgage to buy your home, you are required to buy homeowners insurance. From the vantage point of a lender, it's a risk to lend you such a large chunk of money. This insurance, simply put, is the lender's way to safeguard its financial investment.
Homeowners insurance is most commonly lumped together with your mortgage payment and other fees, such as property taxes, though in certain cases it may be separate. Even if your lender doesn't outright mention requiring insurance, it doesn't mean you're off the hook. If you plan on buying a house, call up a few local insurance agencies to get estimates. It's best to get this done as soon as possible.
Also, keep in mind that if your policy lapses or you end up without coverage for any reason, your lender may issue a force-placed policy on you. This can even happen if your lender decides the insurance you purchased is not enough. Force-placed policies, also called lender-placed insurance, are much more expensive since you are seen as high risk to the the lender.
Related Product Reviews