Regardless of what your business is about, having a good website is essential if you want your potential customers to discover, find out more about what you're offering, and ultimately purchase it. And inevitably, you will need a quality website builder to curate an eye-catching and user-friendly website.
But what makes a website builder stand out from an ocean of similar services? The answer isn't simple and may depend on your specific requirements and preferences. There are some platforms that can cater to most or at least allow enough customization to work with specific demands.
Read on for our selection of the best website builders at the moment, or check out our best web hosting services list.
1. Weebly
Why you can trust Top Ten Reviews Our expert reviewers spend hours testing and comparing products and services so you can choose the best for you. Find out more about how we test.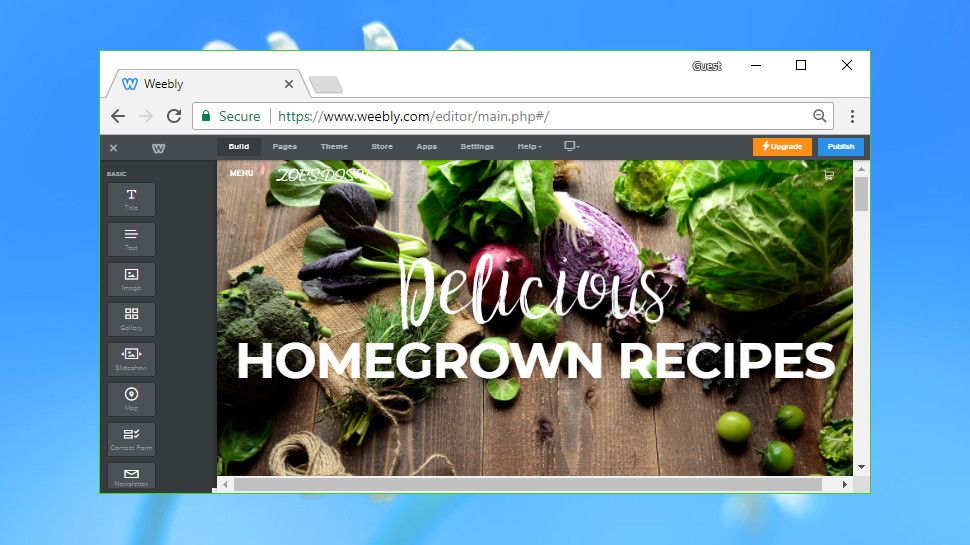 Weebly is a website and eCommerce building service with a cloud-based platform that allows you to choose between two ways to create a website.
The simpler option involves using the basic editor builder accompanied by a set of questions you need to answer before the website is automatically created for you. This method focuses on speed and simplicity and not so much on customization, although there is room for it.
The other, slightly more complicated way is to use the standard editor with hundreds of available templates for any kind of site. You can customize these templates with a WYSIWYG editor or leave them just the way they are.
Weebly offers a free, ad-supported version that is limited to 500MB of space, and paid plans starting with the Pro option at $12.00 per month (when paid annually). The Pro paying plan comes with no ads and no storage limitations, as well as a complimentary free domain and support for a web store with up to 25 products.
The more advanced Business plan costs $25 per month and supports sites with an unlimited amount of products and features like discount coupons and product reviews. The $38 Business Plus option offers even more advanced eCommerce features and email marketing.
2. Voog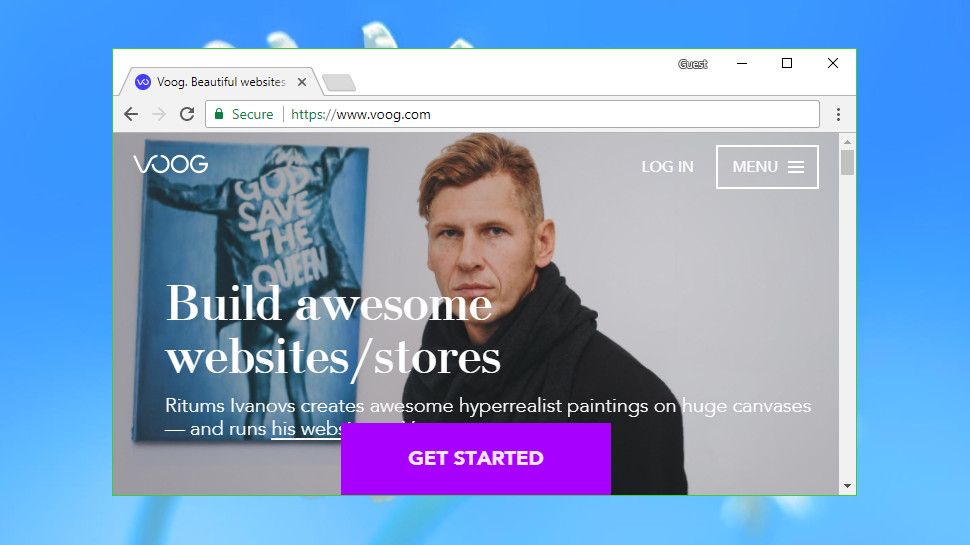 In comparison to Weebly, Voog is more oriented toward folks that already have a bit of experience in site building. There aren't many templates but there's a handy and seamless drag-and-drop editor with lots of customization options, like inserting a text box with bullet-points, videos, and tables. Moreover, Voog allows collaboration of multiple users on one project.
Pricing starts with the Standard plan at £5 per month (when billed annually). This option comes with a 5GB storage limitation and offers basic features like SSL security for up to 30 pages. It also imposes a 3% transaction fee for your web store.
This plan is followed by the Plus account which costs £9 per month (billed annually). It has all the things provided in the Standard plan, plus 20GB of storage, unlimited number of users, pages, and languages, as well as the complete online store.
At £35 per month (paid annually), the Premium plan removes all limitations on resources, offers a custom SSL certificate and priority support, as well as eliminating any sales transaction fees if your website is a store.
3. 1&1 IONOS MyWebsite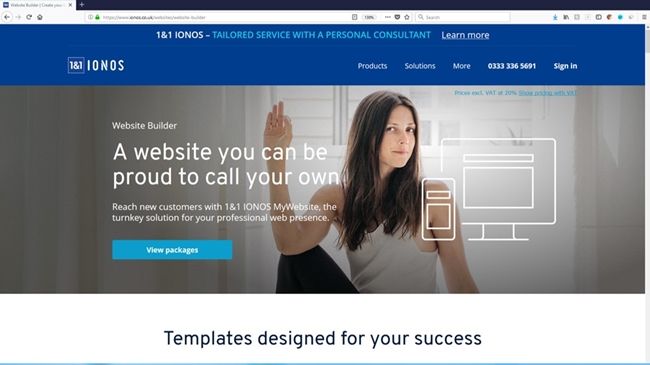 1&1 IONOS MyWebsite isn't the cheapest service of its kind. No free plan or trial is offered, and the most basic option costs $1.00 per month for the first month, only to increase to $5.00 per month later on.
However, it will give you access to a massive number of responsive templates you can customize to the T and plenty of advanced features. Although this sounds more suitable for professionals, the platform is still simple enough to be understood by beginners. If you need any help, a personal assistant is available at no charge.
There are no limitations on the number of pages and web storage, and you'll also get limited SEO settings, website backup, social media and business widgets, as well as a simple integrated blog. On top of that, you'll be able to import media content from your old website into the new one.
If you have an online store, there's a special pricing plan for you at $15 per month that allows listing of up to 5,000 items and has many features tailored specifically for such content.
4. Jimdo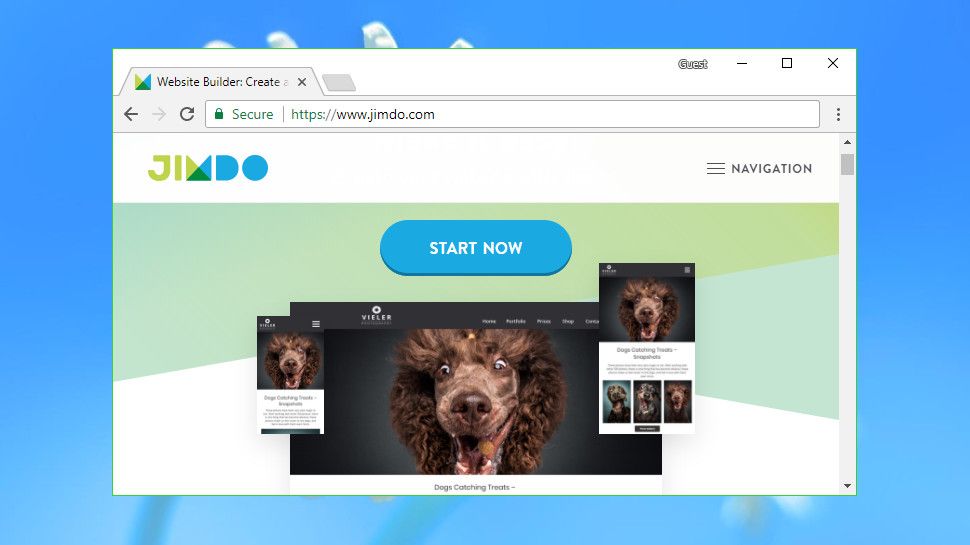 Ideal for beginners, Jimdo is an interesting website builder with an excellent free plan. Ads are a must, as is the 500MB storage limit, but the company goes a step ahead from its competitors' free offerings by providing, for instance, support for a password-protected website area and a web store for up to five items.
The editor doesn't demand much experience in site-building, although its design is a bit unorthodox. If you get stuck somewhere, you can make use of the exceptionally rich support site.
That said, Jimdo does have its limitations such as the choice of templates, widgets, and functions that its competition might offer. On the other hand, there are plenty of pricing options to choose from, starting at $9.00 per month (billed annually).
5. Wix
Like many other website builders, Wix has a free plan which imposes ads on your website and limits resources to 500MB of storage and 500MB of data transfer per month. It does, however, offer access to a free Wix domain, a drag-and-drop editor with hundreds of fully customizable templates, a large collection of images, icons, and clip arts, as well as email marketing and SEO assistance.
Premium plans offer more, starting with the most basic one at $4.50 a month. The most popular option is the Unlimited Plan with a free domain, no Wix ads, unlimited bandwidth and 10GB storage, Google Ad vouchers, and much more. Wix also enables enhancing your site with hundreds of powerful web apps and widgets (like form builders, forums, event calendars, and more) in its App Market, both paid and free.
Our main gripe is with the customer support department, which isn't the speediest and may seem a bit limited but this doesn't diminish the overall impression of a solid website building service.
6. Constant Contact
Constant Contact offers its services under two premium plans, both of which are free for the first month of use. There's also a free option for creating a basic level website or an online store with the help of a simple and intelligent drag-and-drop website builder and free image library with over 50,000 images.
Expectedly, the premium plans offer a lot more features and remove all transaction fees for your store. The cheaper one (Email) is limited to 500 or fewer contacts, while the price increases to $45 a month for up to 2,500 contacts. The more expensive option (Email Plus) supports up to 500 contacts for $45 a month, or 501-2,500 contacts for $70 per month. The first month is not billed for any of the plans.
Special options include an AI-powered Logo Maker tool, adding pop-up forms into your website, integration support for Salesforce, Outlook, Shopify, Facebook, and others, as well as mobile features. eCommerce site owners will be able to create surveys, polls, RVSP, email alerts for out-of-stock items, and more.
7. WordPress
WordPress is available in two different versions - the one that you download from wordpress.org and upload it to your own web space and another one available at wordpress.com that allows you to create your own blog, photo site, online store, etc. The former is more complicated than the latter and requires more expertise in scripts and editing.
The wordpress.com version supports adding a Mailchimp block, allowing you to grow your mailing list. The online editor is outstandingly intuitive and simple to use for beginners and experts alike. That said, it does provide fewer templates and plugins than its wordpress.org counterpart and has a bit of a nasty habit of randomly inserting ads into your content without any input from the user.
Besides the free version, you can get access to more features with one of the paid plans, starting with the Personal plan at $4 per month (billed yearly), although the Premium or Business accounts offer more features and fewer limitations, at $8.00 and $25 per month, respectively. There's also an eCommerce plan at $45 per month.
8. Joomla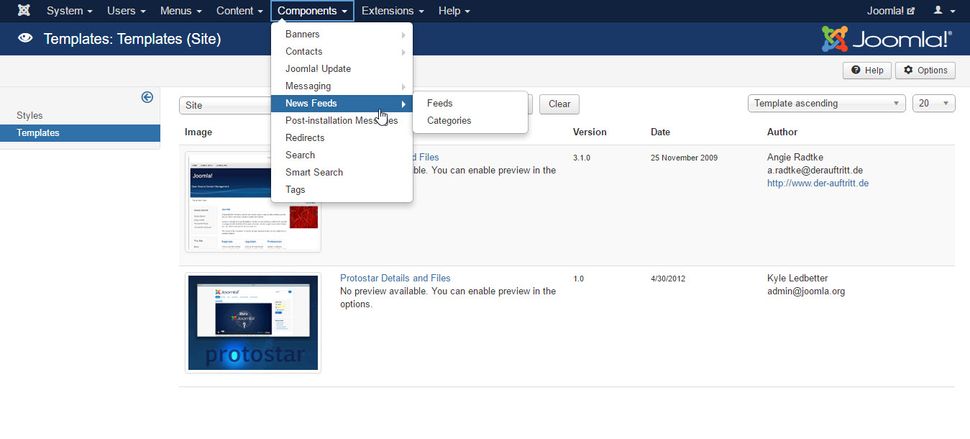 Similarly to WordPress, Joomla's platform can be downloaded and hosted by yourself or you can create a website online through the web app after which it is hosted on Joomla's servers. The former option demands a lot of expertise due to its overly advanced features and might appear counterintuitive at times.
The online editor is also a bit complex but is more beginner-friendly due to the lack of the complicated setup process the offline version requires. If you sign up for Joomla as the website builder of your choice, you'll be able to fully customize your website thanks to a sizeable selection of themes and extensions. Various extensions can be purchased under single subscriptions, starting at $29 per month, or as bundles under three subscription options - Personal at $99, Business at $199, and Agency at $399.
9. Coffeecup HTML Editor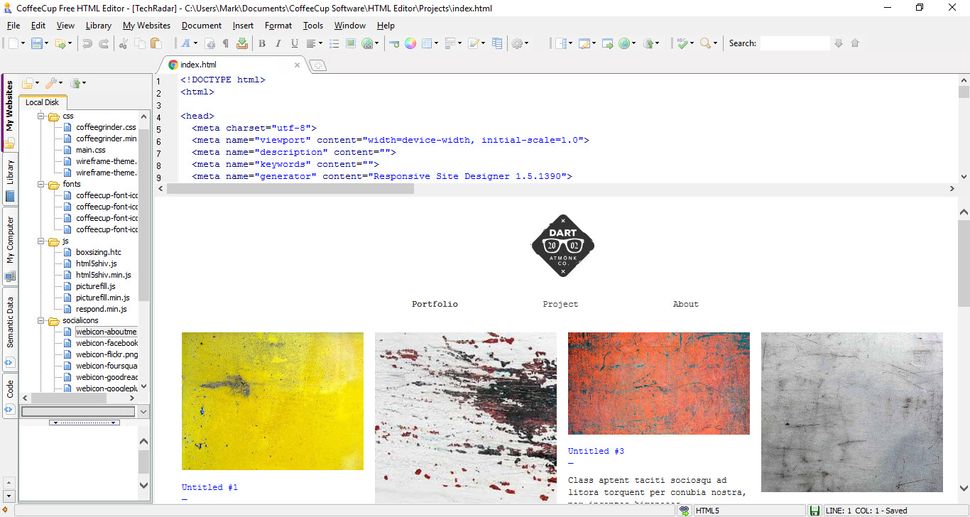 CoffeeCup's free HTML editor is a simple website building tool with no visual editor, no drag-and-drop support, or other fancy elements and features provided by most other platforms. However, the software lets you see the previews of your changes and supports FTP/sFTP file uploads, as well as boasting some smart tools that facilitate quicker creation of specific elements. The editor allows you to create fully customizable toolbars, build stylish forms, suggests elements and attributes for code completion - just to name a few.
The full, paid version that costs $29 adds exceptionally practical features like downloading websites from the server, HTML and CSS validation tools, Quick Table generator, inserting links into files, images, and URLs, Code Cleaner, spell-checker, and many more. You can test out these features for free, albeit during a limited period.
10. Incomedia WebSite X5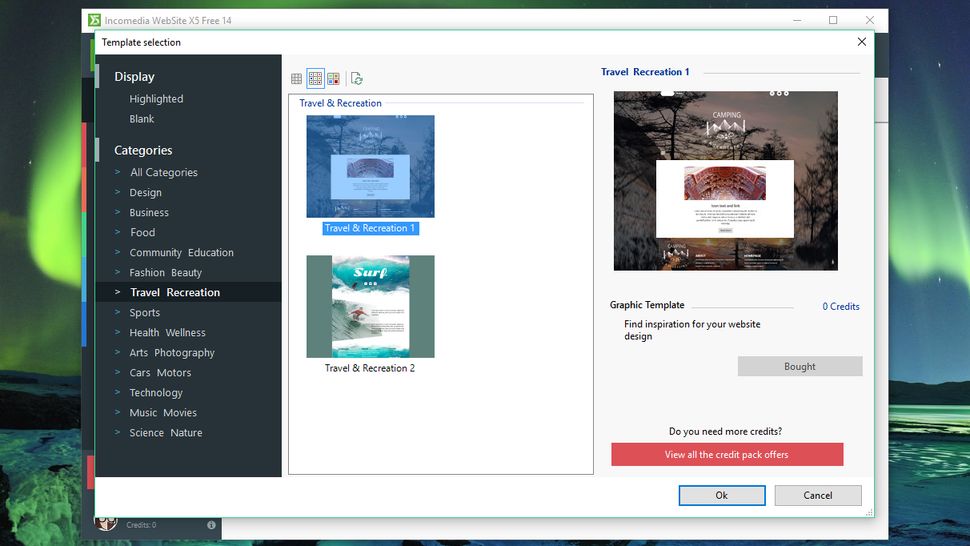 Incomedia WebSite X5 offers its services for free and under two premium plans, Evo and Pro (available upon a one-time purchase at $59.99 and $139, respectively). The paid versions have demos allowing you to try out the platform and see if you like it.
WebSite X5 is exclusively a desktop website builder, allowing you to create your website offline. You can choose between pre-made templates or design your own. After you have a template, the platform lets you create a sitemap showing how your pages are organized and connected, making WebSite X5 stand out from its web-based competition.
The next step is to build your pages using a user-friendly drag-and-drop editor with tools that support tweaking with images and rich text. Do note that if you want an online site builder, you'll have to look elsewhere.