Mobicip cell phone monitoring software doesn't require you to root or jailbreak your child's phone to work. Plus, it is one of the few programs we reviewed that's compatible with older phones, such as BlackBerrys, and mobile devices like Kindles and Chromebooks. Mobicip runs silently on all devices, so your kids can't see it installed, which keeps them from tampering with or uninstalling the program. We loved how easy it was to set up and the impressive amount of control it gives parents over blocking content and tracking online activity.
During our testing, Mobicip was easy to set up, although we had to grant the program administrative permissions on each monitored device. Doing so allowed us to remotely control the target device from the parent portal or app – we could grant the child permission to access the phone itself, set limits on internet activity and change settings on the monitored device. It also made Mobicip a little trickier to remove once we were done testing, but that means the app is equally difficult for your child to remove.
We had difficulty installing the program on a Kindle Fire, though Mobicip advertises on its website that it can monitor that type of device. However, we didn't encounter hiccups installing or setting up the program on any other devices, including computers and Android and iOS phones.
The app captures keystrokes, so you can see what your child texts, their passwords for social media and messaging apps, and the search terms they enter into search engines like Google and Safari. Further, Mobicip logs keystrokes even if they've been erased. You can also set the program to recognize certain keywords and phrases, which makes it easy to see in the parent reports if your child tried to search for something inappropriate or texted or chatted about off-limits topics.
The program can also filter internet content in 30 categories, including chat, gambling, gaming, alcohol and mature/adult content. When you enable a filter, the app blocks your child from accessing web content that pertains to that category. If you don't want to take the time to set each filter individually, you can simply choose one of Mobicip's age-appropriate control settings, and the program will block content based on websites' content ratings.
There are additional filters specifically for social media apps, such as Instagram, TikTok (formerly Musical.ly) and Facebook, as well as other filters for video apps like YouTube, Flixster and Netflix. Like its web filters, when you enable an app filter, Mobicip blocks your child from accessing that specific app. You can also block apps Mobicip doesn't have preset filters for. Using the program's search feature, you can find and block any app found in either the Apple App Store or Google Play Store.
Mobicip includes time controls you can set to restrict your child's access to games, apps and the internet during certain times of day – for example, you can block games during school hours. Similarly, you can set time limits so they can only use certain features and apps for a set number of minutes each day. Mobicip can also block access to the whole device so your child can't text or even view the home screen without permission.
In addition, Mobicip uses the target phone's GPS system make sure your child really is where they said they would be. This feature can also help you locate the phone if it is lost or stolen.
One of Mobicip's best features is its real-time reports in the parent portal that show you what your child is doing. If they access something dangerous, you can remotely lock their phone until you have a chance to chat with them about it.
Mobicip has almost everything we looked for. However, it doesn't send you text alerts about your child's activity. Instead, you have to access the parent portal, either online or through the mobile app, to see what you child is up to and where they are. You can set up email alerts, though they aren't as quick as text alerts, which limits how useful they are in an emergency.
The Standard package costs less than $50 and comes with five user licenses, so you can monitor multiple devices. If you need more, you can purchase Mobicip's Enterprise package, which includes 20 or more licenses. However, you need to request a quote for the price. We used the free trial for our testing, and it offered us additional package options and better pricing through our online account as an incentive to choose Mobicip as a permanent solution.
Need a better alternative?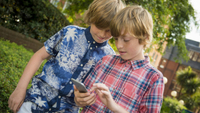 (opens in new tab)