If you've ever had to sort through a late relative's belongings, there's every chance you will have come across old photographs depicting family members you didn't recognize. Such discoveries can be exciting at first, but fascination can quickly turn to frustration as your curiosity is left unresolved. That's where genealogy software comes in useful. As we explain in our guide to the best family tree makers, these packages enable you to map out your ancestral heritage so that you can gain a better understanding of who your forebears were and how the different generations of your family relate to each other.
One of the most well-known genealogy brands is Family Historian. Launched in 2002 by UK company Calico Pie Limited, this Windows-based software has seen a number of updates over the years, and received its fair share of glowing reviews. The latest version, Family Historian 7, was officially released in early 2021. In this article, we'll examine how it differs from its predecessors and whether it's a good choice for helping you trace your lineage.
Need more guidance before you take the plunge? We also have articles explaining how family trees work and a round-up of the best genealogy sites .
Family Historian 7 review: Basic functionality
Family Historian gives both casual users and more serious genealogists the opportunity to construct, and share, their ancestral history in an engaging and intuitive way. There are a variety of illustrative and interactive family tree templates to choose from, and inputting details and photos of relatives couldn't be easier.
Besides helping you to create a family tree, the software features tools for writing reports on individual relatives, building your own professional-looking website, and making CDs and DVDs to share with loved ones. And with a huge number of customization options available, you can nail the exact style you're looking for.
One of the handiest things about Family Historian is that it can automatically search ancestry websites such as Findmypast and MyHeritage for information on your inputted relatives. If it finds any matches, the details can be imported directly into your project as a GEDCOM file, which is the standard language of genealogy platforms.
If you are thinking of investing in Family Historian 7, be aware that your computer will need to have Windows 10, 8.1, 8 or 7 installed on it.
Family Historian 7 review: Ease of use
Out of all the platforms we tested, Family Historian 7 was the easiest to get to grips with. Although its interface might seem a little dated, its simple layout makes it easy to navigate around.
The data entry process is quick and efficient, the design functionality flexible and dynamic. In our tests, the software imported GEDCOM files with remarkable accuracy, and there's a whole suite of features available for managing and sharing your data.
And while navigating all of this is impressively intuitive, there's a wide range of support options available if you do get stuck, with video tutorials, FAQs and community groups all just a mouse-click away.
Family Historian 7 review: New features
The new edition of Family Historian comes with a clutch of new features that are designed to make the user experience easier and more enjoyable. For a start, there's a whole load of new word processing functionality (something that the Family Historian User Group have apparently been requesting for some time). From now on, you'll be able to bolden, italicize, underline and strike-through your text, change the color of your words and adjust things like bullets, indentation and alignment. Additionally, there will be the option to include tables, website links and embedded hash tags.
People who like to jot things down while they carry out their research will love the new 'notes' and more structured 'research notes' windows. Both of these support full word processing features, and can be customized to suit your individual way of working.
While the main language used in Family Historian is English, there is now a long list of language packs that can be downloaded for free from the Family Historian Plugin Store. As well as enabling you to render output correctly in the original data language, these can be used to translate research documents and diagrams into a different tongue. It seems like a sensible move on the creator's part, as it extends the appeal of the Family Historian software to a much wider market.
Another bonus with Family Historian 7 is that there's more scope to make your family tree look amazing. Not only are the layouts generally more attractive and consistent, but you also get improved designing tools and a wider range of graphics options.
Family Historian 7 review: How much does it cost?
The latest version of this genealogy software is available as a download from the official Family Historian website. For first-time buyers, the price is around $50. However, discounts are available for people who already own Family Historian 5 (20%) or Family Historian 6 (30%). Want to test out the new edition before you commit to a purchase? Then sign up for the 30-day free trial.
Family Historian is competitively priced when compared to other brands in our guide to the best family tree makers. Ancestry – which is number two on our list – charges from $24.99 per month or $99 for six months. The base price only gives you access to US records, so you'll need to spend more if you want to sift through worldwide databases. That said, Ancestry is available for multiple platforms, including Mac, PC and smart devices, while Family Historian only works on Android. Elsewhere, Family Tree Heritage Gold 16 commands an almost identical price to Family Historian 7. A Windows-only package, it offers some great features, though it does look a bit dated.
One last thing about pricing: if you want to install Family Historian 7 on multiple computers (for example, in a school or library), you can get money off. Basically, the more installations you have, the less it'll cost.
Should you buy Family Historian 7?
While Family Historian's overall aesthetic lacks some of Ancestry's modern pizzazz, this software's performance and feature set cannot be disputed – especially now that those improvements to the word processing and design functionality have been made. We also love the fact that there's no subscription involved, meaning that you can pay the one-off fee and then forget about it.
Obviously, if you work on an Apple Mac or want to make tweaks to your family tree on your phone while you're commuting to work, then you'll have to look elsewhere. But if you're a Windows user who's looking to piece together your ancestral puzzle, then Family Historian 7 is an excellent choice.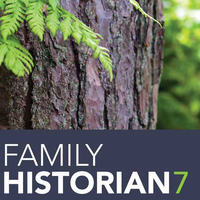 Try Family Historian for FREE for 30 days
The top-rated family tree builder usually costs $50, but at the moment you can try it for free for a full 30 days. You don't even have to put in credit card details – just sign up and an activation code will be sent to your email address.