Image 1 of 18
Image 2 of 18
Image 3 of 18
Image 4 of 18
Image 5 of 18
Image 6 of 18
Image 7 of 18
Image 8 of 18
Image 9 of 18
Image 10 of 18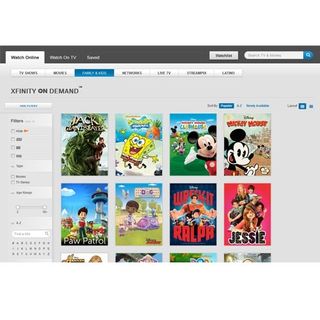 Image 11 of 18
Image 12 of 18
Image 13 of 18
Image 14 of 18
Image 15 of 18
Image 16 of 18
Image 17 of 18
Image 18 of 18
Comcast is the largest home internet provider in the U.S. The company provides services to over 19 million internet customers and boasts download speeds of up to 105 Mbps. They offer cable TV, internet and telephone services to 40 states and wireless internet across much of the U.S. Xfinity has the ability to provide consistent high-speed connections.
Comcast Xfinity offers residential internet speed plans ranging from 6 Mbps to 105 Mbps and even includes its security software with its entry-level product. All internet plans come with Constant Guard, which includes the Norton Security Suite. Comcast also offers a 5 Mbps plan to low-income families for $10 per month, so disadvantaged students can have access to the internet. This program is available in all of Comcast's internet coverage areas.
Not only does Comcast claim to offer some of the fastest internet speeds, it also tests well. In most third-party tests, it lands in the top 10 percent for fast, consistent internet speeds. The company provides speeds that can easily do what most home internet users want, such as streaming movies and music, playing games, reading the news, downloading software, shopping, and visiting social networking sites.
Comcast's introductory product provides download speeds of 6 Mbps and upload speeds of 768 Kbps for light internet use. Standard plans have speeds of up to 25 Mbps, which is suitable for average internet users who do not download HD movies or share their internet with multiple computers. The step above that is a 50 Mbps download and 10 Mbps upload plan that allows for online gaming and downloading HD movies. Depending on your area, the highest Comcast plans can deliver download speeds up to 150 Mbps and upload speeds averaging up to 10 Mbps.
Comcast Xfinity provides home internet services in 40 states and wireless internet in most of those. For the most part, Xfinity services are available in large metropolitan areas around the country. In total, Comcast reports that it serves 40 percent of all internet customers nationwide, which accounts for over 19 million customers. For the most part, major ISPs concentrate their efforts in cities where investing in infrastructure provides a better return. Currently, Comcast misses most of the Midwest, and outside the continental U.S. Comcast also does not provide DSL services. The top plans for residential service are not available in all areas.
Extras such as internet security, parental controls and identity protection come with all plans free. The Constant Guard Protection Suite provides all customers with a password manager, keylogger protection, one-click secure logins, online shopping security and backup tools. You also get Norton Security Suite, which provides every type of protection you need, including antivirus and antispyware protection, as well as identity protection and parental controls. Comcast Xfinity customers are also entitled to up to seven 10GB email accounts.
Bundling options are a popular feature. For discounts on other services, you can pair up your internet service with a home phone line and cable television. Xfinity from Comcast offers several bundling options, but you can choose internet solely. Comcast also offers home security services for a complete one-stop shopping experience.
If you are looking for an inexpensive option due to a limited income, you may qualify for Comcast's low-income program. This program offers a 5 Mbps plan for a little under $10, as well as a desktop computer for around $150. This program is meant for low-income families with young students, so one of the qualifying factors is having a child who participates in the National School Lunch Program.
This is a controversial subject for all ISPs and cable providers with notoriously bad reputations for customer service. It's also extremely difficult to rate Comcast's customer support because different areas have access to different call centers and technicians. However, Comcast Xfinity does provide its customers with many contact options for help and is able to provide on-site technicians at relatively short notice. You can contact Comcast by telephone, email or live chat. Chat services are available 24/7 from Comcast's website. It also provides service centers in most metropolitan areas.
The company's website provides volumes of information covering all of its products, including high-speed internet and mobile internet. You can find billing information and log in to pay your bill or transfer your services. Comcast hosts an active forum that covers a variety of topics, and you can find the company on Twitter and Facebook. Comcast's blog relays current product and company information to keep you up to date on its developments.
When it comes to the best internet providers, what really matters is whether the company can deliver what it promises, and Comcast Xfinity definitely can. In fact, Comcast can deliver some of the highest speeds available. It also provides extras like internet security, identity protection, parental controls and online television programming. Though the idea of Comcast's constantly expanding and growing into new markets may be unsettling to some, it also means the company is invested in its future and retaining you as a customer. Comcast has the means to improve and add infrastructure, create and purchase new technologies, and improve customer service across the country.