The Keurig K-Express Coffee Maker is an ideal kitchen appliance for those who want one more cup of coffee without making a whole carafe's worth. Because of its petite size, it's understandably already very affordable, generally going for $89.99.
But, as we're slowly getting ready for the best Black Friday deals to start popping up in the next month or so, it's no surprise that Amazon is getting an early jump on it with this single-serve coffee maker with a nice 33% discount, bringing its current sales price down to $59.99.
Of course, if you have to wait, this model goes on sale frequently, so it will probably hit the same price drop during Black Friday. Its lowest price to date was actually during Amazon Prime Day this past June, though that was down to $49.99. So, if you can't wait, you're still getting a great deal. And, really, who can wait for great coffee?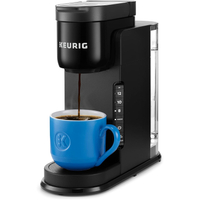 Keurig K-Express Coffee Maker was $89.99, now $59.99 at Amazon
This single-serve coffee maker from Keurig is not only inexpensive but allows you to fine-tune that cup of joe, with selections between three different cup sizes, as well as allowing you to choose between regular and bold strength coffee. Plus, it's now on sale, dropping 33% from $89.99 to $59.99.
Price Check: Staples $89.99
Alternative Pick: Keurig K-Mini Plus
Keurig K-Express Coffee Maker: Key features
While there are some very fancy coffee makers out there with all sorts of bells and whistles, the best coffee makers for some of us are the ones that let us get straight to the point… or coffee. That's just the case with the Keurig K-Express Coffee Maker, as this single-serve coffee maker is easy, efficient, and makes a solid cup of coffee.
Its 42 oz reservoir means you don't have to constantly fill it up, while its three size selections, specifically 8, 10, and 12 oz, allow you to adjust how big of a cup of coffee you get. There's also a "Bold" button that will make the coffee just a bit stronger.
As this is a Keurig product, you will have to use K-pods, though it works with reusable K-pods. That said, some Amazon users have said that this machine doesn't play well with those reusable capsules as they experience leaking, which is unfortunate for those who want to use our coffee.
At least, most Amazon users are very happy with their Keurig K-Express for its fast brewing and small size.
Coffee Maker Deals
Though the Keurig K-Express is seeing an early example of one of the best Keurig Black Friday deals, it's not the only Keurig product seeing a sale. The Keurig K-Mini Plus is dropping from $109.99 to $90.31, an 18% price drop, while the Keurig K-Iced Single Serve Coffee Maker (for you Cold Brew fanatics) is dropping in price from $99.99 to $69.99.
If you're looking beyond Keurig but still want to use K-pods, there are plenty of other deals to be had, including multiple Famiworths products, such as the Famiworths Single Serve Coffee Maker, which is dropping 37% in price, from $69.99 to $43.99.