It's the week of Black Friday, and if you're a coffee lover like me, you'll want to scour the sales looking for the best deal on a sweet coffee maker upgrade. This is easily one of the best of the hundreds of Black Friday coffee maker deals I've seen already.
In Nespresso's Black Friday sale, the Vertuo Lattissima is now reduced from $499 to $349.30 - making it its lowest price ever. The Lattissima has a feature that Nespresso users might not be used to an integrated milk system that can pour hot, milky foam onto your drinks. The Lattissima can brew lattes and cappuccinos at the touch of a button - pretty sweet at this price.
There are loads of Black Friday coffee maker deals out there, but this is definitely a big win for coffee drinkers. Read on for the Lattissima's key features, and head to our guide to the best Black Friday appliance deals for more.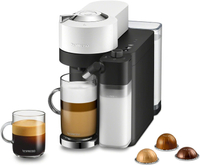 Nespresso Vertuo Lattissima | was $499, now $349.30 at Nespresso (save $149.70)
Take Nespresso's brewing power to the next level with an integrated milk system, allowing you to brew lattes and cappuccinos at the touch of a button. The Vertuo Lattissima is now reduced by almost $150 for Black Friday, and you might not find a more versatile pod brewer at this price.
Price Check: Also on offer at Amazon ($349.30)
Alternative Pick: Nespresso Vertuo Next
Nespresso Vertuo Lattissima: Key features
The Lattissima brings Nespresso's brewing power up a notch with an integrated milk solution that can create milky coffees like lattes and cappuccinos. Nespresso machines traditionally only brew espressos (with Vertuo machines offering larger cup sizes), but now, the Lattissima opens the door to the milkier coffees that you'd usually need to heat and froth your own milk for.
You can brew 7 different cups with this coffee maker. From espresso to gran lungo to carafe (with lattes and cappuccinos now thrown into the mix), this simple machine can do a lot. The Lattissima can heat water in 30 seconds and milk in 3 seconds, so it's also a quick way to get your morning coffee.
A key feature of Nespresso's Vertuo machines is pod identification so that each coffee is given the proper brewing treatment depending on the pod and cup size. Vertuo machines also brew differently from Nespresso's Original machines: water is injected into the pod, which spins at up to 7,000 RPM, and then pressed out of the pod at 20 openings. There's minimal filtering, leading to more coffee oils coming out in the coffee for a natural and well-bodied flavor.
The Lattissima's milk system can be used for lattes and cappuccinos, but also for whenever you fancy some hot milk foam on your beverage. The coffee maker comes with a pod container, fitting up to 10 small capsules or 6 large capsules.
This is one of the more dynamic Nespresso machines: not many offer the integrated option for milky coffees. And with almost $150 off the price, this can be one of the sweetest coffee upgrades your kitchen has ever seen.
Coffee maker deals
It's an exciting feeling seeing some of the best coffee makers on offer, especially with how much the most premium machines can set you back.
For simpler alternatives, feel free to check out our roundup of the best Keurig Black Friday deals, where we're already seeing a lot of choices on offer.