Ahead of the launch of the best Black Friday deals, Ninja has discounted a load of their goods on Best Buy. The best deal we've seen is, by far, the Ninja Foodi 6-in-1 air fryer that's now at its lowest price ever.
Ninja's air fryers are popular for a reason: they're versatile, reliable, and make cooking an easy task. This Ninja air fryer has two baskets to make things even easier, as anyone who's used a single-basket fryer before will understand the struggles of back-to-back cooking.
More Ninja appliances are on offer over at Best Buy, including blenders, coffee makers, and multi-cookers, if you fancy browsing some exciting price cuts.
Read on for all the Ninja Foodi air fryer's key features. And be sure to grab it while the offer's live - this is a deal you don't want to miss.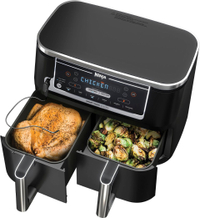 Ninja Foodi 6-in-1 XL 10-Quart Air Fryer | was $249.99, now $129.99 (save $120)
The massive 10-quart air fryer has dual cooking baskets with a Smart Finish feature so that both are timed to be ready simultaneously. The Ninja Foodi has six cooking functions, from roasting to baking, and a wide temperature range of 105°F – 450°F. And now, it's at its lowest price ever.
Price Check: Ninja $249.99 (15% off with code SPOOKY15)
Cheaper Option: Ninja Air Fryer XL
Ninja Foodi 6-in-1 XL Air Fryer: Key features
Foodi is one of Ninja's most popular ranges. It includes everything a foodie would love, like multi-cookers, power mixers, and some of the best air fryers on the market.
This 6-in-1 Foodi air fryer has two baskets for dual, simultaneous cooking with a Smart Finish feature. This allows you to time both baskets of food to be ready at the same time after cooking each of them with their own separate settings. It's a lifesaver for any chef who struggles with the timing aspect of cooking as it does the tricky part for you.
Rather than having to figure out the optimal temperature and cooking times with your new air fryer, there's a Foodi Smart Thermometer to help you achieve the right cooking level from rare to well done. Plus, along with air frying, the Foodi 6-in-1 can air broil, roast, bake, reheat, and rehydrate. That's a lot of choice for a cooker at this price.
A great benefit of this cooker is its huge, 10-quart capacity - with each basket able to cook 5 quarts of food. That's enough food for 2 to 3 people, so combine the two baskets, and you can feed big groups - that's enough capacity for around 24 wings!
The air fryer has a wide temperature range of 105°F – 450°F, so be sure you can cook a variety of foods. The cooking baskets and crisper plate are dishwasher safe, too, making this a trusty all-rounder in the kitchen. And with
Air fryer deals
Air fryers are one of those (very) exciting kitchen appliances that we love to see discounts for. Be sure to check out our Black Friday air fryer deals hub for all the best early deals leading up to the big event, including brands like Ninja, Instant, and Cosori.