Image 1 of 4
Image 2 of 4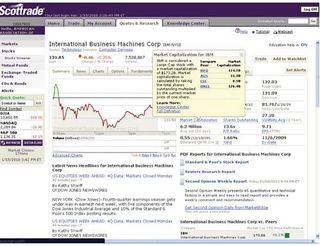 Image 3 of 4
Image 4 of 4
Editor's Note: This review has been removed from our side-by-side comparison because it no longer ranks as a top 10 product. The original review is below, but check out our current top 10 about Online Stock Trading here.
Scottrade is a well-designed online stock trading broker that can meet the needs of both novice and advanced traders. It has straightforward pricing and does not charge extra fees for account maintenance or inactivity, making it a good option for online stock trading.
There are four different stock trading platforms: Scottrade, Scottrader, Scottrade Elite and OptionsFirst. The basic Scottrade platform is designed for the average online user and may be this broker's best trading platform for beginners. It provides basic stats and good account monitoring tools. Scottrader is stepped up a bit, with live-streaming stock quotes, personal stock lists and free Dow Jones news. This platform is fully customizable. Scottrade Elite is the most advanced platform and is designed for active traders. Its features include Dow Jones and Comtex news, top-performer scanners, charting ability and access to Level II quotes. OptionsFirst is specifically for option trading. It lets you access advanced option trading tools like risk assessment, market watch, hot lists and option chains. Scottrade does a good job at providing trading tools for beginners and advanced traders.
The trading platforms are easy to use and customizable. To make the platforms fit your needs, you can create up to three homepages for viewing your account and trading information. You can select which windows you want to view – including quick quotes and a portfolio manager – and have up to 23 tables displayed on a page at one time. The drag-and-drop functionality makes organizing your viewing windows quick and easy.
For mobile trading, Scottrade's stock trading apps are available on the iPhone, iPad and Android phones. The mobile apps let you trade securities and monitor their performance. The mobile trading tools integrate well with your Scottrade bank account if you have one. If you don't bank with Scottrade, you can easily transfer funds between another bank account and your brokerage account.
Scottrade charges $7 to buy stocks online. The broker-assisted trade fee is $32, which is one of the higher fees among the sites we reviewed. The firm offers a wide variety of investing options, including IRAs, mutual funds, exchange-traded funds, stocks, bonds and international investing. Opening an account with Scottrade requires an initial deposit of $500.
Scottrade's investor education resources are housed in the knowledge center. This collection of articles and resources is organized by type of teaching or assistance. You can find tutorials and investment planning calculators for help in planning and managing your trades. This online stock trading website has videos that focus more on the basics of using the different trading platforms and tools but not necessarily the nuts and bolts of trading. If you have a Scottrade account, you can access in-person events and live webinars for free. These events cover topics such as using the Scottrade platforms and advanced trading and market analysis strategies.
Scottrade offers a range of online investing options with low fees and commissions. However, the broker-assisted fee is high when compared to other online stock trading sites. Pricing is straightforward, and you are not charged extra for maintenance or inactivity. The knowledge center is a good resource for both novice and advanced traders with its mix of live events and interactive tools. The trading platform lets you customize which tables are displayed and how they are arranged. If you need additional assistance with your online trading, Scottrade's customer service representatives can be accessed in person, over the phone and online.