Tutor.com offers round-the-clock online tutoring in a huge range of subjects for customers in the United States and Canada. Aimed at children in K-12 schools and higher education students, it is available for free for those in US military families.
The platform is better suited to older students who can take some responsibility for their own learning rather than parents looking for a way of boosting their children's grades in general. Users are encouraged to book lessons as and when they need them with whoever is available to help them then and there.
Tutor.com review: Details
Grades: K through 12
Price: Subscriptions starting at $39.99 per hour per month, One-time purchases starting at $349.99 for 10 hours over 6 months.
Subjects: 40+ subjects including english, math, science, and more
Programs: Tutoring, test prep
Times available: Availability dependent on tutor
This is great for those wanting immediate help with completing an assignment, preparing for a test or understanding a concept. However, it does mean students are likely to work with a number of different tutors and won't have the benefit of getting to know a teacher who understands their individual strengths, weaknesses and learning style. Because of this, the platform doesn't rank highly in our guide to the best online tutoring services.
Tutor.com is now a part of the Princeton Review, the leading resource for college students in the United States and its association with the brand is likely to impress potential customers. It also shares the same mid-range pay-per-hour pricing structure as Princeton Review with a choice of committing to a monthly subscription or buying a bundle of hours.
Tutor.com review: Ease of use
The Tutor.com website is packed with information, which should answer most questions you may have. But some pages redirect to the Princeton Review, which now owns the platform, which can be confusing for visitors trying to understand the service.
Customers must open an account to use the platform and this involves supplying credit card details. You can benefit from a free 30-minute trial but you need to use it within a week and it involves committing to a $79.99 monthly subscription unless you cancel before the end of the seven days.
There is a Better Grades Guarantee, which offers a refund if students don't see their grades improve by at least half a letter. But there are lots of hoops to jump through to be eligible and the guarantee only applies if you've been studying one subject with the platform for at least two hours a month for three months.
Tutoring is available 24/7, you simply type in a question and get connected to a tutor who can help. This makes it a smart choice for someone who studies late at night or at weekends when traditional tutors might not be available. You can also book sessions every day of the year except Christmas Day, New Year's Day, Independence Day and Thanksgiving.
Tutor.com review: Tutors
Tutor.com has 3,100 tutors on its books, including certified teachers, college professors, graduate students and professionals with masters degrees and PhDs. They all have some teaching experience and have been through a screening process, including a background check, subject exams, mock tutoring sessions and a mentor review.
Visitors to the website can view brief profiles of tutors but these just give users a flavor of those working on the platform as it is impossible to contact them or find out their availability without first becoming a member.
One of Tutor.com's big selling points is the round-the-clock availability of its tutors. Unlike other online tutoring platforms like Learner, which match students to a particular tutor who can meet their needs, the focus is on getting help when it is needed. This may mean learning isn't as consistent as students are likely to work with lots of tutors who may have different approaches.
Tutor.com review: Lessons
Rather than setting up a regular arrangement with an individual tutor, lessons are booked as and when they are needed. You also don't need to commit to sessions of a certain length – on average, sessions are short - around 20 to 25 minutes long but students can work with a tutor for as long as they need, whether that is five minutes or a full hour.
It is possible to book an appointment in advance with a specific tutor but, like TutorEye, the platform revolves around the ability to book on-demand sessions to get help with specific areas you may be struggling with. If the tutor taking the session can't help, students will be transferred to someone else who can.
This is a real plus for people who want tutoring as a safety net when they get stuck on certain questions or assignments, however, this is less useful for students who need more general support to improve their grades.
Lessons take place in an online classroom with a shared whiteboard and chat and file sharing functions. Students can also replay lessons afterwards or read through transcripts of the sessions.
There are more than 40 subjects to choose from including math, science, English and foreign languages. It also covers more unusual subjects you might not find on other online platforms like sociology, management accounting, web design and medical terminology.
Tutor.com review: Cost
Tutor.com is now part of the Princeton Review and operates the same pricing structure. Customers pay for the time they use and can opt for monthly subscriptions or one-off packages of hours.
The subscriptions vary from $39.99 for one hour a month right up to $114.99 for three hours a month but minutes can't be rolled over if they aren't used. The one-off packages are more flexible but must be used within six months and cost from $349.99 for 10 hours to $1,449.99 for 50 hours – the equivalent of $29 an hour.
Pricing-wise, Tutor.com is a mid-range platform - it isn't the most expensive out there but it doesn't offer the kind of rock bottom prices you might find on sites like Preply.
One of the biggest plus points is that if you're a member of the US military (or a dependent family member of someone who is serving), you can use the platform for free, funded by the US Department of Defense.
There is also a way of getting money refunded if you're not happy with a lesson but the platform will review the session before deciding whether to credit the minutes used back to your account.
Tutor.com review: Is it worth it?
Tutor.com is a good choice for high school and college students who want to be able to get specific help with assignments quickly and easily. Students will typically be connected with a tutor who can help them within 60 seconds and support is available round the clock.
This ad hoc approach is convenient, but it lacks the personal touch. There are better online tutoring platforms available if you are looking for a tutor who will take time to get to know you and your learning style.
If you, your spouse or your parent is serving in the US military, using Tutor.com is a no-brainer as you will be eligible for free tutoring, paid for by the Department of Defense.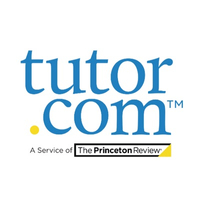 A great choice for college-level and high school pupils, you can get almost-instant help through this platform. Perfect for when you need to tweak that essay before the submission deadline.