Free for personal use, Glary Utilities 5 is an effective and easy to like system maintenance app. Like most of the applications that fill this niche, Glary Utilities is a collection of tools, with no single use. It's a very handy thing to have installed on your PC, however, as it can help with myriad problems, as well as providing preventative maintenance to prevent problems from occurring in the first place. It's one of the best repair software for PC options available.
If you're going to use Glary Utilities for commercial reasons, you'll need to subscribe - currently for around $20 a year. This gets you enough licenses to install the software on three PCs, useful if you have a small office to look after. The subscription version has a few tricks that the free app can't manage, such as wiping your temp files and internet history every time your machine is switched off, and automatically downloading updates, but there's nothing there that makes a subscription a must-have if you don't need it.
As is common with system utilities like this, there's a button to click that will analyse your computer and attempt to fix the most common problems it detects. Unusually, it has its own spyware remover - something usually left to apps like MalwareBytes. A system scan takes in a lot of information about your system, including whether updates are available for your installed applications. Restart your PC with the app installed, and it will measure the time it takes for your computer to start up, measuring it against a database to conclude what percentage of other PCs yours is faster than.
In use, Glary Utilities is a very fast and straightforward program to use. The One-Click Maintenance tab is where most of your time will be spent, unless there's something in Advanced Tools that particularly needs fixing on your PC. A column of simple tickboxes allows you to choose what the program will do, before clicking the big green Scan for Issues button to set it working. Registry scanning is fast and thorough, and it found traces in our registry of applications we'd thought were long uninstalled. The Uninstall Manager, found in Advanced Tools, could also have helped with this.
Like other system maintenance tools, Glary Utilities adds its own entries to the right-click context menu. Right-click on the Recycle Bin, and you'll be offered the chance to empty it securely. This means the files will be overwritten rather than simply marked as reusable space, but Glary doesn't have the same level of control as Ashampoo WinOptimizer, which offers several different levels of security, all the way up to overwriting files 35 times. The program also adds an 'Open Glary Utilities' option to the Recycle Bin context menu, meaning if you don't have a desktop icon for the app that might become the main way of accessing it.
Along with the secure deletion, Glary has the ability to encrypt, decrypt, join and split files, useful if you need to span large files across multiple DVDs, perhaps. File encryption is applied to individual files rather than folders, and the app can create a self-extracting EXE file that offers up the unencrypted file once you type the correct password, ideal for sending sensitive information along insecure channels. There's no mention in the app about the method of encryption that's used, however, though you can set the file to self-destruct if the wrong password is entered three times.
Particularly good, though mirroring some of Windows 10's functionality, is the Start-up Manager, which lists the programs that start with your computer and measures how long they are delaying you from starting work. This is usually in the manner of a few seconds each, but given enough of them they can make your PC feel sluggish as you wait watching the spinning circle go round after logging in. Switch off some of the main offenders - making sure not to remove anything absolutely essential - and you'll see a faster start-up time.
Should you use Glary Utilities 5?
Glary utilities is free for personal use, so there's nothing stopping you from downloading it to try it out. Compared to other programs in the same sector, Glary is right up there in terms of look and feel - it doesn't seem like free software at all. That a number of skins are available for it adds to the professionalism it exudes. In fact, if all free software was this good, the commercial software sector would have a hard time staying afloat. It contains a good mixture of automatic tools and those that require you to get your hands dirty, and neatly breaks down problems into groups so you can decide what to do about them. The only slight downside to it is that the help system is completely online rather than being contained within the app, and a question-mark button that looks like it will take you to the help screen actually takes you to a customer feedback form. There really is very little to criticise here.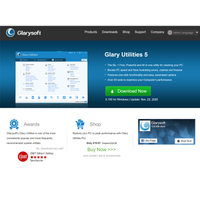 Download Glary Utilities 5 now for free
You can get the free version of Glary Utilities 5 right now, or pay for the Pro version, which is currently selling for $19.97. This link will take you to GlarySoft and will not initiate a download.