Philips' Smart Sleep wake-up lights help you start the day the right way, and right now you can save up to $40 on them at the Philips US store. Instead of waking up to a piercing alarm and repeatedly hitting the snooze button, these brilliant sunrise alarm clocks mimic the natural glow of a sunrise, offering a more gentle introduction to your day. There is also a selection of soothing sounds on offer to accompany the natural daylight simulation, including soft nature sounds as well as your choice of FM radio station.
Philips's award-winning wake-up lights come with plenty of tech and sleep research on offer, and thanks to these deals, now is the perfect time to try one out. First up is the sweet and simple Philips HF3505/60 Wake-Up Light, available for $69.99 at Philips, saving you $20 off the original $89.99. While the super-connected Philips HF3650/60 SmartSleep Sleep And Wake-Up Light, also has a decent $40 discount, meaning you won't lose sleep over the original price tag – grab yours for $159.95 now.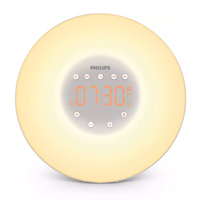 Philips HF3505/60 Wake-Up Light | Was $89.99 | Now $69.99
There are two natural wake-up sounds on offer here, along with ten light settings and gentle sunrise simulation to help you wake more gradually. A bedside lamp option also makes this gadget an essential part of your wind-down routine.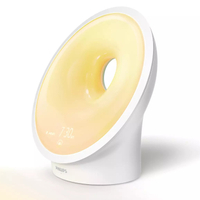 Philips HF3650/60 Wake-Up Light | Was $199.95 | Now $159.95
Philips brings lots of useful tech to this gadget with its smart touch display and light-guided breathing programs that make falling asleep easier. There is also plenty of versatility on offer with different sounds and brightness levels too.
Philips' is known for creating award-winning innovative health and wellness tech that's reliable and easy to use, from electric toothbrushes to electric razors. And that's definitely the case here with its HF3505/60 Wake-Up Light and HF3650/60 SmartSleep Sleep And Wake-Up Light, both designed to fit seamlessly into your bedroom and help you on your way to a great night's sleep and an easier time waking up in the morning. They have both been clinically proven to work too.
The Philips HF3505/60 follows the pattern of sunrise to gradually increase the light in your bedroom until it is filled with daylight, gradually bringing in your chosen wake-up sounds. If you really can't live without a snooze button, this clock also has that option if you need it. The Philips HF3505/60 also doubles as a handy bedside lamp and offers ten light intensities so that you can find the right amount of brightness for you.
Philip's HF3650/60 SmartSleep Sleep And Wake-Up Light introduces even more great features, including a light-guided breathing routine to help you ease away the stress of the day, and there's also a smart touch display for easy control of the clock. Other benefits include a midnight light should you need it if you wake, as well as sunset simulation on top of the sunrise light routine. Die-hard snoozers can rejoice too, as this clock also comes with a snooze button.
Once you have found a sleep routine that works for you, it pays to make sure you are sleeping on the right bed for your body, as this all contributes to how well you sleep. Whether you need extra pressure relief or enhanced motion isolation (ideal if you share with someone who tosses and turns a lot), check out our guide to the best mattress online, as well as our roundup of the best pillows for sleeping, and you'll soon be on your way to sweet dreams.
More wake-up light deals to discover
For more ways to upgrade your sleep, see our roundups of the latest Purple mattress deals and sales, or the best Casper mattress deals for an affordable bed-in-a-box.