Improve your rise and shine routine with the Philips SmartSleep Connected Sleep and Wake-Up Light, now $50 off at Amazon. This top-rated Philips Wake-Up Light is on sale now at Amazon for $169.99, down from $219.99. Recommended by pharmacists and physicians, the Philips SmartSleep Connected is 23% off in the Amazon Cyber Monday sale and it'll help you fall asleep and wake up more easily.
The Philips Wake-Up Light took the top spot in our round up of the best sunrise alarm clocks. This dual-light therapy and sunrise alarm clock comes is designed to help you wake up refreshed after a productive night's sleep. Wake up naturally and gradually with a light that simulates the sunrise, and fall asleep faster with RelaxBreathe, a guided wind-down-to-sleep feature that helps calm your body and mind. Via the app you can personalize the alarm, light, sound, sunrise and sunset themes to create your perfect sleeping environment.
Alongside the best mattress online, a wake-up light is one of our top recommendations for creating a healthy sleep routine, and this one from Philips is the best we've seen. If you're wanting to create a more natural sleep/wake cycle, then this Cyber Monday deal is well worth taking advantage of.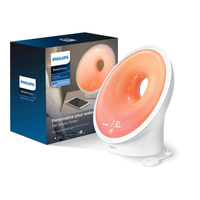 Philips SmartSleep Connected Sleep and Wake-Up Light | Was $219.99 | Now $169.99 at Amazon
Get $50 off this clinically proven Philips Wake-Up Light, featuring RelaxBreathe to help you wind down, and customizable sounds and themes. There's also a smartphone-enabled sensor that measures the temperature, light, and humidity levels in your bedroom.
You probably know that choosing the right mattress for your sleep style and one of the best pillows to support your head and neck are important for helping you sleep better. But did you know that a sleep and wake-up light can also help your body get the restorative rest that it needs?
Just like the best meditation apps, the Philips SmartSleep Connected comes with a range of features that can help you drift off and wake up naturally. We love that it features a RelaxBreathe, a light-guided breathing program that calms your mind and helps your body relax and unwind. There's also a smartphone-enabled sensor that measures the temperature, noise, light, and humidity levels in your room and then uses these to advise you on your ideal sleeping and waking environment.
The five different sunrise colors wake you up gradually and there's a sunset simulation to help you fall asleep faster. All of the settings can be customized and there are multiple natural sounds to choose from. The Philips SmartSleep Connected also comes with an FM radio, phone charging dock, power back-up, a quality speaker, and a smart-touch display.
More great sunrise alarm clock deals
Want more money-saving deals and discounts? Check out our guides to the best Purple mattress deals, the best Saatva mattress discounts, and the best Casper mattress deals.