Life doesn't start for most of us until we get our coffee. So, getting a good coffee machine like the Instant Solo Single Serve Coffee Maker is an integral part of every morning routine, especially for those who need just a cup or two and don't need to make a whole pot for the family.
While the best Amazon Prime Day deals are long gone, there are plenty of deals to be had on the retailer's site. Right now, the Instant Solo Single Serve Coffee Maker in red is getting that discount treatment. So, if you don't want to wait until the best Black Friday deals bless us with their savings on the best coffee makers, this is the perfect time to save big on a coffee maker.
Though the Instant Solo Single Serve Coffee Maker isn't expensive to start with – most single-serve coffee machines aren't – it's getting a price drop of $20. Since its MSRP is $99.99, its sales price of $79.44 is 21% off. That's a pretty nice price drop for this coffee maker.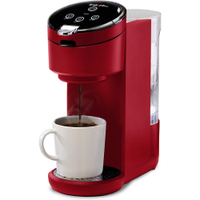 Instant Solo Single Serve Coffee Maker | was $99.99, now $79.44 at Amazon (save $20)
Its multiple brew strengths and sizes, including reusable pods, and the ability to use K-Cup pods make this single-serve coffee maker a versatile option for anyone wanting to brew just a cup of joe. Plus, it's now getting 21% off at Amazon for a significant $20 discount from its usual price of $99.99.
Price Check: Walmart $99.95 Best Buy $99.99
Instant Solo Single Serve Coffee Maker: Key features
Step aside Keurig, this single-serve coffee maker from Solo is quite the kitchen appliance for anyone wanting just a cup of coffee. You can choose from three sizes – 8, 10, and 12 oz – and you can brew at three different strengths. After all, some of us like the taste of our coffee to be strong enough to proverbially punch us in the face.
While it can also fit K-Cup pods, it comes with a reusable pod for the eco-conscious, so you don't have to worry about filling up landfills with single-use pods of Creme-Brulee-flavored dark roast. Plus, that way, you can use the freshly roasted coffee of your choice without paying extra for the pod.
Since this is a single-serve machine, it won't take up too much kitchen counter space, so you don't have to worry too much about making room for it. And, even though it is relatively petite, it's still tall enough with enough space below its dispenser to fit a travel mug. Oh, and it only takes 90 seconds to make a cup of coffee.
Coffee Maker Deals
If the Solo Single Serve Coffee Maker isn't quite your bag, you have plenty of options. If you're on an extreme budget, the Famiworths Mini Coffee Maker is also receiving a sale, albeit not quite as substantial, for a lower entry price, not to mention a smaller footprint.
If you want to make more coffee at once, the Hamilton Beach Programmable Coffee Maker can make a full pot, equal to 12 cups of coffee, to wake up the whole family. You can also choose what strength you want to brew at, and it's currently 20% off from $49.99 to $39.99.
You can head to our dedicated Amazon Prime Day coffee maker deals page for more offers closer to the next event in October.