The best inflatable hot tubs are hard to find these days, and with this summer turning into staycation season for many, it's no wonder they've been sold out for quite some time. Luckily, we've found a handful of stunning inflatable hot tub savings on one of the top brands, from Target.
You can get the Bestway SaluSpa Inflatable Hot Tub for only $625.99 at Target right now - that's a saving of 28%. As the name suggests, this model fits four comfortably making it the ideal family-sized model. It also features high-power jets and built-in hard water treatment for ease of use and longevity. The tub has a temperature range of 68 to 104 degrees, which is an ideal temperature range for relaxation. It takes only 20 minutes to set up this inflatable hot tub, so you could be sitting in hot steamy water within the hour when you get this great saving delivered.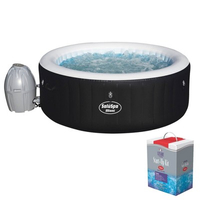 Bestway SaluSpa Inflatable Hot Tub: $865.99 $625.99 at Target
Save $240 - With a 28% discount, this is an incredible saving on one of the best inflatable hot tub brands going. Save now on durable construction and ultimate relaxation.
If you want to take the luxury up a notch, there's also a 28% saving (that's $500!) on this Intex PureSpa 4-Person Inflatable Hot Tub. It has a massive 120 soothing bubble jets and headrests for sitting back and letting your troubles float away...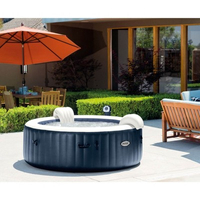 Intex PureSpa 4-Person Inflatable Hot Tub: $1,814 $1,312 at Target
Save $500 - For ultimate luxury, opt for this 4-person inflatable hot tub with a slip-resistant seat and soft foam headrests.
With the effort that it takes to have hot tubs installed, not to mention the cost, an inflatable tub is the perfect way to unwind without having to leave your home. They also offer the convenience of being easily stored for seasonal use, which can lower maintenance costs and make room seasonally in smaller backyards.
Looking for something a bit more permanent? Check out our guide to the best hot tubs.