At a glance
1. Prices start at $32 month or $99 annually
2. Thousands of courses available
3. Majority of classes teach creative skills
Online learning has been on an upward trajectory for the past decade or so, but over the last year it's really taken off, with one platform reporting a 15-fold growth in new registrations since April 2020, according to figures from CNBC.
Skillshare is one such platform, focused on the creative industries, which features video lessons made by actual working professionals in their field. There are thousands of classes available, from purely creative to the more technical, and from the business-oriented to lifestyle and productivity. If it's not fine art you're after, then maybe SEO, languages or cooking classes will pique your interest.
We found the platform a lot of fun to use, with a big range of creative classes. It's one of the best online learning platforms available if you want to learn art-based subjects, but it's not got a lot of very technical or scientific content to get your teeth into (it ranks fairly low in our round-up of the best coding courses online, although it does just make the cut). Also, while most lessons are clear and engaging, we came across a few that feel like they've been abandoned by the original creator.
Skillshare can't guarantee that your course teacher will be able to give you any direct feedback, which is one of the few drawbacks of the platform. If this is a deal-breaker for you, we recommend you look through our list of the best online tutoring services instead. Likewise, if you're set on learning a language, you can get direct feedback and live tutoring through the best language-learning platforms like Rosetta Stone.
Skillshare review: Teaching format
Skillshare's lessons are presented as a series of video lectures. They tend to be a mix of talking heads and screen captures, and your level of engagement depends on your personal interest in the subject and the charisma of the presenter. Below each video is a description of what the class teaches, plus biographies of the teachers including their qualifications.
There are also reviews of the series by students, and a Discussions tab that houses debate about its contents. Extra useful are the Projects & Resources tab, under which you'll find further reading, downloads and the like, and the Transcripts tab, which is home to text versions of the videos so you can read along with them, or on a quiet night, just read. The transcripts are excellent for catching up on bits of the video you might not have heard properly, for enriching your notes, or for copying down a recipe – it's a great feature to have.
A particular favourite of ours is Baking With Kids, presented by a former Great British Bake Off contestant. It's fairly representative of the quality you'll find across the site, as it comes with a 45-page PDF to accompany the four hours of video tutorials split across 30 lessons. Some courses set assignments, and students can share what they've done with other students or the class teacher; others seem long abandoned, with the teacher having moved on to something else.
Skillshare review: Course quality
The content is all very arty. Don't come here to learn physics or math – though there is some light content about gravitational fields, the laws of motion, basic algebra and calculus for engineers. The word 'mindfulness' comes up a lot, and you'll be encouraged to do things 'like a pro', but there's also a lot of content 'for beginners'.
In general, we found that the courses are very focused, and they're clearly titled so you know what you're getting. One of the great pleasures of being subscribed to Skillshare is that everything is included, so you can dip in and out of things you've not tried before, perhaps discovering a new interest, or at least learning something new along the way.
But on the flip side of that, a lot of the content can be superficial, and courses only go into great depth if a creator has been motivated to create such a video. It feels like the platform needs a little more quality control, as some courses aren't well-maintained and updated, too.
You don't get a certificate, either real or virtual, for completing a course on Skillshare. In fact, you can mark courses as complete without having actually completed them from the My Classes menu.
Skillshare review: User reviews
Unlike platforms like LinkedIn Learning, Skillshare really encourages users to leave individual reviews of courses, so that other students can find classes that suit their needs. When you find a class you like the look of, simply scroll over to the reviews tab and you'll see ratings and comments from online learners.
Ratings are based on how well a class met students' expectations, but pupils also get to suggest who they think the class is for, stating if they think it's well-suited to beginners or advanced learners. Reviews also highlight which elements of the class are the best, with things like 'clarity' and 'organization' shown next to 'heart' ratings on the page.
Skillshare review: Cost
This is a subscription-based model, so you can't buy a one off class. Prices start at $32 per month or you can pay $99 annually. Deals and discounts are often available - you can currently get a 7 day free trial of the platform.
Platforms like Udemy offer courses on a one-off basis, which can work out cheaper if you're only interested in a very narrow range of topics. However, subscriptions can allow you to learn about a broader range of topics, and they can represent good value if you intend to spend a lot of time on the platform.
Skillshare review: Should I get a subscription?
If you have a thirst for knowledge, then a subscription to Skillshare will make you very happy. It's one of the best online learning platforms currently available and it can help you learn about everything from astronomy to AI. That said, it mostly scratches the surface on topics, but it isn't really the same as taking a dedicated course in the subject.
This isn't really a criticism – you're not signing up for college, after all – and there is so much content on offer it's hard to imagine being without something to watch, as you skip from a course on the night sky to one about moles, and those moles turning out to have more to do with chemistry than lawn care.
If you want to improve your creative skills, say in Photoshop or video editing or watercolor painting, then there's a lot to be learned from Skillshare. It's also great for anyone looking to take up a new hobby, as you'll find plenty of enthusiasm and tips for anything you care to put in the search box.
For those looking for depth, especially in the less artistic disciplines, or for people who want to pick up something concrete they can put on their resumé, there are other places to try first. Try looking through our Linkedin Learning review, to see if it's a better fit for your learning needs.
---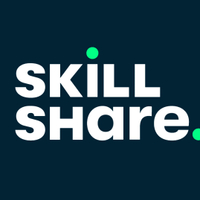 Fancy painting, writing or baking a new kind of delicacy? Then this creative platform is a good fit for you, as it covers a vast range of artistic subjects. Prices starts at $32 per month, but you can usually bag yourself a 7-day free trial.