Most of us love gathering around a fire pit, whether that's because of the warmth they offer on cold winter nights, or because of the delicious tasting food they create. But what's less enjoyable is the feeling of smoke in our eyes, and the lingering after-smell in our clothes and hair.
Solo Stove Bonfire 2.0: Key specs
Fuel type: Wood
Capacity: 3-4 pieces of wood at a time, depending on size
Dimensions: 19.5 x 14 inches
Weight: 23.3 lbs
Build material: Stainless steel
Warranty: Lifetime
Smart features: None
Portability: Free carry case
Grill included: No
The Solo Stove Bonfire 2.0 could be the perfect solution for your needs. The most popular in Solo Stove's smokeless fire pit range, it's big enough to offer warmth for large groups of people, but still portable enough to transport to different locations. The original Bonfire has been upgraded with a new extractable ash pan to make cleaning the fire pit after each use more convenient, and it claims to be able to create a completely smokeless fire.
The Bonfire 2.0 is stylish too, with a shiny silver exterior and contemporary aesthetic. The best fire pits should serve their purpose of creating long-lasting, durable fires, but also look great in the garden too.
In this review, we test claims that the Bonfire 2.0 can create a truly smokeless fire, as well as how much easier cleaning the fire pit is with the new extractable ash pan. We put the product through its paces to see how easy it makes it to get a long-lasting fire going, and whether both novices and experienced campers can enjoy its benefits. Keep reading to find out whether Solo Stove's most popular fire pit is worth your money.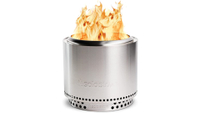 Solo Stove Bonfire 2.0 | was $399.99, now $224.99 at Solo Stove
The Bonfire 2.0 is currently discounted on the brand's website, so it's a great time to purchase this highly-rated fire pit. It's extra easy to clean thanks to a removable ash pan that can be emptied straight into the trash. It also weighs just over 23 lbs, so no matter whether you're heading to a tailgate, camping, or spending time in your yard, you can simply pack up and move.
Solo Stove Bonfire 2.0: Design
The Bonfire 2.0 looks great. Its round shape makes it an ideal centerpiece in the garden, with the possibility of arranging other outdoor furniture around it. It's silver and shiny, which gives it a modern look and feel. Silver is the only color available though, so depending on your taste, you may prefer a fire pit with a more rustic, authentic aesthetic. That being said, the Bonfire 2.0 complements other furniture well, and is neutral enough to assimilate easily into any outdoor space.
The fire pit is quite large, which makes carrying it around a little awkward. We found that wrapping our arms around the body was easier than trying to wedge our fingers underneath it and lifting it up from the bottom. Its stainless steel shell is smooth to touch, but we found that this attracted fingerprints very quickly. It's very difficult for the fire pit not to show signs of use, and maintaining a spotless appearance would require constant wiping down of both the outside and inside of the pit.
Solo Stove Bonfire 2.0: Features
The Bonfire 2.0 uses wood to create a fire, though smaller pieces of dry kindling and firelighters are recommended to get the fire going initially. For the 'smokeless' effect, Solo Stove designed their pits with Signature 360° Airflow to superheat the air so most of the smoke would be burned off. There's also a flame ring that sits on top of the fire pit, which is the last line of defense against a smokey fire.
All the fire pits from Solo Stove boast this smokeless feature; the only difference between them is size. The Bonfire 2.0 is the second largest in the range, after the Yukon 2.0. With a diameter of 19 inches, the Bonfire is big enough to be enjoyed by several people at once, but still portable enough to be transported around thanks to the free carry case.
The new and upgraded feature which makes this pit a '2.0' is the removable ash pan. This addition makes cleaning and maintaining the Bonfire a lot easier, as all the ash can be removed in one go by simply extracting the pan. This 'grab and go' convenience is far more preferable to carrying the whole fire pit to the trash - especially with this one's considerable size - which was required by the original model.
Included with the fire pit is a carry case so you can easily transport the Bonfire 2.0 around. All other add-ons are sold separately, which include:
• Stand
• Lid
• Heat deflector to redirect heat
• Shield for protection against sparks
• Handle for carrying
• Tools (angled poker and log grabber)
• Sticks for roasting food
The Bonfire Ultimate Bundle 2.0 allows you to purchase all of these at once. For grilling food on the fire pit, the Bonfire Hub and Cast Iron Grill Kit are sold separately.
Solo Stove Bonfire 2.0: Setup and assembly
The Bonfire 2.0 comes in a large box but given its size, it is packaged compactly, with all the parts contained within the inside of the pit. It is quite heavy, but manageable enough to be carried around by one person. We did have to shuffle around a bit to make sure we were holding the fire pit correctly before moving it from A to B. Not all of the packaging could be recycled; polystyrene, plastic and foam inserts were used to understandably protect the fire pit in transportation.
The setup process of the Bonfire 2.0 is a big plus. Assembling it took us no longer than 10 minutes, and simply involved removing the parts from their packaging, and placing them back into the fire pit in the order outlined by the instructions.
First in is the ash pan, followed by the base plate. The flame ring is left to one side until after the fire has been lit. The stand is of course placed at the base of the pit, if you opt to purchase one.
The whole process is hassle-free, and the instructions are very clear and easy to understand. Rather than an overly detailed user manual booklet, there are two flyers: one explaining how to use the fire pit, including care, use, and warnings, and the other explaining how to use the fire pit stand. Both have written instructions accompanied by useful diagrams. There's even some handy tips printed on the box on the best way to light the fire.
Solo Stove Bonfire 2.0: Performance
With an adequate supply of dry wood, kindling and firelighters, lighting a fire in the Bonfire 2.0 is fairly easy. We arranged smaller pieces of kindling and firelighters in a grid-like layout to get the fire started, then added larger hardwood logs around the edges of the fire pit. We were able to get a strong fire going for about an hour, though it would probably have lasted longer if we had added more wood.
Lighting a fire was trickier on some nights than others. The time of year we tested the fire pit in comes with windy weather, and despite the pit's cylindrical cover, the exposed top meant a gust of wind would blow early flames out before they'd had a chance to catch on. A makeshift shelter helped. If you already have some sort of cover in your backyard, windy weather won't be an issue, but remember you'll need to purchase the stand if using the pit on wooden decking.
The smokeless feature was its most impressive quality. Compared to the copious amounts of smoke usually produced by fire, the smoke that we experienced was practically non-existent. There was a little smoke every now and again, but the shape of the fire pit means this was directed upwards, so we could stand around it and enjoy its benefits without getting smoke in our eyes.
Once the fire was going, there was nothing to do but relax and enjoy the comfort of the flames. Depending on how long you want the fire to last, it's simple enough to just add more logs to the pit, though you may want to wear gloves if you're a little nervous about the heat. Solo Stove's Fire Pit Tools come in handy here, as these allow you to place new logs into the pit without getting your hand too close to the flames or the steel, which was radiating a lot of heat. We still managed to drop a couple of pieces of logs in after the fire had started though, without the aid of the tools.
Generally speaking, we felt like we could enjoy the fire safely, as the Bonfire's cylindrical shape provides a secure enclosure for the flames, without compromising the diffusion of heat.
Solo Stove Bonfire 2.0: Care and maintenance
One of the downsides of the Solo Stove Bonfire 2.0 is that you'll have to make space to store it. It doesn't fold up, so it isn't the most compact, which may be an issue if you don't have an outhouse for storage. If you're leaving the fire pit outdoors, it's important to protect it. The free carry case is handy for this; by turning it upside down, we could use it to cover the fire pit on nights where we were leaving it in the garden. You can also purchase a Shelter for the Bonfire 2.0 (sold separately), which is designed to fit around it for optimal protection.
Cleaning the fire pit is made easy by the removable ash pan. It was simple enough to empty this into the trash after every use, which Solo Stove recommends you do for optimal airflow and smokeless flames with every fire.
Ty Hancock, Solo Stove's Product Marketing Manager, tells us that "prolonged exposure to moisture may result in increased staining or rusting on the Bonfire 2.0. Due to extremely high temperatures inside, the fire pit may show signs of staining/rust. This is normal and will not affect use." The base plate did show charred marks after our first fire, and these have become more noticeable with each use. Given that this is to be expected, we didn't think it necessary to scrub the base plate clean so that it appeared spotless again.
Another plus is that Solo Stove offers a lifetime warranty on all of their products. Any products deemed to be defective or damaged will be replaced, though this doesn't include damage from misuse or general wear and tear.
Solo Stove Bonfire 2.0: Price and availability
For a smokeless fire pit of this size, the Bonfire 2.0 is reasonably priced. Solo Stove's fire pits go up in cost in accordance with their size, though they have frequent sales so prices will vary depending on when you're shopping. At the time of writing, the Bonfire 2.0 is on sale for $224.99 on the Solo Stove website.
Other places to shop the Bonfire 2.0 include Amazon, where it's currently retailing for $299.99, or $344.99 with the stand. Walmart and Firepits USA also stock the Bonfire 2.0 at its recommended price. The price of the fire pit on Amazon without the removable base plate and ash pan (the original Bonfire model) is currently $269.99. The jump in price from the original to the updated version is in our opinion worth it, because of the dramatic difference the ash pan makes when cleaning the pit.
The Bonfire 2.0 lands in a similar price range to other smokeless fire pits on the market, but given the frequency with which the product goes on sale, you're more than likely going to get a good deal for your money.
Solo Stove Bonfire 2.0: User reviews
At the time of writing, the Bonfire 2.0 had a 4.8-star rating on Amazon, from a total of 2,385 global ratings. That's a lot of customer reviews, and the majority of them are overwhelmingly positive. About the Bonfire's smokeless feature, one customer wrote "my husband and I built a fire two nights while we were camping recently and not once did I have to move. Not one time did I get an eye full of smoke or be choked out by smoke… I can not recommend this stove enough!"
Reviewers have also praised the fire pit's ease of use and its ability to maintain a long-lasting fire. One customer wrote, "fire lights easily. Spreads easily. Stays lit. Burns everything you place in it."
The fire pit's claim to be smokeless however was not verified by all users. More than one reviewer on Amazon said that they experienced a lot of smoke when using the Bonfire 2.0, and therefore its costly price was unjustified. One customer gave the fire pit a 1 star and wrote "There was smoke... a lot of money for a regular fire pit that is a lot of maintenance and not so easy to go camping with."
Aside from contentions around whether or not the fire pit is actually smokeless, there are some complaints around the impracticality of taking such a large fire pit away for camping trips.
Solo Stove Bonfire 2.0: What the experts say
Ty Hancock from Solo Stove says that "once you purchase a Solo Stove Fire Pit, the remaining expense will be purchasing wood and kindling to burn in it. If you choose to add accessories later on that is also an added expense." If you want to use the Bonfire 2.0 for cooking, you'll need to purchase the Cast Iron Grill and Bonfire Hub (this elevates your grill so it doesn't need to be placed directly over the fire).
For deciding which fire pit from Solo Stove is best for you, consider where you're likely to use it. Is portability essential, or are you more concerned about it being big enough for large parties to enjoy? "Factors like how you entertain, how you plan to use your fire pit, how much space you have, and where you want to use the fire pit will influence your choice", says Ty.
Should you buy the Solo Stove Bonfire 2.0?
Overall the Solo Stove Bonfire 2.0 is a fire pit worth spending money on. Whether or not it creates completely 'smokeless' fires is up for debate, but it can be said that you can use it to enjoy a fire without having to suffer from the unpleasantness of smoke. We happily stood around the fire for an hour and didn't feel the need to move once.
The extractable ash pan and base plate are a huge plus, and cuts the cleaning process down considerably. This new addition makes a big difference, as one of the downsides of the Bonfire 2.0 is that it's a little awkward to move around, so not having to carry the whole pit to the trash makes life a lot easier. The other not so great aspect is how easily fingerprints show up on the stainless steel shell. As soon as it's been used, it becomes difficult to maintain the fire pit's pristine look, so bear this in mind if a spotless appearance is important to you. Overall though, we think the Bonfire 2.0 is a great fire pit that could be enjoyed by both novices and experienced campers.
How does the Solo Stove Bonfire 2.0 compare to competitors?
The Bonfire 2.0 is the same price as the BioLite FirePit+, which also creates a smokeless fire but with the added benefits of smart technology. With BioLite's fire pit, you can control the size of the flames via Bluetooth, an impressive feature which would warrant a higher price point. This suggests that Solo Stove's Bonfire 2.0 may be a little pricey, given that it is just a standard fire pit with no smart technology. Smart features are not essential for creating a good fire though, and given the frequency with which the fire pit is on sale, you can pay less than the usual price and get a good deal for your money.
Compared with the other products in Solo Stove's range, size is the only unique factor in the Bonfire 2.0. The Bonfire is the second largest, after the Yukon 2.0, which has a diameter of 27" and a height of 17". Also available is the smaller Ranger fire pit (15" diameter), and smaller still, the Mesa (5.1" diameter), suitable for tabletops. Being the second largest, the Bonfire 2.0 is also the second most expensive, but it's a significant $100 cheaper than the Yukon. Considering that the only added benefit of the Yukon is a larger fire, we think the Bonfire is better value for money.