We're all preparing for a summer at home, which means facing up to the less lived-in spaces of our yard and house. This has lead to a spike in outdoor furniture spending, with new research from ResearchAndMarkets.com finding 'in the early days of the pandemic, there was a huge increase in demand for office furniture as more people looked to set up a home office for remote working.
While the last few months have seen a surge in demand for outdoor furniture and recreational items such as pool floats as consumers plan to spend summer vacations at home.'
The best inflatable hot tubs and best gas grills have been selling online everywhere as people everywhere prepare for staycations, but you don't need to splash out to transform your outdoor space. We've been bringing you balcony decor ideas to give you some garden inspiration, and now Target's Hearth & Hand with Magnolia collection is delivering the warm tones, summery textiles and practical outdoor play options we've been dreaming of.
The Hearth & Hand with Magnolia collection is selling out fast and we're not surprised, but we're bringing you our favorite options to transform your outdoor space which are available for online shipping, right now. Check out the Summer Relaxation Collection (most of which isn't available for online shipping) if you're able to check out a nearby Target.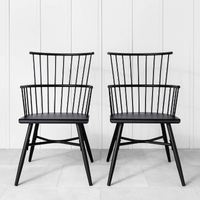 2pk Indoor/Outdoor Metal Patio Dining Armchair: $199 at Target
Hello, statement piece. At only $100 each, these metal patio armchairs will work great indoors and outdoors too. The bold and black design adds some flavor to more subtle summer textures, and there's guaranteed comfort.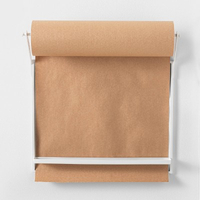 Wall-mounted Paper Roll Holder: $34.99 at Target
Crafty kids will love this paper roll holder (complete with roll), ideal for studies or kitchens - think shopping lists and doodles galore.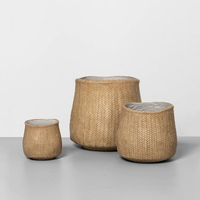 Woven Concrete Planter: $39.99 at Target
Mixing a soft woven texture with a sturdy concrete interior creates a durable statement planter ideal for herbs, outdoor plants and floral displays. Again, it's great for indoor and outdoor display.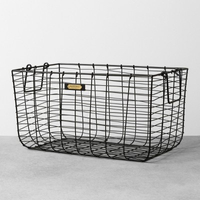 Large Wire Storage Basket Black: $34.99 at Target
Outdoor storage is essential for summer nights - store throws, outdoor games or snacks in this black wire basket with two handles - a great piece of decoration in itself.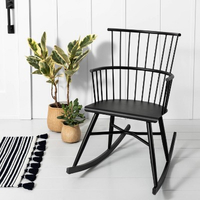 Indoor/Outdoor Patio Captain Arm Rocker Black: $229.99 at Target
Prepare to tussle over this yard-ready rocker. Made of sturdy rust-resistant metal, this will work on porches and patios to create the perfect summer reading nook.
Already completed your summer space? Check out our guide on how to clean a gas grill here. If you're after a bedroom makeover, we've given you 5 ways to optimize your bedroom for a more restful night.