Presidents' Day is a great time to find deals on gardening tools, including some from reputable brands such as Husqvarna.
Products from the Swedish brand are rarely reduced in price, mainly because people in the know are prepared to pay full price for these quality machines. Easy access to spare parts, longevity and ease of use are three of the key reasons why tradespeople and home owners alike have at least one of these products in their tool shed.
However, it is possible to find some great Presidents' Day Husqvarna chainsaw deals, and we've rounded up the best of them below so you can find a great tool for less.
The brand often tops the best chainsaw charts for both its gas and battery powered models, thanks to features such as automatic chain oilers and anti-vibration systems. Whether you're an occasional hobbyist, or a professional fellers and arborist who needs a powerful tool for regular use, you'll find what you need here.
And if you're looking for other tools that'll help you get on top of your backyard chores, Husqvarna also tops our list of the best hedge trimmers, so check out our guide for expert buying advice. If you're after a cheap chainsaw, you can also take a look at our chainsaws deals page to make sure you're getting the best price on your gardening tools.
Presidents' Day Husqvarna chainsaw deals
Why you can trust Top Ten Reviews Our expert reviewers spend hours testing and comparing products and services so you can choose the best for you. Find out more about how we test.
Presidents' Day Husqvarna deals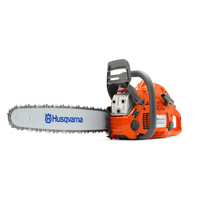 Husqvarna Rancher Gas Chainsaw | was $609.95, now $588.54 at Sears
This well-rounded saw is made for chores where a long bar will come in handy. With a chain brake and built-in chain oiler, safety comes first with this gas model. It's pretty powerful and its longer bar means it's a good pick for felling trees.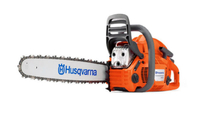 Husqvarna Rancher 24" Gas Chainsaw | was $966.57, now $804.47 at Sears
This powerful chainsaw has a 3.62 HP gas-powered engine to tackle even the largest logs. It is extra durable and built to last through the years. Usefully, it also comes with a quick-release filter for effortless maintenance, and an ergonomically-designed handle for comfortable grip.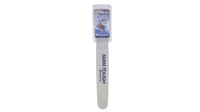 Husqvarna Guide Bar | was $79.42, now $71.48 at Sears
This replacement bar fits any of the 55 Rancher, 455 Rancher or 460 Rancher chainsaws. We love that replacement parts are readily available for purchase at an affordable price, further extending the lifetime of Husqvarna chainsaws.
Best value Husqvarna deals
A powerful, well-built saw that can handle some very large jobs, as well as the small to medium jobs you'd find in any large, suburban garden. The Husqvarna 460 Rancher is powered by the Husqvarna X-Torq engine, which offers low emissions and low vibration technology for comfortable use.
It also boasts great safety features, including an inertia chain brake which turns the saw off if it is dropped and minimizes the kickback from the saw during use.
The long bar can make handling and maneuvering the Husqvarna 460 Rancher tricky, a problem that can be exacerbated by the saw's hefty weight. This means the Rancher isn't an ideal purchase for smaller individuals.
---
The Husqvarna 120i cordless chainsaw has a 14 inch blade which makes it more suitable for cutting branches, firewood or smaller tasks. While it definitely won't be suitable for professionals, or those that are looking for something that can really cut through anything, the 120i cordless chainsaw is much lighter than gas models.
You will have to charge up the Husqvarna 120i cordless chainsaw but, because this model is battery powered, you don't have to worry about cord lengths and power supplies if you're working away from your house. An LED display also shows you how much battery is left before it's time to put it on charge. As this is electric, you don't need to top it up with gas and oil.
This model is complete with an automatic chain oiler and you can switch between maximum runtime and ultimate power modes to suit the job you're working on. Some users, however, did find the battery didn't last long enough for them to complete the jobs they were working on. If you're going to be taking on hours of work, you will be better suited with a corded or gas chainsaw instead.
The Husqvarna 120i cordless chainsaw scored an average of 4.1 out of 5 on Amazon. The gleaming user reviews for this model state that it's ideal for pruning trees and the battery only lasts up to three hours, but that isn't a problem. Because this is a battery model, some users comment on the battery suggesting it's "poor and doesn't last".
Buying advice for Husqvarna deals
Before you buy any new chainsaw, really think about what you'll be using it for. If you're primarily using for maintenance – for example, to lop off tree branches or clear bracken – you're not going to need a monster chainsaw. But, if you are felling large trees on a regular basis, you'll need a workhorse with a longer bar (blade) so that you can get through the trunk efficiently.
A maximum 60-70cc chainsaw should wield more than enough power for most climbing arborists, remembering that generally, the more powerful the saw, the heavier it will be.

Look out for models that have anti-vibration technology and automatic chain oil such as the Husqvarna 435e II gas chainsaw and the Husqvarna 120. You'll also want a Husqvarna chainsaw which has easy-to-use tensioning features so you won't be wasting any valuable time recalibrating the chain.
What to look for in a new Husqvarna leaf blower
Husqvarna only offers cordless leaf blowers, in gas and battery powered flavors. Your main decision is going to be whether to go for gas or battery, and this will largely depend on what you want out of your leaf blower.
Battery-powered leaf blowers tend to offer less power, but are quieter, lightweight and easy to maneuver. If you've got a regular-sized yard or driveway to look after, they're ideal.
Go for gas if you're clearing leaves as a profession, or have a large property to maintain. This will give you the power to clear out gutters and clear debris such as sand or gravel.
Your next consideration should be whether you want a handheld or backpack-style blower. More powerful, heavy blowers tend to have a backpack harness, which spreads the weight, making them easier to carry and less likely to cause discomfort. Lightweight handheld leaf blowers are generally easier to get into tight spots, so they're a better pick if you have a small or awkwardly shaped yard.
There are other features that set Husqvarna leaf blowers apart – one being Low Vib® technology that absorbs vibrations, so your arms and hands are put under less stress. And if you're worried about gas pollution, X-TORQ® engine technology reduces harmful exhaust emissions by up to 75% while at the same time increasing fuel efficiency by up to 20%. Win-win.
Why buy Husqvarna?
There's more than one good reason why there are so many 'Husqy' fans out there, but let's start with its heritage. Founded in 1689, Husqvarna is – quite simply – one of the oldest continuously operating manufacturers in the world. Of course, 330-plus years ago, it wasn't making chainsaws – in fact, the company was founded by the Swedish king, Charles XI, to supply muskets for the state, and named for its factory location, the Husqvarna waterfalls.
It diversified, of course, producing sewing machines from 1872, motorcycles in 1903 and lawn mowers from 1909. It's probably now best known for its chainsaws, which it began producing 1959, some time after its longstanding rival, Stihl, whose founder Andreas Stihl built the first gas powered chain saw in 1928.
Ask any good arborist and they'll likely rely on Husqvarna or Stihl chainsaws to do their job. Both are built to last, provided you maintain them properly, and both are cheaper to repair than supermarket brands, because of the availability of spare parts.
The Husqvarna vs Stihl chainsaw debate rumbles on, but we'd recommend you pick Husqvarna if you're looking for a good power-to-weight ratio, as it puts out some surprisingly lightweight but powerful saws. Stihl generally wins out for choice in the battery powered chainsaw category, though.
So why else should you choose Husqvarna? Well, replacement parts are very easy to pick up and the company manufacturers its own chains from a facility in Sweden.
Husqvarna are also known for being relatively quiet. This was the USP of their first chainsaw to market in 1959, the Husqvarna 90, which was billed as 'twice as quiet' than any competitor. And to this day, Husqvarna are loved by fallers and arborists for their low-vibration technology.
The same is true of Husqvarna leaf blowers, which benefit from noise dampening and anti-vibration technologies