Amazon products are often the best deals when the retailer has one of its major sales holidays, and that's certainly the case with the Blink Video Doorbell + Sync Module 2 combo. Part of the Alexa ecosystem, this bundle usually goes for an affordable $94.98, but its current price of $47.49 is the lowest ever.
As one of the many great Amazon Prime Day deals, it's getting a full 50% discount. Of course, if you want to just get the doorbell, you can spend even less (and get the same 50% off), as it's currently on sale for $29.99 instead of the usual $59.99, but the Sync Module 2 allows you to store footage locally, rather than paying for cloud storage.
If you're looking for a video doorbell or some home security system and are already invested in the Alexa ecosystem, one of the various Blink bundles is probably the best way to go. You can read more about how Blink measures up to its closest competitor (though they are both Amazon brands) in our Ring vs Blink breakdown.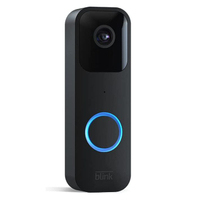 Blink Video Doorbell + Sync Module 2 | was $94.98, now $47.49 at Amazon
If you need an inexpensive video doorbell, this model from Blink, owned by Amazon, is not only affordable but has also received a 50% off deal, taking the price from $94.98 to $47.49. That's pretty good for a doorbell with decent video quality and easy installation, and we haven't seen the bundle this cheap before.
Alternative pick: Blink Video Doorbell (standalone) $29.99
Blink Video Doorbell + Sync Module 2: Key features
The Blink Video Doorbell may be one of the best video doorbells for those already using the Alexa ecosystem, which makes sense as this is an Amazon product. Installation is easy - just screw in the included mounting kit. And setup is just as simple as using the Alexa app.
The doorbell runs off two AA batteries, which is supposed to last two years, though some users have reported that the battery life is not quite as advertised. So, you might need to invest in some extra batteries. It can be used wirelessly with notifications popping up through the app and on your phone. But you can also wire it up to your existing doorbell wiring.
As far as actually using the doorbell, it provides a 1080p image, two-way audio to communicate with whoever is at your door, and infrared night video in case of late-night visitors.
Just be aware that you'll only get a 30-day trial for the Plus cloud plan, so if you want video backup, you'll need to factor that in. There are two plans, a $30/year plan for one device and a $100/year plan for all devices in your house.
Video doorbell deals
Like the best Black Friday deals, Amazon deals cover a range of different products, including alternatives to its own. The Ring Video Doorbell, possibly the most popular out there, is also getting a huge price cut, dropping an almost as impressive 45%, from $99.99 to $54.99 on Amazon. Of course, that's for a single unit instead of the Blink bundle. Its subscription plan is also a little higher at $10/month.