This GE 24-inch Stainless Steel Dishwasher, otherwise known by the indecipherable model number GDT630PYRFS, is getting a great sale on Home Depot right now. Considering how expensive good appliances are, dishwashers included, anyone looking for a new dishwasher should take note.
After all, dishwasher deals are going to save you a lot of money since these appliances tend to be pretty pricey. And, you might not find a similar discount until we start seeing Black Friday appliance deals pop up for the holiday season.
Specifically, this GE dishwasher, which typically retails for $829.00, is currently on sale for $478.00 at Home Depot. That's a 42% discount or $351.00 in real numbers. While you should always keep an eye out for savings, that's even more the case when it's this much, especially if you've been in the market for a new dishwasher.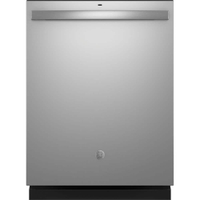 GE 24-inch Stainless Steel Dishwasher was $829.00, now $478.00 at Home Depot
This dishwasher from GE may be a little pricey, but that's because it comes with such features as a third rack just for utensils, a dry boost to make sure everything comes out bone dry, and a sanitize cycle, not to mention the ability to automatically adjust settings depending on how dirty your plates are.
Price Check: Best Buy $809.99
Alternative Pick: Samsung Stainless Steel Dishwasher
GE 24-inch Stainless Steel Dishwasher: Key Features
When it comes to being amongst the best dishwashers, GE knows a thing or two having been in the game for awhile. And, that's certainly the case with this model currently on sale at Home Depot. This particular model is chock-full of features. To start, it has a third shallower rack for utensils. It also has a dry boost to help dry certain dishware such as tupperware that tend to come out of the dishwasher still wet as well as a steam and sanitize cycle to help remove debris and make sure that your dishes are bacteria-free. It even can automatically adjust its cleaning power to the soil level of your dirty dishes.
And, users of this dishwasher, for the most part, are very happy with all the features, its cleaning prowess, and good looks – it does have a fingerprint resistant stainless steel veneer after all. Some users have reported issues with the bottom rack not staying on track, but those are in the minority as most have found this dishwasher to do its job and do it well.
Dishwasher Deals
If you still find this dishwasher to be on the pricey side, don't worry. There are some, though not many, alternative deals to consider. If you don't need all of the features of the dishwasher we've covered here, GE has another 24-inch stainless steel dishwasher that's also on sale and for a bit less, coming in at $348.00. It doesn't have the automatic adjustment or steam and sanitize cycle. The third rack is also missing. But, you still get dry boost as well as a smaller price tag.
While not significantly cheaper, this Samsung dishwasher is also seeing a deal that is $50 less than the GE mentioned above. Specifically, it's discounted to $428.00 at Home Depot. Of course, it's not quite as fully featured but it does have four different wash cycles including an express one as well as a water leakage sensor that automatically shuts off the water when there's an issue.