We're all taking more photos and videos than ever before, and if you want to make them look a lot better and more, well, professional, take a look at this 40% off saving on CyberLink Performance photo and video editing software. The brand's Cyber Monday sale is ending soon, so you'll need to be quick to get this huge saving.
CyberLink Performance offers packages containing brilliant creative applications designed to see you through the entire editing process with ease, making it so much easier to find the best photo editing software for your needs. Best of all? CyberLink Performance is offering significant discounts on its various creative bundles this Cyber Monday, with up to 40% off in some cases, including on some of its best video editing software solutions.
Whether it's fine-tuning those panoramic vistas you snapped while out hiking, or piecing together various smaller home videos to make your next family film, there's a package here to suit everyone regardless of skill level.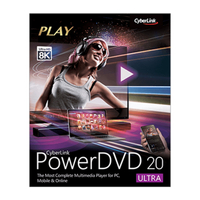 CyberLink PowerDVD 20 Ultra, PowerDirector 365 and Director Suite 365 | Was $69.99 - $129.99 | Now $48.99 - $89.99
CyberLink's well-respected video and image editing application bundles are available with up to 40% off this Cyber Monday. They're simple enough for beginners to get to grips with, yet offer an impressive suite of features to help more experienced users take their imagery to the next level.
If you're anything like us, the camera roll on your smartphone is probably stuffed full of images and videos with potential, if they're edited properly. With the CyberLink editing and creative applications, you could give those images and videos the professional sheen they deserve, and without the need to learn complicated editing software.
As a more cost-effective option when compared to certain other pro-grade creative applications, CyberLink prides itself on simplicity and an easy workflow. You can still get deep with your photo and video edits, for sure, but for the vast majority of people who don't know their keyframes from their warp stabilizers, CyberLink is the perfect solution.
They're also useful for business owners, who know they need to 'get into video' but don't want to publish films that aren't of the right quality to represent their brands. With a few simple tutorials, and access to a vast library of stock images and audio, PowerDirector 365 makes it easier than ever to get your content up to the level it needs to be.
More great CyberLink Performance deals
Looking for more bargains and discounts? Then you're in luck, as we're rounding up the best Cyber Monday deals from major retailers and brands.