This Harry & David flowers review focuses purely on the floral side of the business. While H&D is an online gift delivery service specializing in gift baskets, it also provides flowers, fruit, and more. Harry & David flowers may not be the best known gift option for the site, but the company's wide range of offerings make it a well-known and often opted-for service.
Harry & David is a subsidiary of the online flower delivery service 1-800-Flowers, which also owns companies like The Popcorn Factory, Shari's Berries, and more. Despite this, we found Harry & David's selection of flowers very limited. In contrast to some of the best flower delivery online services, Harry & David does not send orders to contracted local florists. Instead, all orders are sent to the same central location in California and then are shipped out to their destinations.
In order to review Harry & David, we browsed the selection of floral arrangements and chose one of average price and that we thought best represented the overall aesthetic of the entire selection. We ordered the Rose and Mixed Floral Bouquet.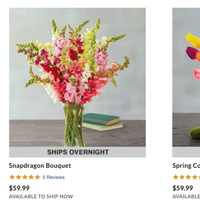 Best Harry & David flowers deals right now
If you want an H&D arrangement for that special someone, or you're looking for a bouquet for Mother's Day, then this is where to go. You'll find some 15% offers on and around events, like Valentine's Day.
Harry & David flowers review: Website and selection
Very small selection
Plants, bulbs, wreaths, succulents, and more available
We ordered our Rose and Mixed Floral Bouquet from Harry & David after browsing the site's selection of offerings. For the purpose of this review, we focused exclusively on Harry & David flowers. For gift baskets, check out our Harry & David gift basket review.
While we browsed Harry & David flowers, we were a little surprised to find just how limited the selection of arrangements is. There were only 11 options for traditional bouquets, ranging in price from $44.99 to $79.99, and only seven for specialist roses arrangements. While the floral arrangements themselves were not numerous, we found a relatively good breath of additional plant and flower options: if a bouquet is not what you think the recipient would want, you can opt for plants, bulbs, wreaths, succulents, and more. Among the flower arrangement selection, there was little aesthetic variety - all seemed to be rather classic bouquets, meaning that there was no variety in shape, size, or look. If your special someone would prefer a more modern bouquet, perhaps it's best to opt for another online flower delivery service, like Teleflora.
Harry & David flowers review: Prices and value
Because of the lack of options, there isn't much variation in price across the board. The lowest price you'll see on a bouquet is $44.99, and the highest is $79.99. Compared to the prices seen on other flower delivery providers, this range is average. All bouquets come in one size only.
However, while ordering that you're likely to spend much, much more than the price of the bouquet because of the fees and taxes applied at checkout. Harry & David offers subscriptions, but for flowering plants and bulbs - not floral arrangements.
Harry & David flowers: Ordering and delivery
2-day shipping only for some arrangements
Upcharges can nearly double the cost of the arrangement
No add-ons
Ordering flowers from Harry & David isn't a complicated process, but there's a lot to pay attention to before you spend your money.
Once you select a bouquet, click on the checkout button. At this point, you will be able to add the destination address and the delivery date. Delivery time depends on the bouquet, but on average there is two-day shipping only for Harry & David flowers - so make sure that the date of intended delivery is at least two days after the date of ordering. We recommend that you have more flexible dates for delivery if you opt for Harry & David. You can also select a later delivery date, but beware of upcharges - weekend delivery costs a whopping $25 extra. Standard shipping depends on the cost of bouquet. This makes it very difficult to anticipate a final cost, without counting service fees and taxes. Our $80 bouquet turned into a $129 purchase, and we didn't even opt for weekend delivery. Also keep in mind that Harry & David cannot deliver on some days, notably Sundays and Mondays. If you are in the habit of sending flowers through Harry & David, you can opt for it's Passport offer, which, for a one-time fee, removes service fees on all orders for one year.
On the same page, you can opt to include a complimentary gift message. However, there were no extras like balloons or chocolates, although a flash deal will be suggested at checkout.
Harry & David flowers review: Arrangement quality
Poor packaging
Poor flower condition and lean-looking bouquet
Complementary message badly delivered
What we tested
Seller: Harry & David
Arrangement: Rose and Mixed Floral Bouquet
Flowers: 5 pink roses, 2 pink Oriental lilies, 3 pink wax flowers, 3 matricaria, 3 purple pom poms, 1 pink or purple snapdragon, 1 pink or white kalanchoe, 1 seeded eucalyptus, 3 spiked eucalyptus
Size: Available in one size only
Price: $79.99
What's included: Glass vase, 5" D x 8" H
Added extras: Complimentary message
Despite having ordered our Harry & David flowers five days in advance, our arrangement arrived a day late. Because it was shipped from California, the arrangement arrived in a box - the box didn't have instructions for how to handle it, or that the contents were fragile. There weren't even any instructions for how to open the box - in fact, when we opened ours, we opened the box from the wrong end, meaning that the arrangement was upside down and had fallen out of the vase. A very poor start.
If you are to send Harry & David flowers, we recommend only sending them to a home, not a workplace. Because the flowers come in a box, some assembly is required. The vase is included, but instructions provided recommend trimming the ends of the stems and pruning the bouquet before putting it in water. That being said, we were impressed that both care instructions and flower food were included.
The fact that our arrangement arrived a day late, meant it was not in the best condition. Some of the flowers were already halfway wilted while others hadn't fully bloomed. Furthermore, it was a very disappointing bouquet for the price we paid: it was very small - so sparse and small that the vase was too big for the bouquet. It looked nothing like was the picture conveyed on the Harry & David website and consisted of more filler flowers than anything else.
For the purposes of this review, we opted to include a complementary message at checkout. We do not recommend doing this if you choose to order Harry & David flowers: the message was printed on a FedEx slip that was glued to the outside of the box. This means that your message would be exposed to everyone who is not the recipient. It's hardly an elegant way to send a message, either.
Harry & David flowers review: Customer service
Because of its wide range of offerings, Harry & David has several ways you can get in touch with its customer service. You can reach them by phone, email, or by chat. On the customer service page, you'll find a number of helpful tips and tricks, including an FAQ, how to videos, and holiday order cut-off dates. It appears that for holiday delivery, some items may be available for overnight shipping - but it is unclear as to whether that includes flower arrangements or not.
Harry & David flowers review: Customer reviews
Because Harry & David is mostly known for it's gift baskets, boxes, and towers, finding customer reviews for its flower delivery service proved to be difficult. This is also due to its tiny selection of bouquets - most people will opt for another service, perhaps more commonly its sister company, 1-800-Flowers. Looking at the existing customer reviews of flowers that we did find, most people are satisfied with their experience.