One of the big players on our best flower delivery online services list is Teleflora. It has an absolutely massive network of florists – partnered with over 10,000 florists throughout the US and Canada, plus an additional 20,000 florists worldwide are affiliated with Teleflora. These local florists will then go on to fulfil Teleflora's customer orders all over the globe.
Teleflora has a wide choice of flower arrangements and a big plant selection too. What really stands out is that, depending on the arrangement you order, they are often delivered in a fetching vase or container. This keepsake can be anything from a chic vase, a bamboo cube, or something cute like a teacup – be sure to explore all the options on the website. You also have the chance to include extra add-ons, such as mylar balloons, a stuffed animal, or a box of chocolates. Unfortunately, there is no way to see exactly what your add-on will look like, so it's a bit of a gamble as to what your recipient will actually get.
There are several customer reviews that state the flowers they received didn't match up to the image of the bouquet they ordered on the Teleflora website. Although Teleflora are very transparent about that fact that sometimes flower substitutions might have to be made, it is always disappointing to receive something different to what you expected. We had an overall positive experience when we received the standard size of Teleflora's Fabulous Flora Bouquet (selected as it represented the average price and look from the website).
However, if you are feeling adventurous and open to a fun mysterious surprise, their Deal of the Day bouquets are a bargain! Just select the price you want to pay and a local florist will create a one-of-a-kind flower arrangement using in-season blooms just for you.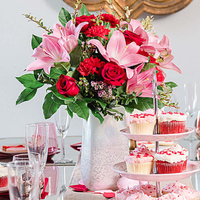 Best Teleflora deals right now
Head over to Teleflora direct for all the latest offers, deals, and information on what's available. You'll also find a range of extras and other gifts at the site.
Teleflora: Website and selection
Large range of choices
Simple website layout
Voice search that works well
We are very impressed with the sheer number of floral arrangements you can find on the Teleflora website. There are plenty of beautiful bouquets using a big variety of flower types in the arrangements. Teleflora has really upped its plant game since the last time we reviewed its wares. It now has a bigger selection of fresh, green houseplants and, for an extra fee, some gorgeous vase options too (this varies from plant to plant) – they are worth it!
The Teleflora website is easy to navigate, and we found that its list of simple options makes it effortless to find what you want. You can shop by flower color, type, occasion, same-day delivery, bestsellers, and also what's new. To aid you in your search, Teleflora has a 'Voice Search' option you can find on the top-right of the screen. We thought this would just be a gimmick, or that the results would be irrelevant… but it actually works! As long as you speak clearly into your mic and keep it short, Teleflora will show you a selection of flowers without you having to poke around in any menus. If it doesn't understand you, it'll take you to the T&Cs page – simply hit your browser's back button and try again. Maybe try asking it to 'show me bouquets under $40'?
Remember that the suggestions in each category are just that, a suggestion. We encourage people to do a bit of digging around the Teleflora site as there are so many beautiful bouquets. To help you pick something personal and special, we advise you to check out our full guide to flower meanings. For example, while yellow tulips represent joy and sunshine, the yellow carnation communicates disappointment – you wouldn't want to mix up those messages!
Teleflora: Prices and value
Across the Teleflora site, we find the prices of the floral arrangements to be average to high. While around $40 will likely get you a smaller sized bouquet, there are many options around this price to choose from. Expect to spend anywhere from $50 to upwards of $230, which includes the added service fee of nearly $20. Additional costs and taxes vary by state. Teleflora does not offer a flower delivery subscription, like its main rival 1-800 Flowers, so there's little opportunity to save money outside of special deals the site occasionally runs.
However, as you'll see later, the flowers we received did justify the higher than average price, so in terms of value Teleflora is a good pick and matches the likes of ProFlowers for value.
Teleflora: Ordering and delivery
Easy ordering
Detailed product pages
Next-day and international delivery
Ordering from Teleflora is an overall easy and hassle-free experience. All the options are clearly laid out for you: once you select a bouquet, you will be redirected to a page where you can customize your gift. You can select the size you want, and even add something extra, like mylar balloons, a stuffed animal, and chocolates. Although these extras are nice to have, we were disappointed that the buyer cannot add more than three balloons, and no more than one stuffed animal and one box of chocolates (although there are three different sizes). Anyone looking to over-compensate for past misdeeds might struggle to say sorry quite as effectively here... While going through the ordering process, we worried there was no option to add a card for the recipient of the bouquet, but this step is included rather late in the process, when you input the delivery date and address.
There's a decent amount of info to digest as you pick your arrangement. You can see whether or not a vase is included and if there is a specific direction the arrangement must face. Need the arrangement to fit a on a specific surface? The dimensions of the arrangement are also included on the product page.
Teleflora is very clear as to what to expect out of your bouquet. Because Teleflora works with individual florists, those florists may not have the exact flowers you are expecting in the bouquet. The website advises that flowers may be substituted with flowers of equal or higher value. However, customer customization of the bouquet is not possible. Remember that some bouquets may not be available, as some flowers have a very short window during which they are in bloom, arrangements containing these flowers can only be provided during a certain time of year.
Teleflora clearly lays out when your bouquet can be delivered. You must place an order before 3PM during the weekdays and before 12pm on the the delivery zone's time for the arrangement to be delivered the same day. You also have the option to have flowers delivered before 1pm for a $15 fee. Because Teleflora works with independent florists, you can have an arrangement delivered anywhere in the United States and Canada. Teleflora also delivers to select countries abroad (for a complete list, visit their website). However, to place an order for an international delivery, you cannot order online and must place a phone call.
Teleflora: Arrangement quality
Fresh flowers, with some yet to bloom
Minor wear and tear from travel
No flower care instructions
What we tested
Arrangement: Teleflora's Fabulous Flora Bouquet
Included: rose-colored vase
Size: Standard
Price: $49.99 + extras + service fee (variable)
Flowers: Pink roses, pink asiatic lilies, white alstroemeria, pink miniature carnations, dusty miller, parvifolia eucalyptus, and seeded eucalyptus
Added extras: Mylar balloon, stuffed animal, and small box of chocolates
Upon receiving our Teleflora arrangement, we noted that it arrived uncontained: the beauty of the bouquet is much more striking when it isn't in a box, but this also means that it is up to the courier to do their best to protect the arrangements from the elements. The arrangement arrived in a water-filled vase, which in turn was placed in a small cardboard contained with gift paper for presentation. While it looked nice, by the time it arrived, there was a small pool of water at the bottom of the box and the paper was soaked and torn underneath the vase. This is relatively minor, as it did not affect the flowers themselves.
The chocolates and small teddy bear arrived in a nondescript brown paper bag filled with gift paper, with the balloon securely tied to the handles. We realized that the balloon design was not a choice at the time of ordering, and the one we received was that of a smiley face. If the occasion does not call for a smiley face, we suggest forgoing this option, especially if you're ordering sympathy flowers. The teddy bear was supposed to be small, but we found it to be of a generous size for a small toy. The chocolate was by far the best extra gift we opted for: a small box of good-quality Godiva chocolates makes a wonderful add-on.
The flowers arrived in good condition and as advertised. The combination of flowers was eye-pleasing and certainly turned heads in our office! They were not the most beautiful, not the most vibrant flowers we've seen, but it's important to note that, at the time of delivery, some of the flowers had not fully bloomed yet. This is normal to ensure that the flowers enjoy longer lives and more time in your home. This also means that the flowers were not the most fragrant at the time of delivery. There was some very minor wear and tear from traveling, which we find is almost unavoidable when ordering a floral arrangement.
We noted that the florist did not include care instructions for the bouquet, which others - like UrbanStems - do. We don't think that this is required, but for arrangements of this size and price, we found that it is both helpful and thoughtful when care instructions are provided. If you need advice, we have a guide to flower care on site.
Teleflora: Customer service
Teleflora customer service can be reached by filling out a form you send through the Teleflora site. The company does not provide a time frame during which your email will be answered – however, it does advise that including an order number, if you have one, can expedite that process. Teleflora now also offer a live chat feature. You have to enter your full name and email address before you can chat to someone, but once that's done, you'll be told what number you are in the queue, which is helpful. These options aren't quite as good as other national sites, like 1-800 Flowers, which offers several extra ways to get in touch, but we found the customer service adequate for our needs.
Teleflora: Customer reviews
Reported inconsistent quality
Some reported late delivery
Teleflora is, according to our experience, a fast and reliable service - it is refreshingly honest about its policy on allowing florists to replace flowers it runs out of in bouquets ordered via Teleflora. However, it seems like the policy backfires quite a lot: many customers have expressed disappointment that the arrangements they received looked nothing like the ones they ordered. While this is easy to dismiss as a customer being too picky, it is important to keep in mind that many people may believe that certain flowers or colors are not appropriate for some occasions. Some customers also report that their arrangements were delivered very late, if at all.
That being said, we have accounted for customer error during the ordering process in our evaluation of Teleflora, so would advise you don't place too much emphasis on customer reviews.
Should you use Teleflora?
We find Teleflora to be a good all-rounder – a great selection of flowers and plants at affordable prices on an easy, no-fuss website. Its arrangements tend to err on the classy side, so if your recipient has more modern tastes they might prefer a bouquet from another seller, like The Bouqs or UrbanStems.
Although Teleflora do have extra add-ons, it is very disappointing that you can't see what they actually are, so if these are important to you, you'd be better off shopping elsewhere like FTD Flowers.
Be aware that there are a number of negative customer reviews, but as it's such a large company there are bound to be some. We can vouch that our experience with Teleflora was delightful and ticked all our boxes, and so are happy to recommend them as a top flower service.