With so many gorgeous options, 1-800-Flowers will have the perfect flower bouquet and arrangement for your special someone. Whether you're celebrating a birthday, giving thanks, or sending sympathies, 1-800-Flowers have you covered for just about any occasion you can think of. It also offers a great range of gourmet food and gift baskets too, if you want to go that extra mile. The reason 1-800-Flowers is amongst our top picks of the best flower delivery online services is that it has a massive selection which means that there's something for everyone, all in one handy place.
One of the best-known brands on the market, 1-800-Flowers has been going strong since 1982. It's also the parent company to many other successful gift-giving services such as Harry & David flowers, The Popcorn Factory, and Florists.com, so you can be sure that 1-800-Flowers will provide exactly what you need.
1-800-Flowers takes its customer support very seriously, offering a 100% Smile Guarantee. Did you know that it was one of the first retailers to offer a 24/7 toll-free phone number? For further customer convenience, the website also has an extensive FAQ as well as helpful chatbots to ask your questions to.
To put 1-800-Flowers to the test, we decided to review the large-sized Always On My Mind flower bouquet – a versatile and stunning selection of blooms, great for either a much-loved friend, your favorite family member, or a romantic partner. After browsing vast offerings of floral arrangements from 1-800-Flowers, we chose this beautiful bouquet as it showed off the general aesthetic of the brand and reflected the average price found within the industry.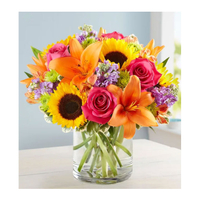 1-800-Flowers review: Website and selection
Amazing bouquet selection, but with little aesthetic variety
Busy and confusing website which can feel overwhelming
To properly review 1-800-Flowers, we spent a lot of time exploring the website so that we could evaluate the extensive range of flowers and ordering process. We're happy to report that we found a great many different types of flowers, all the colors of the rainbow, arranged in predominantly a standard bouquet form – classy and more on the traditional side. 1-800-Flowers also offer up plenty of lush, green plants too in a number of fun containers, such as pitchers, decorated vases, and baskets. While 1-800-Flowers can't really compete with other flower delivery services in terms of artistic arrangements, it has stepped up and offers more cutesy arrangements alongside the classic bouquet format. For example, adorable floral pooches (part of their a-DOG-able® range) and Flower Cake® arrangements that look exactly like a birthday cake. Those who prefer a more modern look may want to take their search elsewhere, such as to The Bouqs or UrbanStems.
The 1-800-Flowers website throws a lot at you, which can be a bit overwhelming. This company is also part of a big family of brands, so there are a lot of pages dedicated to other types of gifts, such as Shari's Berries, Wolferman's Bakery goods, and many more – the site really does give the best gift basket specialists a little competition. It's great to have so much choice, but after a certain point, you just feel a little bit lost. That being said, it's nice to know that you can get everything you could ever want from a gift-giving service all in one place. Plus, out of all the online flower delivery services, 1-800-Flowers usually has the most discounts and vouchers floating about, so you'll be able to save a few extra bucks anytime you order from here.
The website is very organized, but the menus list so many options you get a bit bogged down in text. You can search by occasion (fun events such as Friendship Day are included alongside the more traditional Sympathy and Love & Romance categories), as well as by flower type or bouquets that are available for same-day flower delivery.
1-800-Flowers review: Prices and value
Average prices, with affordable options
Service and delivery fees are variable
1-800-Flowers prices range from $30 up to $200, which is quite standard for the products offered. This ensures that there are options for most people – you can get a quality bouquet or arrangement for a fair and average price.
However, be aware that the price can add up: there is a service fee, taxes, and if you elect to opt for add-ons, prepare to shell out even more. If you choose to have the arrangement delivered within a certain time frame on the selected day, you may pay extra for that too – this is quite normal across many sites. The amount you pay in service fees and taxes depends on where the flowers will be delivered, so expect to pay at least $50 in total for a decent bouquet with no extras.
1-800-Flowers offers subscription services for those who want to give floral arrangements to a special someone all year-round, with different frequencies available to select.
1-800-Flowers review: Ordering and delivery
Fees for same-day or weekend delivery
Fees vary by bouquet price
Add-ons available at checkout
Ordering a floral arrangement through 1-800-Flowers.com isn't complex, but we strongly advise that buyers pay close attention to their options. The first option is the size of the bouquet, and the exact dimensions of each size option appear in the description box. In the same section, pay attention to whether or not the bouquet will arrive in a vase or in a box – for some arrangements, you have the option to opt for just the flowers or an additional vase.
If you send flowers often, you can check the box indicating that you would like free shipping or no service fee for a whole year by paying a one-time fee for the Celebrations Passport (be sure to read the T&Cs carefully before committing).
When you choose your delivery date, you'll find there's an additional fee to have the flowers delivered on a Saturday or Sunday, or if you want same-day delivery. Again, this is quite standard on most flower sites.
After filling out those details, you can add extra gifts to your order. There are so many to choose from! Pick out a balloon, chocolates, a stuffed toy, chocolate-dipped strawberries, and more. We love the number of extra gifts available, and unlike other services, you can also pick between different balloon designs.
Further on into the ordering process, you have the option to include a card (for an extra fee) or a complimentary gift message. Once you've entered your billing details and click 'Review Order', you can select a time frame during which you need your flowers delivered. While this is helpful, the costs add up: between the service fee, weekend delivery fee, delivery time fee, and taxes, expect to spend $20 to $30 more than the cost of the bouquet.
1-800-Flowers operates like many flower services (such as ProFlowers) in that they contract local florists to complete orders. However, the fine print is buried on the website: flowers that are not in season or available to the florist at the time the order is made can be replaced by flowers of equal or higher value. Remember that customization of the bouquet is not possible.
Same-day and next-day delivery options are available for selected bouquets, depending on the time the order is submitted. 1-800-Flowers delivers all over the United States, and even offers some international delivery.
1-800-Flowers review: Arrangement quality
Arrives uncontained
Average condition of flowers
What we tested
Arrangement: Always On My Mind Flower Bouquet
Flowers: Pink roses, Gerbera daisies, Oriental lilies, and larkspur, white snapdragons, and lavender stock
Size: Large
Price: $79.99
What's included: Clear glass gathering vase, 8"H
Added extras: None
Our 1-800-Flowers bouquet arrived uncontained, though wrapped in part by plastic wrap, and the whole bundle was tied together by a ribbon. This helps protect the flowers from wear and tear. When exposed to the elements, flowers may arrive in a slightly poorer condition than they left the florist, and this was evident in our bouquet. Some of the flowers seemed to have suffered in transit and looked a little wilted. The bouquet also arrived in a water-filled vase.
While most of the flowers were in decent condition, some were wilted, their most vibrant days having passed. We also noted the arrangement wasn't the most eye-pleasing (though, by no means, "ugly"). In some parts, the flowers were imperfectly arranged, with some stems sticking further out than was necessary. We suspect that it was due to the flower replacement policy that the bouquet did not quite look as advertised - though it was not outrageously different from the description. Though many of the flowers had not yet bloomed, the ones that had were quite fragrant. Overall, the arrangement was decent but lacked a wow factor.
We noted that 1-800-Flowers did not include care instructions with its bouquet, and something like this could potentially lengthen the life of the bouquet. We've got a feature on flower care to help you out here.
1-800-Flowers review: Customer service
1-800-Flowers provides multiple ways to reach customer service representatives, and even provides a recommended option based on your issue or query, which is particularly helpful. The FAQ page is clearly ordered and makes it easy to find the answer to any question you may have. In the event that you need to reach a representative, you can contact customer service by chat, by email, or by phone.
1-800-Flowers review: Customer reviews
Some reported late delivery
Some discontent with the flowers
Overall, good customer reviews
Responsive customer service
Some users have complained about their delivery arriving late or not at all, and others have left negative feedback about the flowers' themselves, saying that they did not match expectations. But overall, customer reviews are predominantly positive. Recipients are, overall, happy with the arrangements they received, and purchasers are mostly happy with the ordering process. And when they're not, 1-800-Flowers appears to respond promptly, offering a replacement bouquet to ensure customer satisfaction.
Should you use 1-800-Flowers?
If you're looking to treat someone, 1-800-Flowers will have everything you need. Although the bouquet selection lacks aesthetic variety, there are a lot of pretty bunches to choose from. Plus, the add-on extras and numerous gift baskets are rather impressive. However, with so many different options it's easy to get lost in browsing and never actually pick anything. As long as you have a clear idea of what you want, you'll definitely be able to find it there.
There are a number of negative reviews from customers unhappy that their bouquets didn't match the image on the website, but that is always the risk when ordering from somewhere the outsources to local florists with limited or different resources. Our experience with 1-800-Flowers was satisfactory and we feel that it is a good all-rounder and a safe choice. As an added bonus, there are always a lot of discounts and coupons available for 1-800-Flowers, compared with other sites, so you'll be able to save each time you shop there.