When buying a mattress, making sure you choose something durable should be a top priority. Many of the best mattress online companies sell memory foam mattresses these days, with impressive warranties to reassure you that your investment will last. However, there are a few factors that determine just how long your memory foam mattress will actually last.
It may be the case that you're considering replacing your memory foam mattress and want to check if it's past its lifespan. Typically speaking, the best indicator that you need a new mattress is its comfort level. When a mattress starts to degrade, you'll experience a poorer quality of sleep and will feel tired, even if you slept through the night. If you wake up stiff or sore, this could also be a sign that it's time for a change - especially if you used to find your memory foam mattress perfectly comfortable.
Looking for a new mattress? Check out our guides to the best Purple mattress deals, best Casper mattress deals, and best Saatva mattress discounts.
How long does a memory foam mattress last? The quick answer
The average life for a memory foam mattress is around ten years. There are a few factors which can determine if it lasts for longer, or if it needs replacing sooner, but there's a good reason why ten years is a good benchmark for how long a memory foam mattress lasts.
Memory foam mattresses are typically insured for an average of ten years, which means that the manufacturer expects this to be the minimum lifespan of its product when used properly. Because they're designed to bounce back when you wake up in the morning and adjust to your body again at night, these mattresses have a reasonable level of durability.
Does memory foam last longer than other mattress types?
Memory foam mattresses are some of the more durable mattress types you can buy, and they will typically last longer than an innerspring mattress or hybrid mattress. That being said, they're not quite as durable as latex mattresses, which are both eco-friendly and long-lasting.
The durability of memory foam can be impacted by a variety of factors. Here are the factors which will influence the overall lifespan of your memory foam mattress.
1. Quality of memory foam
Memory foam is a wonderful material, but not all memory foam mattresses are created equal. The density of your memory foam is an important factor when it comes to determining quality. Density is determined by the weight per cubic meter. A high density memory foam would be in the region of 75kg per cubic meter, whereas something below 50kg would be more low density.
Regardless of how firm or soft you like your mattress, don't forget that its job is to support you as you sleep. Memory foam should cradle you and distribute your weight evenly to guarantee a restful sleep while absorbing any movements your partner may make in the night. It should not feel flimsy, and should always bounce back after use.
2. Your bed base
Placing your memory foam mattress on the correct base is essential - so much so that your warranty can depend on it. You can find out more about the specifics of this in our guide to box spring foundations, but for memory foam mattresses in particular you should opt for a slatted mattress base without any large gaps, because this can cause your mattress to gape and can damage its layers.
Most mattress companies sell bases which are designed to accommodate a memory foam mattress perfectly. This includes adjustable bases, a platform bed, or box foundations. Although it's not essential, buying one of these to pair with a new memory foam mattress will guarantee it's getting the support it needs to extend its lifespan.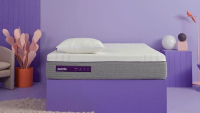 The Purple Foundation
Tested to hold up to 2,000 pounds, this bed foundation is simple, stylish, and easy to assemble. It also comes in two versatile color options.
3. Frequency of use
It's pretty easy to figure out that the mattress in your spare bedroom will last longer than the one you sleep on every night because it gets significantly less wear-and-tear. Even without regular use, a memory foam mattress will age with time. You should flip it frequently and make sure that it remains clean, as well as folding back bedsheets to allow your mattress to breathe when not in use.
4. How often you clean it
You can clean your mattress regularly to extend its lifespan. This will protect it from bacteria and dust mites. You should be doing this regularly for the good of your own health, but a regularly cleaned mattress will stay fresh and free of nasty bacteria, which will in turn prevent stains and discoloration.
Ideally, you should give your mattress a clean every three months. You can check out our guide on how to clean a mattress to help it last longer to find out the in-depth steps. To enhance your sleep further, take a look at our guide to the best pillows for various sleep styles, and the best bed toppers to further boost the comfort of your existing mattress.