Metro by T-Mobile, which you may once have known as MetroPCS, is a giant in the world of MVNO offerings, making it one of the best cell phone providers in the US. As you've probably guessed, this uses the T-Mobile network which means you get some of the best 5G high-speed coverage nationwide.
Another unique draw here are more than 11,000 Metro stores nationwide which are great if you want a physical place to buy from or get customer care in. You might even get a better deal on that day. There are lots of plans to pick from and we'll look at these in more depth in this Metro by T-Mobile review.
Unlike some services, Metro includes fees and taxes in its prices so what you see is what you get. And what you can get are some great savings if you take out multiple lines. Want more? Add-ons let you stick extras into your plan as you need, like Mexico calling or premium security, to name just two options. The downside? That physical store perk also means you have to go in to get your plan as they're not available to buy online.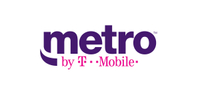 Metro by T-Mobile: Phone plans
From $30 per month
Up to $60 for unlimited
Metro by T-Mobile keeps the phone plan options nice and simple with add-ons should you wish to tweak and personalise those options. The plans fall into four basic price brackets.
The $40 plan gets you 10GB of high-speed data, unlimited talk and text plus Music Unlimited which lets you stream over 40 music apps without using up your data. Get two lines for $70 then save $10 for each new line you add, up to five.
The $50 plan includes all the above plus unlimited data, 5GB of hotspot and 100GB Google One drive. Get two lines for $80 then save $20 on each new line you add.
The top plan, at $60, gets you all the above plus Amazon Prime. Go for two lines for $90, three for $120 and now four for $120, or five for $150.
There is also a $30 plan with 2GB of high-speed data. That's pretty good, even next to some of our top prepaid picks like Mint Mobile and Visible.
Metro by T-Mobile: Coverage and speed performance
Wide 5G coverage
Speed throttled over 35GB
Because it runs on parent company T-Mobile's network, Metro has nationwide coverage and impressive data speeds. In fact, Metro outperformed T-Mobile in certain speed tests conducted by Tom's Guide. In the same testing, Metro had faster average upload and download speeds than other network-owned prepaid carriers, including AT&T's Cricket.
Historically, the T-Mobile network hasn't performed well in rural areas, but with expansion efforts in recent years, it's seeing much more coverage. Still check coverage and service maps for the places you use your phone most, especially if you're outside of a city, as the network still performs best in more urban places.
Not that the plans offered can see speeds drop in busy times if you've used over 35GB of data that month. T-Mobile users will also take priority over Metro users when it comes to speed during these times.
Metro by T-Mobile: Customer reviews and satisfaction
Just under two out of five on ConsumerAffairs
BBB rating of B+
On the customer reviews aggregator site ConsumerAffairs the average rating for Metro by T-Mobile is just under two stars out of five. Out of the 400 ratings in the last year, positives include service and billing while negatives mentioned are poor service and deal issues.
One review, by Bobby of Phoenix, AZ, said: "All works great for me! Wonderful service. Clear calls. My phone has all the needed bands to get good service. I did notice in the APN settings what use to be 16 is now 260 with a new SIM card. Love the clear calls and good service all around town. Better than my AT&T service."
The Better Business Bureau (BBB) gives Metro an A+ rating but only just over one star for 17 customer reviews. That said 869 complaints have been closed in the last year.
One review, by Gg E, said: "I have been with this company for almost 10 years as a consumer. I had the most terrible recent experience at one of their chain stores. My husband and I are now switching Verizon later this month. Due to one horrific experience, no one seems to want to fix due to negligence on Metro side."
Should you choose Metro by T-Mobile?
Metro by T-Mobile offers some of the best network speeds and coverage in the US without huge prices. Plans are simple with four options, each including all fees and charges in the price so what you see is what you get.
Savings can be made by having multiple lines. However once over 35GB of data used each month you may notice speed restrictions during busy times. T-Mobile customers will get priority here when it comes to data speeds. You are also limited to SD video streaming although most music streaming won't use up your data allowance. One of the best MVNO options out there, could this be the one for you?
If you're undecided on the handset you want, check out our best smartphone guide, while we also rank the best prepaid cell phone plans. Take a look at our cell phone coverage map of the US to find out who has the best network in America.