If you're on the fence between grabbing a cheap laptop deal or a cheap tablet deal, then we've got an interesting proposition for you - pick up the Microsoft Surface Pro 7. The Surface Pro 7 is the latest in Microsoft's hybrid lineup of devices that skirt the line between tablet and laptop thanks to it's laptop grade hardware and detachable keyboard.
At the moment you can get the Microsoft Surface Pro 7 with 16GB RAM and 256GB SSD storage for just $1289 at Amazon. That's a discount of $210 from the usual price of $1499. This is one of the top-end Surface models with a powerful i7 processor and 16GB of RAM, which means it should be able to handle any task, from work and streaming all the way up to playing games like Fortnite.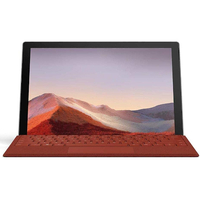 This latest revision of the Surface Pro 7 comes with a 10th generation Intel Core i7 processor, so you're getting the absolute top of the line when it comes to processing power. It's also got an impressive 10.5 hour average battery life too, so it should be able to go an entire day without needing to be charged.
While the screen isn't quite a full 4K, it does have a 2736 x 1824 resolution which is more than enough for a screen of this size. This makes it perfect for watching movies or TV on using Netflix or other TV streaming services.
If nearly $1300 is still a bit rich for your blood, then you can also look at one of the cheaper Surface Pro 7 models. The Microsoft Surface Pro 7 with i5 processor, 8GB of RAM and 128GB of storage is also on sale at Amazon, down to just $749. That's $150 off the MSRP of $899.
If the hybrid approach isn't for you, check out our best laptops guide to see what conventional laptops we recommend at the moment. We also have our roundup of the best tablets (which includes the Surface Pro 7), if you want something even more lightweight.
You should check out our best Black Friday USA deals hub for more tech deals in the run up to the biggest sales day of the year. We also have our best Amazon Holiday Dash deals page which covers Amazon specific deals in the holiday season too.