Image 1 of 8
Image 2 of 8
Image 3 of 8
Image 4 of 8
Image 5 of 8
Image 6 of 8
Image 7 of 8
Image 8 of 8
Fidelity is a familiar and well-established online stock broker. In addition to being available online, it has local branches in most states, providing an opportunity to get in-person advice and investment counseling. It offers trades with competitive fees, an online searchable knowledgebase and its well-known retirement planning assistance. Its online platform is very easy to use yet provides dozens of analytic charts and reports for in-depth research of securities.
The Fidelity online trading platform is laid out like a standard website, so it is intuitive and can be navigated easily by those new to the trading platform or even new to investment trading. The trade ticket is straightforward, and you can preview your order before finalizing the trade. When ordering options, you can choose from different strategies, including multi-leg, butterfly and condor.
You can choose from different investments, including stocks, options and mutual funds, or fixed income vehicles such as bonds, mortgage-backed securities and CDs. You can set up several types of IRAs as well, and the website provides helpful information and guidance on planning for retirement.
Because it is a static website, you are not able to customize the platform by adding and removing windows or even rearranging windows. You can minimize the windows to decrease clutter, however. You have the option of creating multiple watchlists that are sortable by price or volume. You can choose actions from the watchlist as well, such as setting an alert, starting a trade or jumping to reports about a security.
When researching within the platform, you have access to dozens of interactive analytic charts. You can draw trend lines, add technical indicators and mark certain events. You can adjust the date range to see as little as the past week or as much as 10 years. These reports can be exported as a spreadsheet or as an image.
Beyond the visual charts, the research page provides information about the security's outlook, performance and comparisons against the company's top competitors. You have direct links to articles about the company and important events involving the company. Fidelity also has an assortment of screening tools to help you find potential investments. The screeners are easy to use and can be customized with a wide range of metrics. An equity summary score is provided for recommended stocks, giving a snapshot of its projected performance.
If you want to make trades on the go, there are mobile apps for iPhone, iPad, Android and Windows Phone. From the app, you can order trades, perform research and fund your investment accounts. A great bonus is that the analytic charts are not trimmed down; you still have access to fully interactive charts.
Fidelity has lowered its fees. Stock trades are now a flat $4.95, which is among the lowest of the online brokers we reviewed. The average person buying stocks online orders 17 trades per year, which works out to $84.15 for a year's worth of trading. However, you are required to have a minimum balance of $2,500 to open an account, which is high relative to the other services on our lineup, and many services do not require a minimum at all.
Options have a $4.95 base rate plus $0.75 per contract. This works out to $11.45 for 10 contracts. If you need assistance when completing a trade, the fee for broker-assisted trades is $32.95, which is among the highest of the services we reviewed.
Fidelity offers more than 90 commission-free ETFs. These aren't absolutely free – you'll have to pay an expense ratio, which is usually between 0.10% and 0.50% of the amount you've invested. You'll also be charged the regular commission rate of $4.95 if you sell within 30 days of purchasing the ETF shares.
This is an excellent service for educational material in addition to retirement planning, for which Fidelity is well known. The website provides solid advice for planning big life events and large expenses. It offers advice for beginning investors, starting with the basics and the differences between growth and income investing to help you create a strategy. If you need assistance learning the platform or about specific investment types or strategies, you can go to the online learning center and filter the content by topic, type and skill level.
For in-depth information, you can participate in live online workshops, attend in-person seminars or speak to an advisor face-to-face at one of the local investment centers. You can contact customer service by email, phone and online chat.
Fidelity offers an online platform that is easy to use but still provides powerful research resources with over 60 interactive and customizable charts. Those charts are available on the mobile app, making it simple to perform research and order trades from your smartphone. Fees with this service are lower than the industry average, and if you are an average trader, your trading fees should be less than $150 a year. Fidelity is one of the best stock brokers for traders of all experience levels.
Need a better alternative?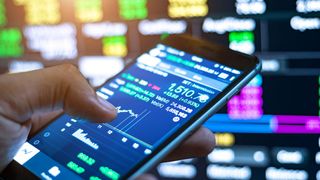 Best Stock Trading Platforms 2019
Top Ten Reviews has reviewed the Best Stock Trading Platforms 2019 so that we're able to offer you the authoritative buying advice you expect.