Ring Video Doorbell 2: What you need to know
The Ring Video Doorbell 2 is the follow up to the original model which, while impressive, did still have room for improvement. The most obvious jump forward is in quality where the video pictures and sounds are now enhanced. But other tweaks to installation and battery charging are also excellent additions and help it come top of our list of the best video doorbells.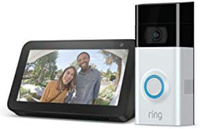 Ring Video Doorbell 2 with Echo Show 5: $139, save 52%
Amazon has a great deal on the Ring Video Doorbell right now. You can get it for just $129, but the deal with the Echo Show 5 bundled in for just $10 more is not to be missed.

While the best units are still the latest Ring Video Doorbell Pro and Elite models, this unit offers a lower price point with many of the better features. The likes of improved motion detection and two-way talk through the connected smartphone are just a few handy features.
While battery charging has been made far easier, this will still connect to hardwires for mains power. If you already have a wired doorbell that makes swapping this model in a very easy process.
The lack of door chime included as standard is still something that many will be annoyed about, as might the cloud-only storage option which you have to pay for. But since these are standards across the entire Ring product range, it's to be expected.
So is the Ring Video Doorbell 2 for you? Read on to find out everything you need to know.
Ring Video Doorbell 2: Features
1080p video quality
PIR motion detection alerts
Ring Video Doorbell 2: Key specs
Resolution: 1080p
Camera lens: 90-degrees vertical, 160-degrees horizontal
Night vision: Yes
Recording options: Cloud via subscription
Two-way talk: Yes
WiFi: 2.4GHz 802.11n
The Ring Video Doorbell 2 features a new camera over the previous model with improved optics as well as enhanced resolution. This high quality is extended to the two-way feature also as this model offers noise cancellation with the audio for a clear back-and-forth chat, although this was on the original model too.
What's not on the original is heat sensors which allow for a far more accurate use of the motion detection zones feature, thereby cutting back on unnecessary notifications.
Also new is the latest battery system. The previous model required you to remove two screws each time you wanted to remove the entire unit to charge it. This new version features a removable battery which lasts between six and 12 months - a big jump up from the monthly life of the original. You can also pay for a spare battery to make swapping out quick and easy.
All that makes the doorbell easy to steal. But, should that happen, once you've submitted a police report you can claim a free replacement from Ring.
This model features live view so you can check the camera activity whenever you want throughout the day.
Ring Video Doorbell 2: Design and build
Wired and battery options
Removable battery
The Ring Video Doorbell 2 is still a large unit thanks to that battery, which is now removable. As you'd imagine it's pretty chunky since it's able to transmit audio and video for up to a year of use before needing a charge. You can buy a second battery for a quick swap-out if you don't want any downtime while charging. But, to be honest, if you change it every six months all you need do is charge overnight and you're set.
What's also nice is that if you use the wired option the battery will still trickle charge, so if you lose power, or someone tries to steal the unit, there's still video footage as the battery kicks in as backup.
Ring throws in two face plates with this model so you can pick the right one to suit your door materials. The options are a satin nickel finish, aka silver; or venetian, aka a black finish.
The Wi-Fi connectivity is 2.4GHz 802.11n meaning it should work in most houses over a decent distance. Should you struggle, there is an option to buy a repeater that plugs into a socket and also doubles as a doorbell chime.
The adjustable motion detection zones use PIR sensors which means they're not activated by movement alone. This is all controlled via the app which allows you to turn certain zones on and off. More on that in the performance section below.
Ring Video Doorbell 2: Performance
Only 15fps video
Excellent motion alerts
Live view on demand
This Ring Video Doorbell 2 has the excellent 1080p resolution that you'd expect in a higher end model. What it doesn't offer is a bump up from the frankly jumpy 15fps refresh rate. Any movement that's remotely quick will be jumpy. That said, once a person is stood at the door it does the job just fine and is clear. Since the alert is a little delayed by the time your phone notifies you, the person is usually stood still at that point anyway. So lag has a positive and a negative.
Night time footage is clear and this is especially so with anything close up to those IR LEDs. Audio quality is also excellent, thanks to that noise cancellation, making it easy to have a chat with anyone at the door, clearly.
The motion zones on this model are far more effective that the original thanks to the addition of those PIR sensors. These use heat to detect motion rather than simply using the movement detection of the camera itself. Not only does this save battery but it is also far more accurate. As such you can setup zones to watch out for, and those to ignore, like a road for example. This also helps avoid issues like false notifications when the light changes as a cloud moves the sun rays, something that can annoyingly cause you to be pestered on the original model.
Video storage isn't a local option on the Ring Video Doorbell 2 since it's all cloud based, for which you need to pay. The first month of Ring Protect, as it's called, is free, and then it'll then cost you $2 per month or $20 for the year. So factor that into the price you pay up front if you need that feature.
This model is limited to 2.4GHz Wi-Fi, as previously mentioned. That's not a bad thing since this is the longer range version of Wi-Fi, compared to the 5GHz band, which ultimately helps the doorbell connect even over longer distances.
Ring also works with smart home services like IFTTT and smart locks including Kwikset Kevo, RemoteLock and Lockitron. Also you get compatibility with Amazon Alexa, SmartThings, Wink, wemo and more. The Amazon Echo Show also works with this model so you can see who's at the door from that screen, but you can't talk back so you may need to go for your phone in the end anyway.
Ring Video Doorbell 2: Verdict
The Ring Video Doorbell 2 is an excellent system which allows you to be alerted to motion outside your home as well as door rings. You can then immediately start a two-way conversation, clearly, with the person at your door. Motion detection is accurate with excellent zoning, battery life is fantastic with wired optional, Wi-Fi works well over range and night vision video quality is fine.
The faster video frame rate, inclusion of a door chime and free storage options would be nice extras.
While the newer Ring Video Doorbell Pro has better quality video, at 30fps, it's a lot more money for the difference.
Other video doorbell reviews
The Ring Video Doorbell 2 works with services like IFTTT, Amazon Alexa and a host of smart locks. This makes it possible to control the doorbell from more locations and also setup actions, like lights turning on in the home at motion detection, to make your house safer when you're away.
For the price you get a smart video doorbell and a home security camera all in one, add on the cloud storage and it's a really comprehensive home security option. But we love the two-way talk the most, making it ideal for deliveries when you're not home.