An old-fashioned looking app, System Ninja is available in two versions: a free one, and a Pro version that requires a subscription. For most people, the free version will be enough - the Pro adds things like automatic tune-ups of your PC, custom branding of the software, a command line interface, and automatic updates. The subscription is $15 a year, and also opens up the Pro versions of other apps from the same developer. It seems like good value, but the apps themselves are bettered by those found elsewhere in our guide to the best repair software for PC.
System Ninja is a small download, and installs quickly. Its interface is small, and looks in need of an update. We shouldn't do it, but it's hard not to judge an app by the way it looks, and comparing System Ninja to other apps that do the same thing means it frequently comes off worst. Perhaps the best thing you can say about it is that it is simple, straightforward, and easy to navigate.
The app opens with its Junk Scanner, which investigates your PC's storage and finds what it thinks are files that can be deleted. It does a thorough job, picking out over 3,000 files on our test PC. It classifies them by type, and invites you to delete them, but it could do with giving a bit more information about why it thinks these files are junk.
The next tab over is System Tools, which includes a few useful tools, but they're duplicates of Windows' own system utilities. There's a Start-up Manager, an App Uninstaller, and a Process Manager - all of which you can get in Windows without having to install third-party apps. The Start-up Manager lists your PC's start-up items - the background apps that are loaded when it starts up - but doesn't list their effect on your start-up time, and classifies most of them - except one to do with Microsoft Office - as 'unknown'. This is typical of an app that feels in need of a thorough update to bring it into the Windows 10 era. Apps like Ashampoo Winoptimizer and Glary Utilities feel much more modern.
The Process Manager tool doesn't do anything Windows' own Task Manager doesn't do, and the same is true of the App Uninstaller, which lists apps alphabetically but doesn't allow you to list them in the order they were installed, which lifts newly installed apps to the top of the list. The Duplicate Finder has its uses - being able to track down identical files is handy, and can save space on a hard drive.
The Additional Tools section allows you to install plugins downloaded from the System Ninja website. There's a Registry Cleaner, a Windows Service Manager, a File Renamer, a File Analyser and FindBigFiles, which does just what its name suggests. There's nothing there that's absolutely essential, however, and the plugins are downloaded as .zip files that have to be extracted into the plugins folder within the System Ninja folder in Program Files. These plugins feel like they should have been part of the main installation, as boh it, and they, are so small that their addition would make little difference to download time and installation size. Perhaps another hangover from the days when storage space was at a premium.
The PC Analysis tab fives plenty of information about your PC, its processor, memory, hardware and disks, including the manufacturer and version number of your BIOS, which is useful information that can be hard to find. This on its own doesn't make downloading and installing System Ninja an absolute necessity, however, and it was unable to extract our Windows serial number as promised, rendering it instead as a line of BBBBBBBs.
Should you use System Ninja?
System Ninja is an old-fashioned app facing a world that's slightly more advanced than it was designed for. It certainly means well - there's nothing actually bad about it - and it will give you a great deal of information about your PC, but it's not very exciting either. Whether you pick it up or not depends on whether you're prepared to subscribe to the bundle of apps from the same developer, and perhaps if you're running it on a very old or under-powered PC, where its small size and light footprint may mean it runs well where others won't. Nonetheless, a lot of its tools are duplicates of those found in Windows 10, so its actual usefulness is debatable.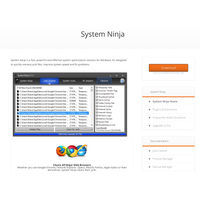 Download System Ninja via SingularLabs
If this sounds like the PC cleaner for you, then head over to SingularLabs where you can download the free trial now. The above link will take you to SingularLabs and will not download software.