Out of nearly 13,000 people surveyed for the Lifestory Research 2021 America's Most Trusted Mattress Brand Study, Tempur-Pedic came out comfortably on top as the go-to brand when shopping for the best mattress online (opens in new tab). The study focused on several big sleep brands, including Beautyrest, Leesa, and Tuft & Needle, with Tempur-Pedic emerging as the most trusted mattress maker, making it a triple triumph for the company who has now won this accolade three years in a row.
America's Most Trusted study is an anonymous survey carried out by Lifestory Research and focuses on customer trust when shopping for certain products. Tempur-Pedic, a brand that also features in our the best pillows online (opens in new tab), had a trust rating of five out of five stars in the study, beating Stearns & Foster and Serta, two top-rated brands that gained four and three stars respectively.
Why do people love Tempur-Pedic mattresses so much?
Tempur-Pedic's mattress technology is difficult to beat, and uses memory foam originally created by NASA for astronauts to stay comfortable during space travel. The team at Tempur-Pedic then developed the foam further to make it just as suitable for a great night's sleep back on Earth too.
Along with space-age comfort, there are plenty of other features on offer with Tempur-Pedic mattresses, including cooling technology, often found on the best cooling mattresses (opens in new tab), plus minimal motion-transfer, excellent lumbar support and pressure relief for side sleepers. Other perks include free delivery, a 90-day trial and a 10-year warranty.
While the brand offers beds that can see you parting with upwards of $3,000, existing customers say that the comfort and quality on offer is unrivalled, and it is likely you will end up owning a Tempur-Pedic mattress for a long time to come. Excellent customer service also makes these mattresses a no-brainer, especially if you sleep hot or require extra pressure-point relief to manage aches and pains during sleep.
Much like other sleep brands, Tempur-Pedic delivers straight to your door, so there will be no sleep lost over when and how you receive your new mattress.
Which Tempur-Pedic mattress should you buy if you're new to the brand?
Tempur-Pedic offers an excellent range to suit most posture needs and sleep positions. From the super-comfy TEMPUR-Cloud, ideal for pressure relief, to the cooling sensation of the TEMPUR-Breeze, there'll be something to suit all sleepers. Here are our top three choices in the Tempur-Pedic range if you are thinking about investing in a great night's sleep…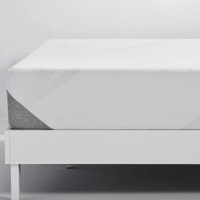 (opens in new tab)
TEMPUR-Cloud Mattress | From $1,699 at Tempur-Pedic (opens in new tab)
Super-cosy for cushioning even the most stubborn of pressure points, the TEMPUR-Cloud takes comfort to the next level with 40% more pressure relief than competing brands.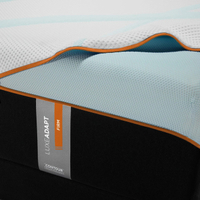 (opens in new tab)
TEMPUR-LuxeAdapt | From $3,199 at Tempur-Pedic (opens in new tab)
This high-end option adapts to your body to guarantee a mattress that offers a personalized sleep experience. With NASA technology in tow, the comfort is truly out of this world.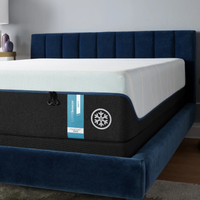 (opens in new tab)
TEMPUR-breeze | From $3,499 at Tempur-Pedic (opens in new tab)
With four layers of cooling comfort that brings the temperature down by several degrees, you'll have no problems staying chill if you sleep hot. This mattress is also cool to the touch, ideal for warmer seasons.
Many of our favorite brands featured in the America's Most Trusted list, including plenty of more affordable options too. These include the likes of Purple, Saatva and Casper, who all deliver exceptional mattresses with different features on top of what Tempur-Pedic has to offer.
Check out the best Purple mattress deals and discounts (opens in new tab), the best Saatva mattress discounts (opens in new tab) and the best Casper mattress deals and discounts (opens in new tab) to see if you can snap up a bargain right now.