Mattress protectors provide a great way to keep your mattress (opens in new tab)feeling fresh, offering a barrier against sweat, allergens and other nasties. But in order for them to do their job properly, you need to clean them regularly. Here we look at how to wash a mattress protector, with top tips to make this chore as quick and as easy as possible.
Washing your mattress protector is straightforward – most of the time. You can machine-wash a large majority with mild detergent and using the gentle/delicate cycle, with cold or lukewarm water.
But some protectors, depending on their material, are only suitable for hand-washing. That involves a lot of work, so be absolutely sure you know what you're signing up for when choosing a hand-wash only mattress protector.
Some types of pillows (opens in new tab) can be washed the same way, though down-filled types are usually spot-clean only, as are some bed toppers (opens in new tab). Ready to freshen up your mattress protector? Then here's how…
How to wash a mattress protector: Step-by-step
To keep your mattress in tip-top condition, you should wash your mattress protector every two to four weeks (or more often if you have been ill or suffering from severe night sweats).
Step 1: First, check the label for full washing instructions. Don't simply 'wing it', as you may end up damaging your protector if you wash it the wrong way.
Step 2: If the protector is designed for machine washing, use a mild detergent at the temperature setting advised on the label. Most modern front load washers (opens in new tab) and top load washers (opens in new tab) have multiple temperature settings and cleaning modes to assist with this.
Step 3: When the washing cycle has finished, remove the mattress protector and air dry outside if possible. If the option to tumble-dry is included on the label, then remember to use the lowest setting.
Step 4: If you're washing your mattress protector by hand, spot clean it first with water and some mild detergent to tackle any stains. If you need to hand-wash the whole thing, soak it in the bath with mild detergent first. This will save you a lot of scrubbing as being immersed in the water dirt to 'lift' from the protector.
To rinse it, drain the bath and run more water through the protector until it's free of suds. You can then squeeze out the excess water and air dry.
Step 5: Whether you're air-drying or using an actual dryer (opens in new tab), make sure your mattress protector is dried thoroughly before putting it back on your bed. That means no dampness, otherwise you'll risk introducing mold.
How often should you wash your mattress protector and why?
To keep your sleep healthy and your mattress fresh, you will need to make sure your mattress protector is cleaned frequently. On average, every two to four weeks should be enough, but if you tend to sweat a lot at night, or you're unwell, you should wash your mattress protector more frequently.
Washing your mattress protector often helps kill the bacteria, dust mites and bugs that accumulate on bedding. It also helps to prevent them from reaching your mattress, keeping that in better condition for longer.
While these bed-dwelling nasties are just a fact of life, regularly washing your bedding goes a long way to keep them at bay. If you suffer from allergies it's particularly important to zap dust mites, as they can worsen allergy symptoms such as coughing, sneezing and itchy skin.
What is a mattress protector and why are they necessary?
Mattress protectors are removable and sit snugly around your mattress to add an extra layer of protection against sweat, bacteria and dust mites. They're a recommended way of prolonging the life of your mattress and to make sure your sleep stays healthy.
In fact, investing in a mattress protector is one of the simplest ways to ensure your mattress stays in good condition, saving you money in the long run. How come? Because they prevent wear and tear, and protect against stains, spillages and sweat.
Mattress protectors are easy to fit and are typically made from cotton or a synthetic material such as polyester, with some having an extra waterproof layer too. If you want to keep things eco-friendly, there are plenty of options made with 100% organic wool and cotton - both naturally cooling materials (good for hot sleepers).
How to choose a mattress protector
When choosing a mattress protector, make sure it matches the size of your mattress. You should then check to see if it is easily removable and can be machine washed, as these are the most convenient and useful features.
You should also check what fabric the protector is made from and if it's waterproof; the latter being essential for children who may occasionally wet the bed. Waterproof versions are also handy for people who experience night sweats.
Some people prefer the feel of a cotton mattress protector, while others appreciate the hard-wearing qualities of synthetic fabrics. If you sleep hot, invest in a breathable natural fabric like wool.
Happily, there are plenty of great brands to choose from. If you're looking for a super-cozy organic option, look no further than Saatva. Its Organic Mattress Pad also comes with a plush layer, with prices from $135. To save on this and other bedding, use our guide to the latest Saatva mattress discounts (opens in new tab).
For a mid-price option that still offers excellent quality, Brentwood Home's organic waterproof protector is a great choice, with prices from $69. For an even cheaper option to use in your guest bedroom, check out Allswell Home, where top-rated mattress protectors start from just $40.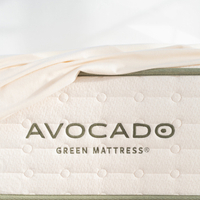 (opens in new tab)
Organic Waterproof Mattress Protector | From $79 at Avocado Green (opens in new tab)
Avocado's luxurious mattress protector is made with two layers of certified organic cotton and a super-thin waterproof layer, for plenty of breathability and comfort.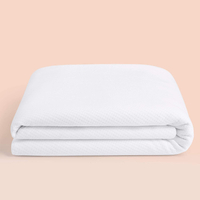 (opens in new tab)
Waterproof Mattress Protector | From $89 at Casper (opens in new tab)
Casper has an excellent reputation when it comes to mattresses, which also applies to its mattress protectors. This one is made with durable polyester and guarantees quiet crinkle-free comfort.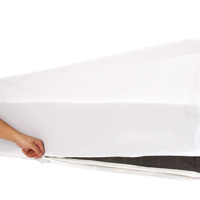 (opens in new tab)
The Mattress Protector | From $40 at Allswell (opens in new tab)
This 100% waterproof mattress protector offers an excellent barrier, while also being comfortable and affordable. The zippered design ensures a good fit, while the soft Tencell Lyocell fabric is cool and breathable too.
Looking for more sleep content? Then check out our guides to the best sunrise alarm clocks (opens in new tab) for a cheery way to rise and shine, or learn how sound machines (opens in new tab) can help you drift off easier.