If you're looking to upgrade your phone over the Black Friday sales, then we've got an early Black Friday deal that you'd definitely consider - a whopping 50% off on the Google Pixel 5 when bought from Verizon Wireless. If you're on the hunt for one of the best smartphones, then the Google Pixel 5 is already one of the most affordable options on the market and now it's even cheaper thanks to Verizon.
Right now, you can get the 50% off Google Pixel 5 when you start a new line with Verizon. The discount will be paid in 24 monthly credits to your account, cutting the total cost you're paying for the handset down from $699 to just $350. That's an impressive saving on a smartphone that only came last month ago and it's one of the best Black Friday cell phone plan deals we've seen so far. This deal is live from today until Sunday, so don't miss out.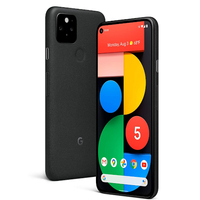 The Pixel 5 is the latest flagship smartphone from Google and while other companies have ploughed on ahead with the latest tech and more expensive models, the Google Pixel 5 is a smartphone designed with the times in mind. As a result, it focuses on the things that people really value in their smartphones and makes sacrifices where they don't. The camera array is solid, it has a chunky long lasting battery and wireless charging.
The chipset isn't quite as powerful as the one's you'll find powering other flagship Android smartphones like the Samsung Galaxy S20 or OnePlus 8T though. You also won't find a telephoto lens, so zoom options are limited on the camera.
Outside the handset itself, Verizon is also worth talking about as its currently one of the best cell phone providers out there. It has a huge, reliable 5G network, great selection of phones, and fast internet speeds, though it's plans can be a little pricey compared to other providers. Check out our Verizon Wireless review for the full lowdown on its services.
More great smartphone deals
Need more money-saving deals and discounts? We've rounded up the best Black Friday USA deals for 2020 - which includes early price-cuts from around the web.