The best electric train sets make for good gifts, but model railroads can quickly become a great hobby for children and adults alike. From detail-oriented O-gauge sets that come with accurate bells and whistles to festive 'roundy-rounds' like the Lionel Polar Express and even functional Lego locomotives, there's something for everyone.
If you are a train set novice then there is a lot to consider. We have removed the bulk of the work for you and have made a list of the very best electric train sets all in one place. This guide features models from Lionel, but also brands such as Lego and Hornby - there's something to satisfy engineers of all ages and skill levels.
We have assessed each set and considered multiple factors - whether you want a classic-looking train set, or a British/American style kitted out with fine details, we will have you covered. if you are looking for an inexpensive loop track we have included some great, affordable models in our list too. Make sure you think about how much space you have available before making a purchase, as some train sets can get quite big. Durability is another important factor - if you have pets or small children you might want to opt for a more durable option.
Train sets come in a large variety of track gauges, and its important to decide which one is best for you. If you purchase a HO set and then decide to pick up an O-gauge locomotive, you'll need to start a whole new set as the two are not compatible.
Want even more action? Check out the best remote control cars(opens in new tab), the best RC drift cars(opens in new tab) and the best cheap Nerf gun deals(opens in new tab)

Black Friday electric train set deals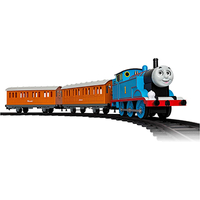 Lionel Thomas & Friends Ready-to-Play Set | was $199.99, now $107.99
If you're wanting to surprise your little one with a new train set for the holidays, then it's a good time to click buy. This set is currently at the lowest price we've ever seen it, with 50% off the original price.
Best electric train sets
Why you can trust Top Ten Reviews Our expert reviewers spend hours testing and comparing products and services so you can choose the best for you. Find out more about how we test.
We've rounded up the best train sets that you can buy right now. Whether you're looking for a festive-themed locomotive to delight your kids over the holidays, or you're simply looking for a new addition to your model railroad, we've got a great selection below.
There's not much about model trains that Mike Harris doesn't know. Having written and worked for the UK magazine Model Rail for three years, he's a whizz at everything model railroad-related. However, his love for toys doesn't stop there – he also writes Lego reviews for our sister website Space.com.
Best electric train sets
The Lionel Pennsylvania Flyer has five cars total, as well as a steam engine that runs on a 60 x 40-inch track when set up in an oval. You can make other track shapes by using only some of the 12 track pieces that come with the set, or you can purchase more to make a large track around your whole room. This train has all of the best features: smoke, audio, an illuminated headlamp and detailed small moving parts that make for a realistic experience.
What users say...
The Pennsylvania Flyer has an average rating of 4.8/8 on Amazon with users praising its realism and flawless build quality. Negative reviews are few and far between and are often regarding a faulty unit or easily fixable problems such as a misaligned track.
Liquid smoke comes with the Pennsylvania Flyer, so you can simply add a few drops to the smoke stack to see the train spring to life. The stack even emits smoke in time with the chuffing sounds, a detail that we thoroughly enjoyed during our testing process. All 11 of our testers gave the Pennsylvania Flyer the highest marks, so it earned an A+ in detail and design. The speed control is responsive and the train topped out at 2.17 feet per second making it the fastest model on our list. We also derailed it off a desk four times to test durability, and the train showed no signs of physical or performance damage at all.
Despite how (almost) perfect the train is, it did have some flaws. You'll need three AAA batteries to operate the remote, and while it's supposed to also run via a Bluetooth smartphone app, this feature did not work during our testing process. The engine also chirps loudly if the model is plugged in but the remote is off, which can be quite annoying.
---
The Lionel Polar Express is a perfect Christmas train for play and decoration - it will take your Christmas decor to the next level and will be sure to impress any guests.
Its large O Scale size alone makes it stand out greatly, but it is also a lot of fun to play with. You'll need AAA batteries for the remote and C batteries for the locomotive but putting everything together is a relatively quick and easy process. You can activate both bell and whistle sounds via the remote and even audio straight from the movie with Tom Hanks calling out "All aboard!" It will stay on the track without derailing even at full speed, which is around 1.33 feet per second. The track itself is 73.2 x 50 inches, so its size will definitely draw attention to your living room and decorations.
What users say...
The Lionel Polar Express has an average rating of 4.2/5 stars on Amazon with users praising its build quality and flawless mobility. The small number of negative reviews are generally critical of the tracks, stating that there is a potential for the train to jam at top speed.
This train is reasonably expensive directly from the manufacturer, but we were able to find much more affordable deals on websites like Amazon, so we would recommend scouting around for some good prices. If you do decide to splurge on this fun, festive four-car train, you can rest easy knowing it will work for a very long time thanks to its tremendous build quality and design. It passed all of our durability tests with an A.
---
The Hogwarts Express chuffing across Scotland's Glenfinnan Viaduct on its way to Hogwarts School of Witchcraft and Wizardry is an iconic railroad movie scene. This Harry Potter-themed train set from British toy manufacturer Hornby will impress Harry Potter fans of all ages. It comes with everything you need to start immediately, including a US power supply, and the OO-gauge code 100 track should accommodate any HO rolling stock that you may have too.
What users say...
The Hornby Hogwarts Express has an average rating of 4.3/5 stars on Amazon, with users praising its impeccable attention to detail and durability. Negative reviews are critical of its controller, stating that it has trouble communicating with the model and can be prone to breaking.
The star of the show is the amazingly detailed GWR Hall 4-6-0 locomotive, dressed up and designed like the fictional Hogwarts Castle. It features a working headlight, separately fitted details and the beautiful Hogwarts Railways Red livery. The set also contains two Hogwarts Mk I coaches, the Hogwarts Express composite and break coaches, a third radius oval of track with a point buffer stop to create a siding, Hornby's R8250 Train Controller and a power supply.
While there is plenty here to satisfy a Harry Potter fan looking for their first electric train set, experienced engineers can look to expand the set with Hornby's range of resin thematic structures, including Hogsmeade Station and Platform 9 ¾. This locomotive is DCC ready, meaning the DC-powered locomotive can be upgraded to DCC by installing a compatible DCC encoder. It's not something you need to worry about as a beginner, but it does add an extra layer of functionality for the more experienced model train enthusiasts.
---
If you're looking for a first-time train set for young children of over four years then Lionel Thomas & Friends Train Set could be the perfect introduction to the world of model railroads. The set of course features Thomas the Tank Engine himself as well as his faithful pair of passenger cars Annie and Clarabel. The rest of the set comprises 32 pieces of track (eight straights and 24 curves), a wireless remote controller and three interchangeable faces for Thomas.
What users say...
The Lionel Thomas & Friends Ready-to-Play set has an average rating of 4.7/5 stars on Amazon with users praising its suitability for small children and its attention to detail. The very small, number of negative reviews are often about faulty models or damage during the delivery process.
On the track, Thomas will make a wide array of locomotive sounds such as chuffs, bells and whistles giving a great ambient feel to the set. He also recites a few lines of dialogue. Young Thomas fans will be delighted by his eyes, which move from side to side as he trundles around the track. The interchangeable faces add additional playability and price to Thomas with a determined side smile and raised eyebrow, laughing expression and an adorable grin.
The controller is vibrant with large, clearly made buttons and a big command dial that helps smaller hands to operate the set and Lionel's large Ready-to-Play scale provides Thomas with an impressive on-track presence.
While the train's form and vibrant blue livery provide a resemblance to the titular character, the nature of Thomas' charming, simplistic design means there are few fine details to break off, further supporting the suitability of this particular set for children.
---
Forget everything you know about Lego sets because the Lego City Express Passenger Train (60337) is a proper train set that comes with a 24-piece oval of track and a dedicated remote control. Unlike other train sets on this list, it boasts additional playability thanks to a small platform build, carriages with full interiors and six minifigures. As you'd expect from a Lego set, the train comes completely unassembled. It comprises 764 pieces and is rated for children ages seven plus, although adult assistance may be required during the build.
What users say...
The Lego City Express Passenger Train has an average rating of 4.8/5 stars on Amazon with users praising its playability and fun construction experience. The very small number of negative reviews are usually regarding missing parts or problems with construction.
The train features dimmable headlights and runs under its own power, which can be operated via the included controller or Lego's Powered Up app. While the locomotive and the long nose certainly bear some resemblance to a Japanese bullet train. The train itself comprises a single locomotive and two carriages, a dining car, and a passenger car.
This set doesn't have the smooth running or accuracy of some other sets on our list, but it does boast the best playability thanks to its minifigures and additional platform building along with beautiful carriage interiors.
---
Lionel's Lionchief sets are a step up from the model railroad manufacturer's charming Ready-to-Play toy trains, offering greater realism at a smaller, yet more refined, O gauge. This Union Pacific Flyer set comes with an imposing 0-8-0 steam locomotive and tender, as well as a boxcar, tank car and caboose for it to haul around an oval of Lionel's FasTrack track. Unlike the manufacturer's Ready-to-Play offerings, this set is powered via an included power supply.
What users say...
The Lionel Union Pacific Flyer LionChief Train Set has an average rating of 4.7/5 stars on Amazon with happy users praising its incredible build quality and attention to detail. The small number of negative reviews are critical of the tracks, claiming that the train can get jammed when going at top speed.
Many train sets aimed at young children are expected to trundle around on the floor, but we'd suggest running more delicate models on a hard surface, or better yet, fixing them to a proper model railroad baseboard. This is because thread and hairs from carpet can clog up mechanisms over time. Thankfully, Lionel's FasTrack comes with a roadbed, which helps mitigate this by elevating the track off the floor.
While this set comes with a Union Pacific branded remote, you can also control the train using the Lionel LionChief app (available on Android and iOS). As you'd expect from a Lionel set, you also get on-board ambient train sounds and dialogue via a RailSounds RC sound system. And if that wasn't enough, the locomotive puffs actual smoke from its chimney.
---
Flying Scotsman is arguably the most famous locomotive in the world, which hauled one of the most famous trains in the world. It's immortalised in the annals of railroad history as the first locomotive to officially hit 100mph. This OO-gauge train set from Hornby includes everything you need to run the train straight from the box. It of course features the LNER Pacific 4-6-2 No 4472 Flying Scotsman (in its A1 guise) and it's nice to see a trio of LNER composite coaches, so you can run a decent rake.
Alongside the train you also get a third-radius oval of track, a point and buffer to make a siding, the controller, a US transformer and Hornby's Re-railer. The latter makes it easier to place rolling stock on the tracks, which is ideal for youngsters. Also included is a 63in x 46in Hornby MidiMat, a full-colour, top-down track plan, which can be set underneath the tracks to instantly mimic a scenic model railroad layout.
The standout feature of this set is Hornby's legendary attention to detail. As far as starter train sets are concerned, you'll be hard pressed to find a better model than this Flying Scotsman. This does of course mean that the set is best suited for older children and adults.
---
If you're buying a train set for a youngster who's got a few years before they receive their Hogwarts acceptance letter, then it's worth considering Lionel's Ready-to-Play Hogwarts Express offering. This large set (1:24) is bigger than O gauge (1:48) and features plenty of moulded details that should better withstand the rigours of play than the smaller and more delicate separately fitted components often found on sets targeted towards older audiences.
This set also features a working headlight and a plethora of on-board train sounds including a bell, whistle and chuffing. But what will surely enchant Potter fans are various snippets of dialogue from the movie Harry Potter and the Philosopher's Stone. This includes quotes from Hagrid, Hermione, Ron and Harry Potter himself.
What users say...
The Lionel Hogwarts Express has an average rating of 4.7/5 stars on Amazon with users praising its build quality, durability and incredible attention to detail. The small number of negative reviews are often critical of faulty units that don't start or are missing battery covers.
Inside the box you'll find the Hogwarts Express locomotive and detachable tender, two coaches, 32 pieces of track and a wireless, remote controller. The track can be arranged to form a 73.2in by 50in oval and the locomotive is powered via six C-cell batteries, inserted via the cab, and the remote is powered by three AAA batteries (no batteries are included).
While the rolling stock isn't nearly as accurate as Hornby's OO offering, this Lionel Ready-to-Play train set provides additional playability thanks to its range of sound effects and the large scale will surely captivate young witches and wizards in the making.
---
When most people think of a Christmas-themed train set, they'll probably conjure up an image akin to Lionel's North Pole Central Ready-to-Play Freight Set. The iconic 19th century 4-4-0 design, with its huge chimney, prominent headlamp and tapered cowcatcher is just begging to be set off on a 'roundy-round' nostalgia trip beneath the Christmas tree.
As with Lionel's other Ready-to-Play sets, the North Pole Central features a variety of onboard sounds and even includes lines of festive dialogue. Along with the locomotive and tender, the train consists of a seasonal gondola with a trio of crates and a merry-looking caboose.
What users say...
The Lionel North Pole Central has an average rating of 4.5/5 stars on Amazon. Users are pleased with the aesthetics and ambient feel of this train set, praising its attention to detail and visuals. A small number of negative reviews are from users who have received defective models and are unhappy with the replacements that they have received.
There's enough track to make a 50in x 73in oval, but you can also make a square layout or ditch the straights entirely to make a perfect circle for operation around the Christmas tree. The large Ready-to-Play scale means the set should stand out – even amongst mountains of presents – and battery operation means you won't have to worry about finding a socket that's not already powering Christmas lights.
---
Hornby's website is calling this set an, "officially licensed train set for the adult collector," but little 0-4-0 locomotives are usually marketed towards younger audiences or newcomers to the hobby. With that in mind, if you're buying for an older child who's outgrown their first train set and is ready to move up to a slightly more delicate OO/HO-gauge set, then Hornby's Coca-Cola Summertime Train Set could fill that gap.
What users say...
The Hornby Coca-Cola Summertime has an average rating of 4.4/5 stars on Amazon with positive reviews praising its build quality and visual aesthetics. Users are particularly fond of the classic Christmas theme. Critical reviews are often from users who have received defective units that don't run, which seems to be a somewhat common problem, unfortunately.
It may also prove tempting if you're not willing to stretch your budget towards a larger train set, such as the Flying Scotsman (also on this list), but still want to experience Hornby's excellent products. The summertime theme is presumably to differentiate this set from Hornby's The Coca-Cola Christmas Train Set, but with the beverage's synonymy with the festive season, it still wouldn't look out of place trundling around a Christmas tree.
While this set only comes with two wagons, it's a nice departure from the usual tank wagon, box van and private owner wagon arrangement. Instead, you get a long flat wagon that carries three shipping containers, each with a different Coca-Cola beverage, along with a Diet Coke tank wagon. The set also comes with the usual components: an oval of track, a US transformer, controller and Hornby's Rerailer.
Best electric train sets buying advice
Features to Look for When Buying A Model Train Set
Scale
Start off by deciding the scale of the setup you need. Everything else will follow this first decision. There are N, G and O – going from smallest to largest. HO is a middle size option. Essentially, the smaller you go, the more fragile your setup, so children will want the larger O size to start out. However, enthusiasts that enjoy working on fine detailing or those with smaller spaces might like to experiment with smaller gauges.
To be more clear on sizes, N is 1:160 meaning a one inch train is 160-inches on the real train. HO is 1:87:1, O is 1:48 and G is 1:22.5+. There is also On 30 which is also 1:48 but this appears smaller due to thinner track, and is G is 1:22.5+.
Safety
Another concern when deciding if this is for adults or children is safety. Small parts can be a choking hazard so keep this in mind if younger children will have access to the trains and parts. Some trains use batteries so this is another area of concern where fitting and removing can be hazardous to younger children that may be tempted to put them in their mouths.
Electric trains can spark off the track so if you have anything nearby that could catch light be sure to remove or cover it before setting up a train set of this kind.
Customizing Your Train
If you really want to make your setup personal then painting the trains and scenery is vital. That means you may want to get some paint stripper to strip back trains then an airbrush, ideally, to paint them in your choice of livery. Small brushes are also useful to help make those finishing touches which can make all the difference to creating a more realistic reproduction.
Buying stores, foliage, buildings, signs and more are all worth thinking about - as are track switches – as these can all help expand your train world as you grow it into a mini reality only limited by your imagination, and budget. But even that can be worked around as there are plenty of make-it-yourself options and used parts and trains available to buy and personalize as you want.
How Much Do Model Trains Cost?
At the bottom end of the spectrum you can get started relatively affordably with trains that start at $40. But this world does go quite far into the high-end with train engines alone that cost as much as $1,000.
For a quality detailed model, in HO or N scale, we recommend spending around $200 on a train set. But it's worth looking for savings on sites like Amazon or eBay which can have discounts as well as used options.