The best remote control cars come in a lot of different shapes, sizes and speeds - this can make finding the perfect one for you or your loved ones quite tricky. There are almost as many varieties of RC cars as there are of full-sized varieties and finding one to suit your needs can feel like a never-ending search. Some of the top brands are Traxxas, ARRMA and Redcat Racing, but there are a large number of other manufacturers to consider as well.
While price is an important factor to consider, there are other aspects to consider too. You should think about what type of racing you want to take part in, and whether you want straight-line speed or sharp turning and drifting power. Do you want to do stunts? Roll over the top of other cars in a monster truck? You can have one car that you can modify for different situations or have specialized vehicles that you choose between depending on the course conditions. As a beginner, you will most likely crash your RC car a lot - it helps to look out for a durable, rugged model that can withstand a few accidents.
Power is another important factor to consider. Battery capability has advanced greatly in the last decade, but you will still be reliant on the number of cells that you can fit into one chassis. Consider different types of battery, and whether the car you're considering comes with one bundled in the package, or whether you need to source it separately.
When it comes to control, you can either use the controller that comes with the car or customize your own to suit your needs. If a twist controller isn't enough for you then you can opt for twin sticks or even use a smartphone as a controller.
Meanwhile, if you're specifically looking for the best RC drift cars then you might want to look for an RC car specially designed for that purpose. Alternatively, if you're not sure after all that whether RC racing is for you, how about something more relaxing like best electric trains, or even Nerf guns.
Memorial Day RC car deals
Why you can trust Top Ten Reviews Our expert reviewers spend hours testing and comparing products and services so you can choose the best for you. Find out more about how we test.
With Memorial Day on the horizon, there are a number of great deals on the best RC cars, that guarantee hours of fun. We have rounded up some great deals on the best RC cars so that you can get a great Memorial Day bargain for yourself or even as a gift.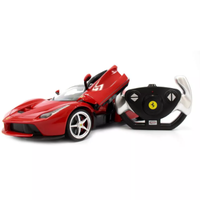 Ready! Set! Go! Link 1:14 RC LaFerrari | Was $129.99, Now $79.99 at Target
This officially licensed model RC car of the Ferrari LaFerrari is a perfect 1:14 scale of the original car. The interior and exterior of the car are designed and crafted with perfect details to look like the real Ferrari, and it even has built-in bright LED headlights and brake lights with doors that can open and close.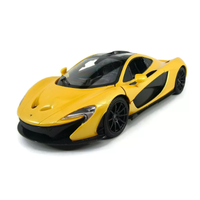 Link Worldwide Ready! Set! Go! 1:14 RC McLaren P1 | Was $129.99, Now $79.99 at Target
This Perfect 1:14 RC model of the Mclaren P1 is fully equipped and ready to run. The exterior and interior are modeled directly from the real car and feature incredible detail and functionality. It has a max speed of 10 mph and a Radio Control distance of 30ft - perfect for first-time RC Car users or young children.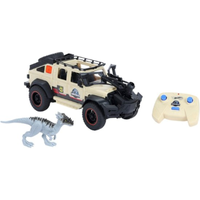 Matchbox - Jeep Gladiator R/C with Dracorex Dinosaur | Was $42.99, Now $33.99 at Best Buy (inactive)
This stylized Jeep gladiator features true-to-the-movie details including a removable auto-capture claw and a 6-inch Dino figure that allows you and your children to recreate scenes from the movie. Children can attach the claw to the front of the car and as soon as the Dino touches the bumper it will launch and grab the creature.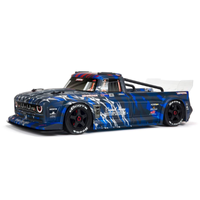 Arrma 1/7 INFRACTION 6S BLX All-Road Truck RTR | Was $649.99, now $589.99 at RC Planet
This Arrma RC Car is jam-packed with features that can be utilized by the most experienced RC Car enthusiasts. The aesthetics of this car are stunning with a fresh street body look and matte gloss effects that look visually amazing. The wheel hubs are durable, and the car features a center brace for maximum durability. It also comes with a 2-year warranty.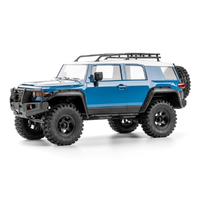 Eazy RC Triton 1/18 RTR Scale Mini Crawler | Was $139.99, Now $109.99 at RC Planet
This impressive RC 4x4 comes with a 2.4 GHz radio. This truck gives a realistic look and impressive performance right out of the box. It uses realistic axles with ring and pinion gear for smooth scale movement. You can get 30 minutes of runtime out of this model before recharging, giving you plenty of time to take this car round all of your favorite terrains.
Best RC cars: The best remote control cars
Want to find the best RC cars for your needs? We've rounded up the ten best remote control cars so that you can find a fantastic racing companion. No matter whether you're looking for an RC drift car, a crawler or a truck, you'll be able to find a great option below.
Best remote control cars
The Traxxas Rustler XL-5 takes the top spot on our list of the best remote control cars because of a near perfect blend of features. These are also topped off with a price tag that seems impossible for a car at this level. As such this is the car that will suit most people.
It's easy to setup and use. The 7-cell NiMH rechargeable battery pushes the Rustler up to 35mph making this lots of fun. That is limited to 15-minutes per charge, though you can upgrade this. There's good ground clearance to avoid knocks and bumps plus sealed electrics so this works in water, snow and mud, making this good even for beginners.
The remote is steering wheel controlled allowing you to drive the two-wheel drive car with precision using that wheel and a trigger. Thanks to the large traction heavy tires this will take on most terrain with ease. The price is relatively low but note that battery and charger are often sold separately.
---
No that's not a typo, Laegendary is the brand and monster trucks is what it's good at making. As such this off-road truck is every bit as all-terrain as it looks with those chunky tires and that high suspension setup.
This is built rugged so it can take a knock or three, even when tearing about at that 20mph top speed. With a 40-minute battery life this is ideal for going out in nature without having to worry about plugging in to recharge. Sure they take a while to recharge but since they come built-in they're easy to use and it makes this an affordable all-in-one option.
The shock absorption system is metal and is set up to clear rocks, branches and anything else that offroading might throw at you. This even has headlights so you can keep going in darker times, which looks super cool too. There's little worry about obstacles as the pistol grip remote is super sensitive so you can control the car very accurately. As such it's aimed at older users mostly.
---
Drift car fans, this is what you've been looking for. The Lightning EPX is lots of fun as it's been designed for sideways racing specifically. This is thanks to a four-wheel drive system which features low-grip rear tyres. So even though this tops out at 15mph it's more about the way you drive this rather than how fast.
You get 15 minutes of sliding fun before the 7.2v 2000mAh battery will start to give in. And that's based on your driving on a smooth surface – which is ideal to get the most drift.
You will need a whopping eight AA batteries for the controller so be sure to buy these - and spares - when you spend on the car itself. It'll be worth it for all the fun this drift car creates.
---
The Orrente Stunt car is a great choice for anyone that loves to do tricks and is especially well suited for kids. It means not only driving a remote control car but one that can flip and contort in ways mom and dad's car could only dream of.
Aimed at ages 6-12, this affordable stunt car is able to drive each side separately. That means the controller uses two sticks which can be mastered for all kinds of fun tricks. This is easy to use but takes some time to master.
This multi-terrain RC car will do flips, it'll rotate and drive in tight circles using that two-stick 2.4Ghz controller – meaning multiple can be raced without worry of interference. Just expect batteries to get used up fast – thankfully it works with rechargeable ones so boosting back to full doesn't have to be expensive.
---
For all out speed this is the car to go for. With the right battery this can hit a mind-bending 70mph. Yup, that does mean this will burn through tires fast but it'll be worth it for the blisteringly fast fun.
If that speed sounds worrying, fret not, the company is all about rugged building. In fact it encourages racers to play with friends at speed and to push the limits, even to the point of risking crashing. The plastic is super flexible and the front basher plate is made to take head-on collisions. The backing of a two-year warranty helps to support this claim of toughness. And frankly, at this price, you'd expect that.
The 2050Kv brushless motor is what gets you all the power from the trigger wheel remote. This Spectrum SLT3 radio is light and comfortable with responsive controls and easily adjustable tracking. Arrma has built a speed demon that's good to race, jump and even get out in the wet and muck. When the tires wear down you can even drift. This does it all very well.
---
Look at that 4WD truck and you'll immediately realize this is built for off-roading. Chunky tires, high suspension, a rugged front basher plate all scream tough. This is made for off-road fun.
The Volcano EPX has such a high ride height it'll take care of rocks, high grass and anything besides. Should it hit a bump that suspension is super tuned to make sure the overall ride remains smooth, even when hitting the 19mph top-end speeds.
The 7.2v 2000mAh NiMH battery powers that four-wheel drive system and is rechargeable for when it's time to boost up. Expect the wheels and suspension to take the brunt of the off-road driving beatings, leaving the car intact and ready to race another day.
---
This four-wheel drive remote control car is a powerful monster. The Rustler comes with huge Talon EXT wheels which offer lots of grip for all terrain types, allowing you to take full advantage of that AWD system.
Go for the 7-cell NiMH battery and you can get 35mph out of this racer. Or for real speed lovers, upgrade that battery to LiPo and this will hit a face-melting 65mph. Either way, should you flip this you won't have to move a finger thanks to a self-righting feature. Press a button on the TQi remote and the Rustler will jump back upright ready for more. So no need to fear when blasting out wheelies using this beast of a car.
---
If you're on the hunt for an entry-level RC car to kickstart your collection, this BEZGAR off-road monster truck is a great option. Reviews say it's intuitive to use and has a 1/4 scale which makes it easy to navigate - ideal for kids or those getting started.
It comes with large truck wheels that do well on surfaces such as concrete, asphalt and dirt, and will easily accomplish jumps and donuts with good power. Reaching speeds up to 20 km/h with a strong built-in brushed motor, you can have plenty of fun using this car. It's also got a 2.4GHz non-interference remote controller and a radio control distance of around 50-meters, making the truck ready to run without losing signal.
---
As replica cars go this is a stunner, looking just like the gorgeous Lamborghini Aventador, only at a 1:24 scale. Despite being modelled on such a premium machine, this is super affordable to buy. The catch? It will require 24 AA batteries, so either have rechargeable ones ready or a whole load of spares.
That said it won't chew through battery fast as this is limited to 4mph. Ideal for younger drivers then. That said it has been known to drift too, so there is still plenty of fun to be had with this car. And with a 2.4GHz controller it can go up to 80 feet away before losing signal.
You even get to pick the Lamborghini color with suitably loud orange and yellow options available.
---
This is a 1/10 scale version of the famous Ford GT, an already low to the ground car. As such this is built to look great, to go fast and to eat up roads. Best kept to smooth surfaces this remote control car can top out at an impressive 30mph. And using the TQiTM 2.4GHz radio system you have instant control precision that's good for racing against other cars.
Even when stood still this is fun with that accurate reproduction of the real car, right down to the injection moulded exhaust tips, replica wheels and aggressive tire tread pattern. You can pick your color with Liquid Blue, Liquid Red and Liquid Grey options – but we all know a real Ford GT is best in blue.
---
Buying advice for the best RC cars
What are the best remote control car brands?
There are a number of well-respected names in the industry. Traxxas, Arrma and Laegendary cars are all well-regarded by hobbyists and amateurs alike. These brands are reputable for building fast, reliable and powerful cars that can withstand a good number of accidents. We like Redcat Racing too, as they create super affordable models that look pretty slick. Sure, they might not have the power of one of those Traxxas monster trucks, but when you want something that looks great on your shelves as well as on the racing track, Redcat Racing is an excellent choice.
How much do remote control cars cost?
A good model that can go up to 30 mph will cost around $300-$400. These models usually come with a year-long warranty to protect your initial investment. You can buy cheaper models that will hit around 15mph for a lot less (usually around the $100 price point). Cheaper models will often have a shorter warranty of around 90 days.
How fast are remote control cars?
In general, the top speed you'll be able to achieve with a remote control model will be 70mph. These kinds of speeds are only really attainable if you buy one of the top-tier models that are built for race tracks, though. If you're thinking of buying one of the all-terrain, off-road models, these tend to max out at around 20mph. But their sturdy bodies and sealed electronic systems mean that you can still have plenty of fun. Cheaper models tend to be slower, reaching speeds of around 15mph max.
---
How do I choose a remote control car?
There are a few different reasons why people choose specific remote control cars but the main reason is their performance. RC vehicles are built for racing, so you will want to look for one that can go fast over the type of terrain that you will be racing on. You should also look out for the sturdiness of construction, as unexpected pit stops can really infringe on your lap times.
Speed
You will definitely want your remote control car to go fast, but make sure that it can handle the speed and remain controllable as the needle rises. Increased speed means trickier turning, but also more impressive jumps and drifts, so generally you're going to want any extra power that you can get. Unless, of course, you're buying one for a younger child, when something that crosses the floor at a slower pace might be required.
Handling
Check out the size of the wheels and the tires around them. Bigger, wider wheels mean better grip. This not only helps to speed up without spinning but means you're less likely to lose the back end as you corner - unless you're into rifting of course. Match the tires to your intended racing surface - slicks or semis for hard, flat tarmac, and off-road tires for just about everything else.
Durability
Crashes are inevitable and can be some of the most exciting parts of an RC race. Having said that, you don't want to be left with a pile of plastic shards where your prized RC car used to be. A car that you can easily repair, whether by snapping parts back on with your hands or using simple tools is going to get you back in the race more quickly. Off-road vehicles can take knocks from curbs and walls on their larger tires, but road racing cars may need careful nursing around sharp bends to avoid scratches to headlights and paintwork.
---
Different types of remote
The remote control is your interface with the RC vehicle. It is important to choose a car that comes with a remote suited to your skill level. Some remotes are simple, while others are more complex and suited for experienced racers.
2.4GHz pistol-grip style
The most advanced type of remote, these offer proportional control over steering and throttle, as well as increased ranged and customizability. While these features are all appealing to the advanced or adult user, young children will no doubt have a hard time with such sensitive controls.
Bluetooth connection
The second type of remote is really not a remote at all. Many vehicles, yet just one in our review, make use of a Bluetooth connection for control. This allows you to use a phone or tablet with your vehicle and opens an entirely new world of possibilities. With this option, you can stream music, operate turn signals and even open the doors of your vehicle. However, you pay for these additional features with a decrease in range and increased difficulty in actual driving.
Two-button controllers
The third type of remote is what we call the two-button controllers. Pressing the button on the left causes your vehicle to veer to the right, while pressing the button on the right results in the vehicle turning to the left. When both buttons are pressed simultaneously, the vehicle travels straight ahead. While this doesn't offer much freedom or precise control, it is a great way of simplifying things for kids.