Now is the time of year to grab a cheap gaming laptop deal. There are plenty of them around, but not all laptop deals are created equal... and this one from Dell is definitely one of the best you'll see. There are two gaming laptops on offer, but the headline deal is a Dell G5 15-inch laptop with a 2070 graphics card, a 10th-gen i7 processor, 16GB RAM, 1TB SSD and a 1920x1080 panel for $1199 - saving you about $440.
While Dell's laptops always come at a certain premium (although they're not as overpriced as MacBooks) the saving you get here makes this one a genuinely good deal. Dells rank well among our best laptops and best home computer guides. That 2070 card will handle almost any game you throw at it, and deliver smooth gameplay on high settings. The 10th-gen i7 processor is good enough to run most apps, unless you're doing very demanding video editing, and the 16GB RAM is fairly standard among gaming laptops these days. A 1TB SSD is pretty generous for Dell builds too, as means you won't need a separate external drive until you've installed a heck of a lot of games. And all for $1200? That's a really good price.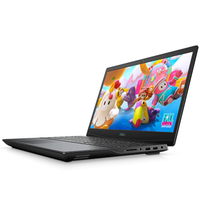 Dell G5 15" gaming laptop | 2070 GPU | i7-10750H | 1TB SSD | 16GB RAM: $1639 $1199 at Dell
This Dell gaming laptop is a fantastic deal as you save $440 on the list price. You're getting a lot of laptop for your money - the 2070 graphics card will run almost anything on high settings, the screen is Full HD 144Hz, and you get 16GB RAM, a new i7 processor, and 1TB of SSD storage space. Superb.
In terms of other specs, the screen is Full HD, which means you'll get a maximum resolution of 1920x1080, at 144Hz. That's the sweet spot for most PC games right now and, while not QHD or 4K, the refresh rate is good and the screen itself has a 300nit brightness, which is just fine for gaming. You get built-in WiFi 6, Windows 10 comes pre-installed, and this model comes with a USB 3.2 slot, and HDMI, and other inputs you'd expect from a modern laptop.
If that's a little too expensive for you, there is a version of the laptop that comes with a 1660ti card, and that saves you $150. You can get the exact same spec Dell G5 with the 1660ti for $1049 at Dell. Another great deal, for sure, but we would definitely recommend pushing for the 2070 card, as this will be far more beneficial for gaming.
If you're looking to save money on laptops, electronics, or any consumer goods this Fall, check out our guide to the best Black Friday USA deals for 2020. There are plenty of savings in here already, including the best Amazon Holiday Dash deals, to help you get your shopping done early, safely, and cheaply.