FTD (Florists' Transworld Delivery) is a leader in the floral industry with one of the largest florist networks in the world, having been in business since 1910. It offers delivery to all 50 states and more than 150 countries worldwide. Due to the company's global reach, same-day and next-day delivery is possible because FTD Flowers contracts local florists to fill customer orders, like many others included on our best flower delivery online service list. Whilst not the cheapest option around, with FTD Flowers you know that you'll be getting good quality flowers that are sure to please.
The FTD Flowers website is clean and uncluttered, making it very easy to use. This allows you to browse its vast collection of flowers, plants, and surprisingly large collection of unique gift baskets without getting lost. From edible arrangements including fruit, chocolate, and baked goods, to cute teddy bears or spa baskets, you'll be able to find exactly what you're looking for in a few simple clicks.
Blooms in bulk are also now available from FTD Flowers. Here you can shop from a collection of farm-fresh flower bundles and have an abundance of gorgeous flowers delivered straight to you. Buying in bulk is the best way to get the most bang for your buck and a cost-effective way to get the floral décor you want without having to compromise. These are just perfect for big events such as weddings, graduations, or retirement parties.
As FTD is the parent company of ProFlowers, you'll find many of the same bouquets on each website, but FTD Flowers does have the bigger selection. To really put these online flower delivery services to the test, we ordered the same small-sized Peachy Keen bouquet with a vase from both FTD Flowers and ProFlowers to compare results fairly.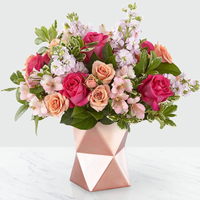 Best FTD deals right now
Visit FTD's website for more of the latest best offers and deals. You'll also find gifts from candles to balloons to add to your order and make your special someone's day.
FTD Flowers: Website and selection
Broad selection of bouquets and plants
Arrangements tend to be smaller and lack that wow factor
It is very clear that FTD Flowers and ProFlowers are linked as they both have the exact same website design. To be fair, it's a really good design that is easy to navigate and very clear. It is also very mobile-friendly, so it's easy to order flowers on the go. The product pages are well organized and informative, with details about bouquet size, flower care instructions, and basic information about the stems included.
Before ordering our flowers, we spent a while browsing the selection of arrangements that FTD Flowers had to offer. We were pleased to see that FTD Flowers had the option to filter down by a specific category such as flower color, occasion, and delivery type, as well as more specific options such as a milestone birthday or by recipient. At the time of writing, there were around 130 arrangements to chose from, so you're sure to find someone for your loved one here. Plus, FTD Flowers has plenty of plants to pick from too.
We found that the size of the actual arrangements FTD Flowers provided were a bit on the smaller size, regardless of price. As for the look, the style of the bouquets is pretty standard and not too modern or rustic, so a very safe choice for most recipients. If you want something with a bit more flash and glamour, try browsing the selection offered by The Bouqs.
FTD Flowers: Prices and value
Overall, we found that FTD's prices are very fair, and most arrangements are reasonably affordable. We saw bouquets for as high as nearly $200, with options for as low as $25, with the bulk of bouquets in the $40-65 price range. Many of the more expensive bouquets are specialty bouquets, more often funeral arrangements. However, you can purchase 100 roses for $150, part of the Bulk Flowers selection, and this is slightly better value than the likes of Venus ET Fleur. Despite this, we didn't think that any of the bouquets appeared to be particularly creative. However, because all the arrangements seem more traditional and standard, there's bound to be something your loved one will appreciate and that won't cost you a fortune.
FTD Flowers: Ordering and delivery
FTD does not disclose the addition of the service until card information is provided
Most bouquets have same-day or next-day delivery
International delivery available
We were pleased to see that the ordering process on the FTD Flowers site is a relatively smooth experience, although we recommend that customers pay close attention to the order total before checking out. The most glaring problem with ordering and delivery is that FTD does not disclose the addition of the service until you're ready to input your credit or debit card information. The $10+ addition to your order can be a deal-breaker for customers on a tighter budget, so with all taxes and fees, a $60 bouquet can turn into a near $90 purchase. The best provider to avoid hidden costs is UrbanStems.
When you select your bouquet, chances are you'll be able to have it delivered the same day or the next day. But there are still some arrangements that don't have that option, so having a backup option would be wise. Alternatively, we recommend checking out the page dedicated to bouquets that are labeled as "same-day delivery" under "Flowers."
Once you've added a bouquet to your basket, you can add gifts to your order: a greeting card, a stuffed teddy bear, chocolates, or a festive mylar balloon. Sadly, there are no options to customize this, so you won't be able to pick what kind of balloon or chocolates you would like – it's just the luck of the draw!
FTD delivers nationally and internationally, depending on the country. In the section for international delivery, you can select the country you'll be sending your arrangement to pick one from the list provided.
FTD Flowers: Arrangement quality
Nice-looking bouquet that arrived as advertised
Flowers arrived in good condition
What we tested
Arrangement: Peachy Keen Bouquet by FTD
Included: orange glass vase
Size: "Good"
Price: $45 + taxes and fees
Flowers: Daisy, Gerbera Daisy, Rose, Snapdragon
Added extras: None
We ordered the Peachy Keen arrangement from FTD, with a vase included, and we we thought that our arrangement was pleasant-looking and one of the best we received.
Our arrangement was hand-delivered, which means that it arrived wrapped in plastic but exposed to the elements. It arrived on the right day, but our delivery man seemed a little bit confused and wasn't very helpful. He arrived to our office's building, and called for someone to come to the lobby to pick up the flowers - a first in our experience in ordering flowers (security allows for these deliveries). When we went down to the lobby, he was nowhere to be found. We waited ten minutes before going back up to our floor, where we found the flowers waiting for us at the front desk. The delivery man somehow forgot to tell us that he had dropped them off.
Removing the plastic was not hard, but we noted a small pool of water in between the bottom of the vase and the plastic wrapping. This isn't a big deal, but we'd recommend having some paper towel on hand when you take delivery.
That aside, we were pleased by our bouquet's appearance. The colors were the right pastel hues, and the vase was exactly the one that was advertised by the FTD website. The flowers were in good condition, with some wear and tear from being exposed in transit. While the bouquet in the photo looked a little fuller, we were still pleased by how lush our arrangement was.
The note we included for ourselves was easy to miss. It was written on a small card and was inside an envelope that was stapled to the plastic around the flowers. In fact, we threw it away before realizing that we were missing our note! Despite this, the small card was visually-pleasing, unbranded, and the note was handwritten.
Overall, we were very pleased with this bouquet and would certainly recommend FTD as a flower service for all occasions, from Valentine's Day to Mother's Day to "just because" occasions.
FTD Flowers: Customer service
FTD's customer service representatives can be reached by email or by phone 24/7. We noted in our ProFlowers reviews that many people reported being very unsatisfied by customer service. FTD and ProFlowers operate under the same umbrella and we saw some common complaints about customer service between the two services, but not nearly as many for FTD as there were for ProFlowers. That's a positive for FTD.
FTD Flowers: Customer reviews
Customers torn between positive and negative experiences
In their FTD reviews, customers are more or less torn between being quite satisfied and being very disappointed in the service. A common complaint among the customers was that pricing is not very transparent and that extra fees are added just before checkout. Unfortunately, this is a common experience across many different flower websites. Some people complained about the quality of the bouquet, and other report that their flowers were never delivered at all. Overall, we found that customer opinion is pretty split in terms of satisfaction.
Should you use FTD Flowers?
If you want to buy a pretty bunch of flowers to make someone's day, then FTD Flowers will do just that. However, if you're after something rather special, or want a bit more pizazz, then you might be better off looking elsewhere.
Do be aware when checking out, as you won't see a final price total until the very end. This is rather annoying, especially if you've spent a lot of time finding a nice bouquet only to realize that with all the extra fees it creeps slightly out of your budget.
As with any big company, the customer reviews are a mixed bag of both positive and negative. We can vouch that the ordering process was seamless and the arrangement we received was lovely, which is why it's a real contender for topping our list of flower services.