ProFlowers is one of the most well-known florists in the US, so we were keen to review its service. Established in 1998, ProFlowers was actually bought by another flower company, FTD (Florists' Transworld Delivery), in 2014. Together, these flower powerhouses provide quality arrangements at competitive prices by partnering with 30,000 floral shops in over 125 countries.
As part of the review process, we browsed over 100 options on the ProFlower website to find what we believe best represented the aesthetic and price of an average flower arrangement that would be appropriate for multiple occasions. We found the ProFlowers website easy to navigate and that there were plenty of beautiful bouquets that didn't break the bank, which was great to see.
To review ProFlowers, we picked out the small-sized Peachy Keen bouquet, complete with vase. To fairly compare the results, we also ordered the exact same bouquet from FTD Flowers. To find the best flower delivery online service, we evaluated the ordering process, the quality of flowers, and the overall customer experience.
Although not part of our testing, we thought it was nice that before completing your flower order you can opt for special add-ons (for an extra fee, of course), such as a greeting card, adorable plush bear, delicious box of chocolates, or a festive mylar balloon. We also noticed that ProFlowers offers a wide selection of gift baskets filled with delicious baked goods, gourmet fruits, and even a special Starbucks gift basket for the coffee lovers in your life.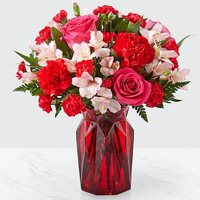 Best ProFlowers deals right now
Visit ProFlowers for all the latest - and best - offers, deals, and information on what's available. You'll also find a range of additional gifts at the site.
ProFlowers: Website and selection
Website is easy to browse
Mid-range selection size
Bouquets are average looking
We extensively browsed the ProFlowers selection before ordering our bouquet. Arrangements are clearly displayed and able to be sorted by occasion, recipient, flower type, and flower color. There's also an option to sort by bestselling bouquet and see flowers that are available for same-day delivery if you're in a hurry. You can also browse a section dedicated to plants and gifts, which include chocolate, fruit baskets, bundles, and more.
The selection of flower arrangements offered by ProFlowers is sizable – there are over 100 bouquets to choose from – but not quite as extensive as sites like 1-800-Flowers. However, we are impressed with the add-on gifts you can buy along with your flowers. From the classic card and chocolates to balloons and adorable plush toys, these extra gifts all look high-quality and not at all tacky.
Where ProFlowers really stands out is with its house plant options. Potted plants are gaining in popularity, and as ProFlowers also incorporates ProPlants, you'll find that they have a bigger selection of plants than most other online flower delivery services. A great way to be extra thoughtful for those who suffer with pollen allergies.
When selecting the Peachy Keen bouquet (with a vase included), we found the product page to be well-organized and very informative. Each page lists the dimensions of the arrangement, as well as some (but not all) of the flowers that make up the bouquet. The appearance of the bouquets doesn't exactly blow us away. Although pleasant to look at, the bouquets seem rather standard and unoriginal – we feel that a competitor like UrbanStems has better style.
ProFlowers: Prices and value
We are impressed with the price range of ProFlowers' bouquets. You can find arrangements that cost as little as $20 (though these are just basic, and all of the same flower type), with an average bouquet in the $30-40 range. Many of the more expensive bouquets are sympathy and funeral arrangements, going all the way up to $233. There are actually very few arrangements that cost over $100 without taxes and fees. Although none of the bouquets appear to be particularly special or original, ProFlowers will likely have an arrangement your loved one will appreciate – and one that won't break the bank.
ProFlowers: Ordering and delivery
Clear step-by-step ordering process
National and select international delivery
Some same-day and next-day delivery, depending on the bouquet
Ordering from ProFlowers is a seamless experience, although we recommend that customers have a few options in mind depending on their intended delivery date. The step-by-step ordering process ensures that you don't forget anything: the date of delivery, location, bouquet size, and any gifts that you would like to include, such as chocolates or a card (these come at an extra cost). You can, alternatively, add a complimentary gift message at checkout.
What we found a little confusing was that you won't know the total cost of your purchase until you input your card information and tap on "Review order." This is one step before confirming the order, but we think that, with so many taxes and fees, the total should be advertised before this point in the process. In fact, for a $45 bouquet, we paid $15 in shipping and service fees, $3 in care and handling charges, and nearly $6 in taxes. That totalled $68.57, which is a significant hike in price.
ProFlowers delivers nationally, with some international delivery. In the section dedicated to international delivery, you can select the country you will be sending the arrangement to. Each country has its own selection of flowers than can be sent. A fair warning: these arrangements are generally more expensive than the ones you'll find on the US site.
ProFlowers is also somewhat inconsistent in terms of same-day or next-day delivery. The days available for delivery depend on the bouquet selected. ProFlowers has a section dedicated to arrangements that can be delivered the next day - so if you're in a pinch, we suggest checking that section first.
ProFlowers: Arrangement quality
Flowers arrived in great condition
Bouquet did not come as advertised
What we tested
Arrangement: Peachy Keen Bouquet by FTD
Included: orange glass vase
Size: "Good"
Price: $45 + taxes and fees
Flowers: Daisy, Gerbera Daisy, Rose, Snapdragon
Added extras: None
At first, we were quite impressed and pleasantly surprised by our ProFlowers arrangements: the flowers were fresh and in great condition. The arrangement itself was appropriately sized for the vase it came in, and bouquet was well-balanced between blooms and filler foliage. It arrived wrapped in plastic, so anyone can see the beauty of the bouquet as it arrives, but it is still relatively well- protected from the elements and travel mishaps. Our testers agreed that this bouquet was one of the best looking bouquets we received in the office.
However, it didn't look like the bouquet we ordered. Because ProFlowers partners with local florists who fulfill their orders, depending on the location of delivery, the bouquet your recipient received can be a variation of the bouquet advertised on the ProFlowers website, depending on the resources available to the florist. Ours contained red daisies, not blush-colored daisies. And our vase was pink, not orange. Normally, this wouldn't make much of a difference in terms of our review - but the bouquet is called "Peachy Keen," which certainly implies that all the flowers should be on the same color palette. This was not the case for our bouquet. The leader for delivering on what's promised on the site is still Teleflora.
The note we included for ourselves arrived printed on the same card as the delivery address and the bar code, which didn't make for a very elegant addition (similar to our delivery from Harry & David flowers). We recommend having your own greeting card handy or including a greeting card for an extra cost in your order instead of opting for the complimentary message. The care instructions were short, but included on the same card as the note. If you need more advice, we have a flower care guide all ready for you.
Overall, we thought this was a nice-looking bouquet - but we couldn't help but be bothered by the discrepancy between the product delivered and the flowers advertised on the website.
ProFlowers: Customer service
ProFlowers has a helpful customer service page where customers can find the answers to common questions such as how to modify an order. ProFlowers also provides its policies on payment, deliveries, and other topics. The company is particularly proud of both its "The Love or We'll Make It Right Promise" and the "7 Day Freshness Guarantee." Essentially, the company vows to ensure that customers are satisfied with their flower arrangements. However, as many customer reviews note, the company's standards have fallen.
If your question is not addressed in the FAQ section, you can choose to chat, email, or call a customer service representative. Many buyers have expressed frustration in trying to communicate with these representatives, as the customer service portion of the business appears to have been outsourced to a foreign country.
ProFlowers: Customer reviews
Most reviews bemoan inconsistent service
Most customer complaints have to do with missed delivery
We found that customer reviews for ProFlowers are mostly negative, despite there being a decent-size portion of customers who have reported a positive experience. However, a top complaint among displeased customers is that the flowers they ordered arrived later... or not at all. To make matters worse, they also report bad customer service: on various occasions, representatives refused to issue refunds or replacements for flowers that were damaged or wilted upon arrival, or for late deliveries. It also appears that the negative reviews are the latest ones. Many people say that they had been ordering from ProFlowers for years with no issue the last few years until recently. We noted the overall inconsistent service, and this has been taken into account in our ProFlowers review.
Should you use ProFlowers?
ProFlowers has a great selection of flowers and plants – its add-on options are rather great too. There are some pretty nice bouquets on the ProFlowers website, but nothing that will blow you away. For the affordable prices, the standard of arrangements is good.
There do seem to be an alarming number of negative customer reviews, but a majority of them seem to be around days such as Valentine's Day or Mother's Day – probably the busiest times for florists, so we're cutting them some slack here. The rest were mainly people disappointed with the state of the bouquet not matching up to the photos on the website. As ProFlowers has its orders fulfilled by local florists, sometimes flowers or vases need to be replaced with whatever they have on hand, so there is an element of uncertainty.