A relative newcomer on the scene, UrbanStems has fast become one of the best flower delivery online services. Fed up with disastrous flower-sending experiences, the founders of UrbanStems teamed up to change the flower delivery industry for the better – and it's working! It offers modern bouquets, dried floral arrangements, and charming plants to the nation and, depending on your location, same-day and next-day delivery. UrbanStems has a large number of reviews singing its praises thanks to its curated flower selection and simplified gifting experience.
When it comes to style, UrbanStems is leading the pack. It sells a unique variety of beautiful blooms that'll boost the cool factor of any space they're in – there is even a special collection of limited-edition arrangements designed exclusively by Vogue! The aesthetic leans more towards modern and bohemian (similar to The Bouqs), opting more often than not for soft hues and romantic colors. While the selection may not be as wide as other online flower delivery services, they do offer a more luxe and curated experience without the eye-watering prices. Plus, using the website is a dream and makes for an enjoyable shopping experience – all the information you need is clearly laid out in a lovely minimalistic design that's easy to follow.
Ethical shoppers will be pleased to know that UrbanStems is partnered with The Rainforest Alliance, a non-profit that helps businesses adopt more environmentally sustainable practices. This means that UrbanStems works with certified farms that practice sustainable agriculture and social responsibility. So, you can be secure in the knowledge that not only will you be brightening someone's day with a thoughtful gift, but that all the flowers and plants are sourced from sustainable farms.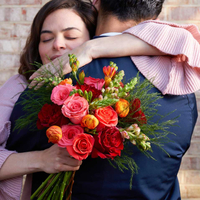 Best UrbanStems deals right now
Check out the selection of flowers and plants at UrbanStems today. There's plenty on offer, and they have excellent green credentials too.
UrbanStems review: Website and selection
Smaller than average selection yet quite varied, with plants available
Clear, detailed product pages
High-quality gifts but limited selection, no add-ons
Bohemian aesthetic with a luxurious feel
UrbanStems is modern in all senses, including its user-friendly website. As we browsed the selection of bouquets the service has to offer, we were quite impressed by the beauty of the options available and by how easy the website was to navigate. We noted that while it is by no means small, the range of bouquets is not as extensive as other services' like 1-800 Flowers and Teleflora.
However, UrbanStems does offer something we haven't seen anywhere else: dried bouquets, which last up to six to 12 months. It's easy to peruse the entire selection of gifts that UrbanStems has to offer, which includes plants and candles. As for the UrbanStems flower arrangements, they are varied enough for there to be something for everyone.
To make a selection, you can refine your results by price range, color, collection, or occasion. We were pleased to see that each product page is detailed, offering a rundown of the flowers included in the bouquet along with care instructions. There are even suggestions for events or occasions that each bouquet is appropriate for. As is standard for UrbanStems, the bouquets do not come with a vase, but you have the option of choosing from a selection of chic vases and can add one to your order for an extra fee (all clearly stated).
The overall aesthetic of UrbanStems flowers lean toward a more bohemian, trendy look – these flowers will definitely draw many admiring eyes. However, we feel that the majority of bouquets may not be for you if your recipient would prefer a more classic look, although there are other options for this preference.
UrbanStems review: Prices and value
Relatively affordable
Great mid-range budget options
We were pleased to find that UrbanStems' price range is average, even leaning towards affordable for the products provided. There are arrangements for as low as $35 and as high as $175, with plenty of options for a more mid-range budget. You can also opt to add a vase for a few extra bucks.
We were particularly pleased to find that there is no upcharge for delivering on certain days, like a weekend. Depending on where you're sending the flowers, the delivery fee is already included in the price of the bouquet. The only extra fee we paid for was taxes, which is fairly standard when making any online purchase - and in this case, it was not as high as it was for other services we reviewed.
UrbanStems review: Ordering and delivery
Pleasant and seamless ordering experience
Complementary message option
Ordering from UrbanStems is a seamless and pleasant experience. While there are none of the add-ons that more traditional services offer, such as balloons or chocolate, some bouquets come with an extra gift included. For example, zodiac-inspired bouquets come with "birthday cake" chocolate. You can opt to add another gift, such as a candle.
You can also choose to have the flowers delivered with or without a vase, which means that you can ensure that the arrangement will not be too heavy for your recipient to carry home should you choose to send it to their place of work or other location. We ordered our arrangement without the vase. You can also add a complimentary message to your order, which is printed on an UrbanStems branded card.
UrbanStems offers national delivery, but has yet to introduce international delivery. Arrangements are hand-delivered in New York and in Washington D.C., but are delivered via FedEx and CDL nationwide. For orders outside of these cities to arrive the next day, UrbanStems requires customers to place their orders before 2pm the day before the desired delivery date.
Depending on the time ordered, a bouquet can be delivered on the same day or the next. While ordering our UrbanStems arrangement, we were impressed with the option to pick a time slot during which to receive the bouquet.
UrbanStems review: Arrangement and quality
Lean-looking bouquet with some wilting and fraying
Box is hard to open
Flower care instructions provided
What we tested
Arrangement: The Macchiato
Included: None
Size: Standard
Price: $55 + taxes
Flowers: Quicksand roses, Coffee Break roses, Kahala Roses, Lavender, Dusty Miller
Added extras: Complementary message
We ordered the Macchiato arrangement from the UrbanStems website and picked a specific delivery date. We also wanted our arrangement to arrive between 11 am and 1 pm, as UrbanStems allows purchasers to specify the time frame. Our flowers arrived right on time, at 12:37 pm.
We ordered The Macchiato without opting for purchasing the vase. Our arrangement arrived in a standing box, so the flowers could stay upright. We thought it would be an easy-open box, but we were proven wrong. It was actually quite hard to get the bouquet out of the box, and we ended up ripping it open to take it out. Although we were careful, anyone with a less steady hand could damage some of the flowers inside.
We had also added a special note for ourselves, and it was included with the arrangement, in an envelope. The stationery was nothing special - simply an UrbanStems branded card with the note printed on it. For a more elegant or personal touch, we suggest you purchase the card separately. Sites like Harry & David flowers definitely offer better gifting, even if they trail in many other areas.
Our first thought upon seeing the bouquet was that it was rather small. In fact, our testers agreed that it needed some more foliage to bulk it out, despite there being ten roses. Overall, it looked as advertised. However, we noted that the lavender was hidden between roses - we didn't even know it was there until we looked at the website again. Some of our testers also described the dusty miller leaves in the bouquet as "sad": some were a little worn and wilted, their stems not able to hold them up. The roses were not as vibrant as they appeared on the website, but were still quite nice, their color being slightly unorthodox, yet gentle on the eyes. The roses were slightly frayed, but we think this was due to transport. The bouquet was also pleasantly fragrant, but not in an overwhelming way (like the one we got from Venus ET Fleur). After a couple of days, the flowers arrived at peak bloom and, overall, the bouquet looked much nicer.
Our arrangement arrived with care instructions and a pack of plant food. We noted that the same care instructions are provided on the website, which is really only helpful if you know the name of your bouquet, although we doubt that the care instructions vary very much from bouquet to bouquet. As per the care instructions, the arrangement requires some maintenance such as trimming, so it's best to send it to your recipient's home in lieu of their office or another locale. However, if you order without the vase, it can easily be transported home in the box provided that the recipient does not tear open the box. For more information, we've created a feature on flower care.
Overall, we thought that this bouquet was good, even if some improvements could be made. If you opt for a fuller arrangement, you should be happier with the purchase. Despite the slightly disappointing appearance of our flowers, we think that UrbanStems provides nice alternatives to the standard classic bouquets, going for a more modern, even bohemian aesthetic.
UrbanStems review: Customer service
UrbanStems' customer service can be easily reached by phone, by email, or by direct message on the website. There's also a helpful FAQ section that may already answer your question.
UrbanStems: Customer reviews
Very positive reviews overall, with few exceptions
We were pleased to see that UrbanStems customer reviews were overwhelmingly positive. Of course, no service is perfect and there is always a chance of human error at the time of ordering or delivery: there are some reports of late deliveries and flowers that were already wilted upon delivery. However, the vast majority of customers rave about the beauty and variety of the bouquets, the timely delivery, and helpful customer service.
Should you use UrbanStems?
For a more modern and trendy aesthetic, UrbanStems is the online flower delivery service for you. Whatever your budget, UrbanStems offers a wide range of unique floral arrangements and plant options that we haven't seen anywhere else. UrbanStems doesn't offer extra add-ons, like balloons or chocolates, and has nice but limited gift basket options – shop elsewhere if this is what you're after.
Although UrbanStems does boast same-day and next-day delivery, which it has rave reviews for, this is only for select locations, so check this carefully when placing your order.
If sustainability matters to you, pick UrbanStems as it sources its flowers from Rainforest Alliance Certified farms. This combined with a seamless on-site experience and relatively affordable bouquet options are sure to dazzle and put UrbanStems near the top of our list.