When it comes to buying a swim spa in your home that has the necessary health features, H2X Fitness Swim Spas should be one of your first choices. Owned by the prestigious Master Spa, H2X has 12 different models to choose from, spread across three ranges designed to cater to your needs. If you want to incorporate hydrotherapy into your home in order to recover from an injury or help with a long term-condition, then look no further for your spa needs.
Many of us would love to install a pool in our homes for swimming and relaxation, but when that isn't possible, a swim spa from H2X Fitness could be a helpful alternative to allow you to swim at home. Manufactured out of the brand's base in Fort Wayne, Indiana, you know that you'll be able to get help when you need it with this brand, which has local dealers throughout the US.
H2X Fitness Swim Spas are on the more mid- to high-end of the price spectrum of the best swim spas, with the extensive options for exercise available taking the costs higher. Throughout this review, we explore what you'll get for your money, and offer more affordable alternatives for those who need them. We will also guide you through their range, and give you an idea of which of the main product lines might suit you best.
H2X Fitness Swim Spas: Overview
Even if you haven't heard of H2X Fitness, you will almost certainly be aware of its parent company, Master Spas. Founded 25 years ago, the Indiana-based organization now claims to be the largest portable spa manufacturer in the world, and makes many of the best hot tubs money can buy.
The company has certainly gained a few column inches over the years. In 1998, US Open golf champion Steve Jones endorsed the company's products. Five years later, it was announced that the White House was installing a Master Spas Legend Series LSX1050 at Camp David. And in 2010 the manufacturer partnered with US swimming legend Michael Phelps to launch a signature line.
Clearly, the company is proud of its American roots, and this is further reflected in the fact that all H2X Fitness spas are built using materials made in the USA. The H2X Fitness range is divided into three distinct lines: the Therapool Series, the Trainer Series, and the Challenger Series. Each is designed with powerful swim jets, built-in LED lights, and foam insulation to make them more efficient to run (and not rack up your energy bills).
For an affordable option, also read our Endless Pools review.
H2X Fitness Swim Spas: Therapool Series
The Therapool Series is where you'll find the entry-level H2X Fitness Swim Spas, and within this series lives three different models. These are the smallest H2X Fitness spas and are therefore the best choice for smaller backyards.
As the name suggests, the Therapool Series isn't designed for high-intensity exercise, and instead would suit casual swimming and aquatic exercise, plus ample water-based relaxation and hydrotherapy treatment. Not only are the H2X Fitness Therapool Series models somewhat smaller than the spas in the other two ranges, they are less powerful, with just two speed settings and a dual pump system.
The Therapool 13 is the flagship model in the range, and measures 156 x 90 x 48 inches, with a water capacity of 1,270 gallons. It boasts 28 stainless steel Flow Stream Swim Jets and a choice of two shell colors (Sterling Silver Marble, Sierra) and two skirting colors (Graphite Grey, Espresso). The Therapool 13 is equipped with an EcoPur Charge water filtration system to keep bacteria and other nasties under control, plus Massaging Jets to ease your muscles and provide effective joint pain relief.
The Therapool D is shorter yet wider, measuring 132 x 94 x 60 inches, and 60 inches deep, with a water capacity of 1,060 gallons. It comes with 54 high-performance jets for resistance training, plus three Flow Stream Jets, plus the H2Xercise Fitness System for rowing and strength training.
Other Therapool D features include waterline LED lighting, and a soothing waterfall for neck and shoulder massage. For massage therapy out of the water, also see our guide to the best handheld massagers.
The Therapool SE is the cheapest in the H2X Fitness Therapool Series, and is the brand's affordable offering for aquatic exercise and rehabbing of existing injuries. It measures 132 x 94 x 51 inches, with a 925-gallon capacity. A series of ergonomic seats sit on either side of the spa, while 21 stainless steel jets, including three high-performance swim jets, create a current for you to swim and walk against.
The three H2X Fitness Therapool Series models are:
Therapool SE (132 x 94 x 51 inches; 21 stainless steel jets)
Therapool D (132 x 94 x 60; 54 jets)
Therapool 13 (156 x 90 x 48; 28 jets)
H2X Fitness Swim Spas: Trainer Series
If you don't require the elite level of performance provided by the Challenger Series, you might want to consider something from the cheaper Trainer Series. You'll still get a great aqua-aerobic workout, with each of the spas fitted with two to four pumps and four air-injected VIP jet. We'd also recommend reading our PDC Spas review for other great exercise pools.
With a suite of hydrotherapy and relaxation smarts on board, you can soothe those aching limbs once you've finished your swim. Indeed, two of the models in this range, the Trainer 19 and the Trainer 19 Deep, come with a built-in hot tub. As with the Challenger Series, the spas in this range vary in size from the Trainer 12 (144 x 94 x 51 inches) up to the Trainer Deep 19 (231 x 94 x 60 inches).
The Trainer Series is the mid-price range of H2X Fitness spas, yet it steals a few luxury features from the Challenger Series models. Each are designed to be more energy efficient, and to produce a consistent source of high-powered resistance for you to swim or walk against. The H2X Fitness Train Series is also where you'll find the Xtreme Therapy Cove system, designed with high-power massage jets that can be adjusted in terms of pressure and temperature.
The six H2X Fitness Trainer Series models are (in size order):
Trainer 12 (144 x 94 x 51 inches; 54 stainless steel jets)
Trainer 15 (180 x 94 x 51 inches; 43 jets)
Trainer 15 Deep (180 x 94 x 60 inches; 43 jets)
Trainer 18 Deep (215 x 94 x 60 inches; 43 jets)
Trainer 19 (231 x 94 x 51 inches; 48 Jets)
Trainer 19 Deep (231 x 94 x 60 inches; 48 jets)
H2X Fitness Swim Spas: Challenger Series
The Challenger Series range is designed for serious swimmers and athletes, with each of the four spas in the range boasting three to five pumps, along with airless Velocity Injector Plate (VIP) technology. In a nutshell, six jets are strategically placed inside the unit, creating a smooth, wide current that provides optimum conditions for swimming.
Via an AquaSpeed VSP touchscreen, you can then choose between 25 different speed settings based on whether you want a slower, endurance workout, or a quicker, high-intensity session. Alternatively, you can program a cycle of changing speeds for interval training.
As with all H2X Fitness spas, the Challenger Series is great for gentle hydrotherapy exercises and relaxation (read the Features section further down in our review). In terms of size, the Challenger Series models become larger (or longer) the further up the range you go. So the entry level Challenger 15 D measures 180 x 94 x 60-inches, while the range-topping Challenger 19 D is 215 x 94 x 60-inches (this one comes with a built-in hot tub).
The four H2X Fitness Challenger Series models are:
Challenger 15 D (180 x 94 x 60 inches; 45 stainless steel jets)
Challenger 18 D (215 x 94 x 60 inches; 45 jets)
Challenger 18 D Pro (215 x 94 x 60; 45 jets)
Challenger 19 D (231 x 94 x 60; 50 jets)
H2X Fitness Swim Spas: Features
So, we've established that these units generally provide an impressive level of performance, but what else do they offer? The best swim spas should come with a set of hydrotherapy and relaxation features to help you reap the benefits of your investment, and H2X Fitness' range doesn't disappoint.
Each spa comes with an H2Xercise Fitness System, comprising a rowing kit, resistance bands and a workout book. Depending on the model you go for, you might also get a StressRelief Neck and Shoulder Seat, which relies on out-of-water jets to deliver a tension-relieving massage.
Others come with an Xtreme Therapy Cove, providing a therapeutic massage for the lower back, hips, thighs and calves. We like the sound of the Master Force Bio-Magnetic Therapy System for relieving pain and inflammation, and the Master Blaster Foot Massage Therapy system that uses a cluster of jets for an in-spa reflexology experience.
Additionally, every H2X Fitness Spa comes with:
LED lighting to help you navigate your way in the dark
An ozone system that eliminates contaminants in your water
An EcoPur charge filter for keeping your spa's plumbing safe from chlorine corrosion
A choice of shell and skirt options to give you a degree of personalization
On top of the features that come as standard, you can order optional extras. These include the Fusion Air Sound System, comprising four interior water-resistant speakers, a subwoofer, and Bluetooth connectivity so you can stream your favorite playlist to the spa pool.
Other H2X Fitness features include a Wi-Fi Module (for app control of certain functions), a rolling spa cover, and a SoftTread Floor System for better underfoot traction and cushion. If you opt for this, it will be placed near each entry and exit step, as well as the large floor area in the middle of the fitness pool.
From an exercise perspective, the H2Xercise System is the most attractive, and there are different packages and programs available for arthritis, weight loss, balance, golf swing, shoulder injury rehab and plenty more. Dr. Rick McAvoy, PT, DPT, CSCS and Professor of Hydrotherapy, has authored an exercise program for Master Spas, which you can access here.
It's ideal if you want to build cardio stamina and body strength, yet don't fancy (or are unable to) workout using one of the best home gyms for strength training, or something like a treadmill for gentle jogging - you can jog in your pool instead.
H2X Fitness Swim Spas: Health benefits
The wellbeing benefits of spending time in the water have been widely documented. Swimming and other forms of aquatic exercise provide a low-impact workout that's not only kind to the joints, making it especially useful for seniors and people recovering from an injury, but can also improve balance, flexibility and strength.
Exercising in warm water can also be beneficial to people living with diabetes, fibromyalgia and multiple sclerosis. Don't feel like exercising? Just relaxing in water helps relieve stress, reduce blood pressure and boost your mood.
The H2Xercise Fitness System, supplied with each H2X Fitness spa, makes it simple to carry out a wide range of exercises, from walking and jogging to rowing and dancing in the water. In fact, there are some specific swim spa exercises you can do to build your strength and mobility.
H2X Fitness Swim Spas: User reviews
The majority of user reviews we found for H2X fitness are visible on the brand's website, plus a few independent dealers scattered around the country. As these are highly specialist items, you won't find user reviews for them as easily as everyday fitness products.
Starting with the Therapool series, the Therapool 13 has the highest rated reviews, with five out of five stars. However keep in mind that this comes from just one user review. The Therapool D has over 30 reviews, generating an average of 4.4 out of 5 stars, with customers praising how good these spas are for exercising, and how deep and spacious they are. One customer questioned the length of the spa pools if you are taller than average, but all user reviews are positive. A lot of people are using them for both exercise and relaxation, which we'd expect from the H2X Fitness Therapool Series.
The Therapool SE is rated slightly lower at 4.2 out of 5 stars from 17 reviews at the time of publication, with one user commenting that the headrest kept coming loose on their spa pool. Another explained how they struggled to get the water right and felt as though there was a "lack of true help".
The H2X Fitness Trainer Series is similarly reviewed by existing customers, with ratings ranging from 4.6 out of 5 stars for the Trainer 18 D, down to 3.3 out of 5 stars for the Trainer 19. Overall, the reviews are largely encouraging, with customers focusing keenly on the high build quality and the spacious layout of the spas, especially the Deep (D) models.
The service was called into question on three reviews left on the Trainer 19, though neither mentioned any faults with the spa itself. Each of these reviews say they have been sold the spa without being shown how to use it or treat the water, but this comes down to the dealers they each bought from. That said, a two-star review did mention specific faults with the Trainer 19, stating that the stitching ripped on the cover within one month, and that one of the fountains didn't work.
The rest of the reviews were very positive, with customers praising the strength of resistance, and the therapeutic features and benefits.
The H2X Fitness Challenger Series seems to attract the highest customer reviews, with 5 out of 5 stars for the Challenger 18 D and the Challenger 19 D, while the Challenger 15 D has a very respectable rating of 4.5 out of 5 stars. One owner explained how , "As a two-time Ironman finisher, I spend a lot of time swimming, biking, and running, but oftentimes neglected my upper body workouts due to lack of time. No more. Plus, no gym membership."
H2X Fitness Swim Spas: Pricing
The H2X Fitness website doesn't list prices, stating that they are available on request only. To give you a rough idea of how much you'll have to pay, most spas usually cost from $20,000. It's a hefty outlay, but in the case of H2X Fitness you can at least feel assured that the company has an outstanding pedigree, meaning your investment should last you years.
The price of a H2X Fitness Spa is based on several different factors, including where you live, what delivery and installation services you opt for, and any additional spa features you opt for. To find out more about the pricing, use the Buyerzone service here to compare quotes and save money:
Should you buy an H2X Fitness Swim Spa?
If you know you need a swim spa that can deliver when it comes to water-based workouts, then the H2X Fitness range is exactly what you're looking for. It can bring aquatic therapy into your space and revolutionize your everyday routine, but it will be on the more expensive side. If your budget stretches far enough, you're sure to be impressed by the comprehensive customer service offered by H2X Fitness.
This brand also has an extensive range of spas to choose from, and a simple journey to purchasing. You can either use the BuyerZone link within this review, or visit a Master Spas showroom, who can take care of the rest.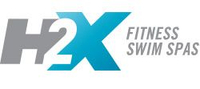 You can get pricing information and brochures for the whole H2X Fitness range on the brand's website.