For more information visit their website
View Deal
Image 1 of 8
Image 2 of 8
Image 3 of 8
Image 4 of 8
Image 5 of 8
Image 6 of 8
Image 7 of 8
Image 8 of 8
TD Ameritrade is a well-known and popular stock trading platform. It provides powerful software for traders of all levels, includes some of the best trading tools and has recently lowered its pricing, making it a good option for experts and beginners.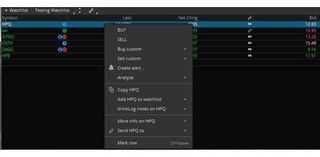 TD Ameritrade's thinkorswim platform is expansive but also well organized. Our reviewers tested each platform, evaluating how easy it is to use the main features. Our ease of use score takes into account how quickly you can find securities and add them to a watchlist or buy them. TD Ameritrade's platform comes with a variety of premade watchlists and allows you to make trades directly from these watchlists. It has a powerful search function that allows you to search for stocks by industry. You can also create alerts for multiple scenarios and price ranges, a useful tool that can help you quickly move on price movements.
thinkorswim includes a customizable dock, which is always visible and provides the tools and information to spot market opportunities and implement stock trading strategies. The command center screen brings all your important information together in one place.
From the mobile app, which is available for iPhone and iPad as well as Android devices, you can view your account and streaming quotes and buy stocks online. Our reviewers rated TD Ameritrade's app among the best. It offers many of the same tools as the desktop platform, allowing you to track your positions and make trades when you've stepped away from your computer.
TD Ameritrade's list of investments includes stocks, options, bonds, mutual funds and CDs. Stock trading is a flat $6.95, and options are $6.95 for commission plus $0.75 per contract. One fee that is significantly higher than the other services we reviewed is the broker-assisted trade fee, which is $44.99 for a trade plus the additional $0.75 per options contract. A bonus is that this service does not require a minimum deposit to open an account.
This service offers more than 100 commission-free ETFs. Keep in mind that even though there's no commission, there is an expense ratio, which is an amount paid annually for the upkeep of the fund. This can range from 0.07% to 0.50% of the amount you've invested in the fund.
TD Ameritrade offers the most thorough charting tools of any online broker, including over 300 technical indicators to help you fine-tune your trading strategies. This is far and away the most indicators of any online broker we reviewed. Options traders can take advantage of the 15 pre-programmed advanced strategies, such as butterfly and iron condor. We were less enthused about the screening tools included in thinkorswim. They were not as customizable or as clear in their results as the other brokers we tested.
If you'd like to set up a portfolio but don't have the time or inclination to find investments yourself, you can use TD Ameritrade's robo-advisor called Essential Portfolios. This is an algorithmic investment that makes decisions based on your risk tolerance, investing goals and investing timelines. It does require a minimum deposit of $5,000 and charges a 0.30% advisory fee each year, which works out to be about $15 on that $5,000 deposit.
This broker also provides a wide range of educational materials to help you learn the basics of online trading. There are four different weekly webinar series, with an accessible archive so new traders can learn about the market and trading strategies with professionals. TD Ameritrade also offers a course on portfolio management. This course has three levels – rookie, scholar and guru – so traders of all experience levels can learn something through the course.
There is also a variety of training tools to help you learn how to best use the thinkorswim platform. Our reviewers found the video tutorials particularly helpful. There are over 50 videos that provide useful step-by-step breakdowns of all the important tools in the platform. If you're the type that prefers reading to video, a complete training manual is available that includes helpful visual aids.
Another learning tool offered by TD Ameritrade we found helpful is the paper money account. This is essentially a stock market simulator that gives you a certain amount of fake money to practice trading. This is doubly useful as it allows you to both learn the platform and test trading strategies before you start using your own money.
TD Ameritrade offers a good collection of investment opportunities, and this online discount broker has an easy-to-use platform as well as access to research and charting tools. Clients have access to educational resources, such as seminars, videos and courses. You can access your account and trade stocks online using a web interface or popular mobile devices. This is a good service for an online stock broker, but it does have higher fees and fewer tools than some services.
For more information visit their website
View Deal