While there are many perks to living in The White House, for President Joe Biden, being able to use his favorite Peloton bike as intended won't be one of them. On his podcast Here's The Deal, Biden revealed to Governor Gretchen Whitmer more about his daily routine, stating: "What I try to do is I try to get out of bed by 8 o'clock in the morning and I have a gym in my house upstairs; I have a treadmill and a Peloton bike and some weights, and I try to work out every morning."
Trouble is, Peloton bikes are also connected with a video camera and microphone so that you can chat with others as you exercise together virtually. However, it's this level of connectivity that poses a threat for security at the White House, with the Peloton's integrated camera and mic potentially picking up 'sensitive information'.
While this won't be a problem for many of us, the highly specced Peloton also has a higher price tag that starts at $1,895. The good news is there are many cheaper Peloton alternatives out there, including some of the best exercise bikes from Echelon, Bowflex and Schwinn. Here are three you can grab for under a grand…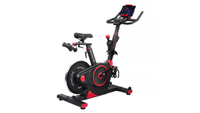 Echelon Connect Smart Bike EX-3 | $999 at Target
As well as the Peloton app, this cool exercise bike also pairs with its own Echelon app so that you can get your home exercise sorted via one of the 1,600 cycling classes on offer. From beginners to pro-level, and with great music too, choose your own pace and get fit the fun way.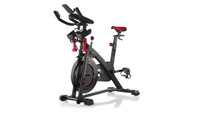 Bowflex C6 Bike | Was $1,049 | Now $999 at Bowflex
This high-quality fully featured bike gives you the full Peloton experience at half the price. Get connected to Zwift, or use it by itself to enjoy cardio-boosting indoor cycling, with features that include a heavy flywheel and dumbbells.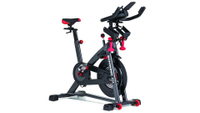 Schwinn IC4 | Was $999 | Now $899 at Best Buy
This cool and comfortable indoors cycling bike comes with a padded seat and smart display to give you a fully immersive cycling experience. Compete against others on Zwift or challenge yourself by topping your personal best.
These three affordable exercise bikes are ideal if you want to get the absolute best out of your interactive indoors cycling, without paying Peloton prices. As well as full compatibility with popular apps by Zwift and Peloton, there is also the opportunity to tailor your ride-experience to enjoy a leisurely ride or full-on spin-class.
These cheaper models also come with added functionality that enables you to monitor your speed, heart-rate and adjust resistance, with all your stats and data to hand via the screen or app. This is useful if you don't offer one of the best fitness trackers for workout monitoring. For cheap trackers, read our round-up of the For affordable activity trackers, check out our guide to the latest and best Amazon Prime Day Fitbit deals, including new and classic models.
Ultimately, if you want a fully interactive, convenient and often-entertaining indoor Peloton bike-style workout, there's plenty to choose from without paying a price fit for a president.
Looking for more home workout content? The check out our guides to the best elliptical machines for a full body workout, or the best home gym systems for weight training. For no equipment workouts, try our guide to the best online fitness programs.